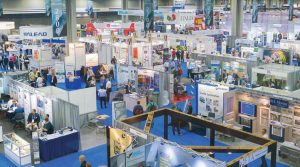 Techtextil North America has come along way in this, its 15th edition, and shared the show floor with an equally successful fourth Texprocess Americas
TW Special Report
With great interest, the 15th edition of Techtextil North America and fourth Texprocess Americas recently took place at the Georgia World Congress Center in Atlanta. Atlanta-based organizer Messe Frankfurt Inc. reports the events gathered a total of 567 Techtextil North America and Texprocess Americas exhibitors representing 32 countries. Total attendance grew to 8,292, roughly a 4-percent increase over the 2016 events.
There were high level attendees and exhibitors on the show floor. Booth traffic and engagement was heavy and steady. This was consistent with the history of Techtextil North America and Texprocess Americas in Atlanta. For those in technical textiles and apparel manufacturing, it is a convenient location to view the latest technology, technical textiles, nonwovens, textile machinery, sewn products, equipment, and to participate in a great networking opportunities.
Visitor Perspective
"I enjoyed the show, and it was encouraging to see so many companies taking part," said Anderson Warlick, vice chairman and CEO, Parkdale. "For Parkdale, the show offers an opportunity to find greater innovation."
Miguel Ferrer, president, Kiko Sewing Machine Co., is a visitor who often attends the show each year. "The show never ceases to amaze me," Ferrer said. "There is always something new to learn about and a new technology to see. I really like the Made in America movement this year, as we are seeing a lot of jeans factories opening up in Los Angeles again."
The Exhibitor Perspective
"This show is a great opportunity for us to showcase our new technology," said Daniella Ambrogi, vice president of marketing, Lectra. "This year has been a busy show and we've had a great turnout of visitors. We are happy to be here." Lectra introduced its new Cutting Room 4.0 made-to-order solution with an official unveiling and ribbon cutting ceremony. Texprocess attendees were treated to the first public demonstration of the cloud-connected digital cutting solution.
"Being featured as the premier provider for digital textile printing, in the context of Gerber Technology's ambitious micro-factory exhibit for end-to-end production of on-demand goods, offered an outstanding opportunity to demonstrate that what some call 'the future' of apparel, home goods, and accessories, is very much reality today," said Ryan Kurek, marketing director at Kornit Digital North America. "We spoke with decorators, creators, and manufacturers of all types and sizes, and found a market highly receptive to this technology's ability to deliver at the speed of e-commerce, under one roof, sustainably, efficiently, and using a single process and ink set for multiple fabrics."
All in all, response from exhibitors, and visitors both domestic and international, was positive. The show floor included country pavilions featuring suppliers from Italy, Texclubtec, Belgium, China, Taiwan, High-Tex from Germany, and SEAMS Made in USA.
"It was clear that everyone, both visitors and exhibitors, could feel the energy and excitement on the show floor," said Dennis Smith, president and CEO, Messe Frankfurt Inc. "We are proud to serve as the platform for furthering the growth and development of the North American technical textile and sewn products industries. There is an immense amount of talent and innovation coming from the US, and Techtextil North America and Texprocess Americas have become the premier events where professionals from all industries come to see the trends and technologies that are coming their way. We are truly grateful for the large network of exhibiting and visiting companies responsible for the growth of these two events, and we look forward to our continued success together, next in our 2019 edition of Techtextil North America in Raleigh, North Carolina, and then back in Atlanta for the 2020 co-located events."
The 16th edition of Techtextil North America will take place February 26-28, 2019, in Raleigh.
Messe Frankfurt also has announced the 2020 Atlanta events will take place May 12-14, 2020, again at the Georgia World Congress Center.
July/August 2018