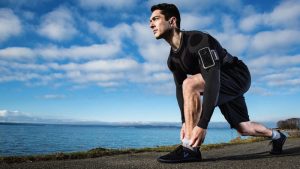 The medical field benefits from textile innovations, and the rapid development of sensor technology brings new products to the healthcare and wellness market.
TW Special Report
The textile news has presented a number of stories centered in and around the medical industry in recent months. Whether the news relates to implantables and grafts, coatings and additives for wellness and bacteria protection, or innovative uniform fabrics, the textile industry is playing a role in medical progress. One particular area of note is sensor technology. Rapid development is taking place in the sensor market, and many companies are developing smart textile products for medical and health-related applications.
Making Socks Smart
Recently, San Francisco-based health technology company Siren introduced Neurofabric™, a Diabetic Sock and Foot Monitoring System that features microsensors embedded directly into the fabric. Six sensors — three across the ball of the foot, one in the arch and one on the heel — continuously monitor foot temperature looking for variation.
According to the company, Siren Diabetic Socks continuously monitor foot temperature to help detect signs of inflammation, the precursor to diabetic foot ulcers. Monitoring foot temperature is clinically proven to be the most effective way of catching foot injuries, and is up to 87-percent more effective at preventing diabetic foot ulcers than standard diabetic foot care.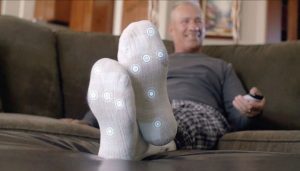 The company reports that approximately 56 percent of diabetic foot ulcers become infected, and 20 percent of those people with infected foot wounds end up with some type of lower extremity amputation. More than 100,000 legs are lost to diabetes each year in the United States. Meanwhile, up to 80 percent of people with diabetes who have foot amputations pass away within five years.
The socks wearer can see the temperature of their feet instantly with the app and compare changes from day to day.
"We built this technology because foot ulcers are the most common, costly and deadly complication for people with diabetes, yet there was no way to continuously monitor for these massive problems," said Ran Ma, CEO and co-founder of Siren. "Our Neurofabric has endless applications across healthcare, sports, military, and fashion, but it was obvious to us that solving this specific problem is where we had to start, because it impacts so many and can mean the difference between losing a limb or not."
The socks are sold as part of a system, which is offered as a subscription that includes five pairs of new Siren Diabetic Socks shipped every six months, the Siren Companion App, and live customer support.
Siren Diabetic Socks feature:
Neurofabric™ — Seamlessly-integrated sensors that monitor foot temperature at six key points — the most effective method for determining foot health;
Comfortable fit — All socks are seamless and non-binding;
Machine-washability and don't need charging; and
Moisture-wicking — Fabric removes moisture from the foot area to promote healthy skin.
Six months is the expected useful life of the embedded battery.
According to Siren, for people with diabetic neuropathy the socks look and feel just like a regular pair of socks and provide continuous, clinical-grade temperature monitoring and health tracking over time. All they have to do is put on their socks like they would any other day.
Printed Graphene Sensors
Newark, Del.-based W. L. Gore & Associates and Bonbouton, New York City, have entered into a joint development agreement "to explore material solutions in advanced sensor technology and enable practical smart fabrics for assistive apparel and digital health applications."
Bonbouton — a manufacturer of inkjet-printed, low-cost graphene temperature sensors — licensed technology developed at the Stevens Institute of Technology, Hoboken, N.J. The company's flexible and molecularly thin sensors made using graphene oxide (GO) can be used for monitoring skin temperature.
The Bonbouton-Gore partnership will initially focus its research on temperature sensing technology and "will lay a foundation for future applications of sensor technology and conductive inks in digital health, chronic care management and smart fabrics." The companies will utilize the Gore Innovation Center and are equal partners. Gore's Innovation Center houses a prototyping facility where various developers and corporations can innovate and collaborate, while Gore can move forward its mission to provide support and assistance for start-ups in the digital health arena.
"Our work with Gore, and specifically the Innovation Center, is an exciting development," said Linh Le, CEO and founder, Bonbouton. "Its materials and expertise are what will allow us to improve on existing technology and take development to the next level. Gore is known for a science-backed approach to comfort and wearability. Coupled with its collaborative resources and exploratory mindset, this makes Gore a model partner."
"Because of its extraordinary flexibility and thinness, we envision that 'comfortable-to-wear' graphene sensor arrays can be used for constant and wireless monitoring of a variety of pathophysiological developments," Le said.
"We are thrilled to be working with Bonbouton to explore our combined potential, especially in applications where it can enhance quality of life for those with chronic conditions," said Linda Elkins, co-leader, Gore Innovation Center. "The Gore Innovation Center offers a prototyping facility where startups, researchers, customers and corporations can collaborate and innovate."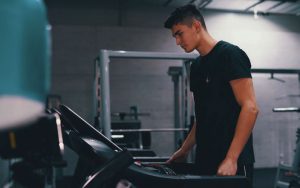 Built-in ECG And Heart Rate
Recently San Francisco-based Emglare introduced smart clothes designed with sensors for monitoring heartbeat as well as the electrical activity of the heart using electrocardiography (ECG). Emglare's smart clothes communicate directly with a mobile phone application where all monitored health information is made available.
Emglare's first commercial product is the Emglare Heart mobile application, which is compatible with its smart clothes featuring built-in ECG and heart rate sensors. The clothing can be recharged directly using a wireless charger. The company initially has designed an undershirt and sports T-shirt for men, and a sports bra and regular bra for women. According to the company, the products are suitable for daily use because one of the its goals was "to produce smart clothes that are natural and comfortable even when worn all day."
"Our goal is to create the best smart clothes in the world that are not only super smart but mainly comfortable and suitable for everyday wearing," said Jifií Pastor, CEO and founder of Emglare. "Our products are developed by a group of specialists from different disciplines – healthcare, informatics and fashion industry."

Sensoria For Health, Wellness
Several years ago, Redmond, Wash.-based Sensoria introduced a smart sock that could monitor not only how fast and far a runner went, but also how well they run. The right and left footed socks feature three sensors under the plantar area of the foot to detect foot pressure. The sensors are connected to conductive fibers in the sock that can relay data collected to an anklet that is connected to the sock's cuff via a magnetic attachment. Sensoria reports the sock was designed to act as a textile circuit board. The lightweight anklet is activated when connected to the magnetic attachment and communicates continuously with a Sensoria mobile app using Bluetooth Smart. The company also makes upper garments that can monitor heart rate.
More recently, the company has extended this technology into the Sensoria Smart Running Shoe. Textile pressure sensors embedded in the shoe are connected to a detachable electronic device called Sensoria® Core, which features system on chip (SoC) technology. The sensors monitor pace, speed, ascent and descent, cadence, contact time, foot-landing technique and impact, which is accessed using the Sensoria Run companion app. A runner may use the data to improve performance and reduce the risk of injuries. Sensoria currently is taking preorders for the shoes.
Sensoria reports its technologies are customizable and compatible with a variety of healthcare applications. Its sensors are safe for use on skin and have been tested at a variety of pH ranges. The thin sensor — less than 1 millimeter thick — offers flexibility for a wide range of clinical applications including diabetic foot complications, fall detection and prevention, neurology, and rehabilitation, according to the company.
BeBop: From Musical Applications To Health Tech
Berkley, Calif.-based BeBop Sensors Inc.'s approach uses fabric to measure force. Launched back in 2014, BeBop's Wearable Smart Fabric Sensor was developed as a spin off from a sensor technology company created by musical instrument inventor Keith McMillen. BeBop uses a combination of polymers to make a fabric piezoresistive. When the material is strained in any way — twisted, bent, stretched or when force is applied — there is a change to the fabric's electrical properties, which can be quantified by conductive inks that sense the change in resistance. Unique geometries are used depending on the application.
According to the company, its sensors can measure physicality, XYZ location, bend, motion, rotation, angle torsion as well as sense pressure. BeBop reports the market applications for its technology include clothing and protective wear, shoes, healthcare devices, athletic equipment, automotive, robotics, aerospace, gaming, biometrics, and prosthetics.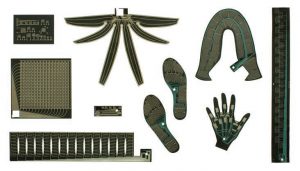 The company developed a High Resolution Smart Helmet Sensor System, which employs 40 sensors in the helmet's liner to capture a high-speed movie of an entire impact incident from the perspective of the head. The data, which includes the exact impact location and velocity thresholds, can be used by first responders and for post-trauma analysis. The helmet also can be programmed to trigger an emergency call or other response command. "Strikes to the pterion (temple area) are far more dangerous than to the frontal bone, said Keith McMillen, BeBop founder and CEO. "Knowing where the strike originated and how it propagates during the event can provide valuable first responder information as well as input for decision making to dial an emergency 911 number for assistance."
Recently, the company closed a more than $10 million Series A round of funding led by San Francisco-based Bullpen Capital. The company reports it intends to use the funds to accelerate product development and market penetration of its sensor-based technologies.
July/August 2018