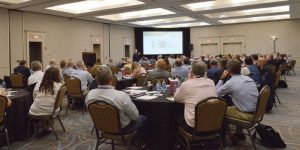 Chateau Élan proved a draw for the 35th annual Outlook® Conference
TW Special Report
The Roseville, Minn.-based Industrial Fabrics Association International (IFAI) recently wrapped up the 35th annual Outlook® Conference, which was held at the Chateau Élan Winery & Resort in Braselton, Ga. The conference is co-organized by the Narrow Fabrics Institute (NFI) and United States Industrial Fabrics Institute (USIFI), both divisions of IFAI.
Market Trends, Useful Insights
The event again kicked off with a "Military Morning" presented by IFAI's Military Division after positive feedback from attendees about last year's inaugural Military Morning programming featuring military-focused topics. Conference participants learned about the intricacies of the Department of Defense's budget, the mission and procurement procedures of the Defense Logistics Agency, as well as the key goals of the U.S. Army Natick Soldier Research, Development & Engineering Center for outfitting the soldier of 2030 with the best uniforms and equipment. Other topics covered over the two days included an economic outlook, the innovation taking place at the Advanced Functional Fabrics of America (AFFOA), the impact of supply and demand in the man-made fiber industry, a Washington update, and an overview of world energy markets. Bill Jackson, the U.S. Trade Representative for Textiles, was unable to attend the event in person because he was involved in the ongoing North America Free Trade Agreement negotiations. However, Jackson was able to address attendees the second morning via video call.
Keynote speaker Ross Bernstein — an author of almost 50 sport books — ended the conference proceedings before attendees headed out to play a round of golf or tour the Chateau Élan winery.
New USIFI Chair
During the meeting, retiring USIFI Chair Ted Anderson stepped down, and Jim Egan, Graniteville Specialty Fabrics, was installed as the institute's new chair. Patti Bates, Glen Raven Technical Fabrics, was named USIFI vice chair.
Industry Support
The event was well supported by the industry with some 23 company sponsors contributing to the success of the event including Highland Industries, Glen Raven, Gehring-Tricot, Herculite, Milliken, Jakob Müller, Nexis Fibers, Unifi, Graniteville Specialty Fabrics, and Brawer Bros., among the supporters.
"This year's IFAI Outlook was one of the best ever," said Lloyd Wood, conference speaker, and president, Lloyd Wood Group. "Networking opportunities were abundant and the conference featured outstanding presentations on defense policy, marketing and other important topics. The U.S. textile industry has bright future thanks to its leadership and innovation."
"The 2018 Outlook Conference was a huge success," said Steve Schiffman, president and CEO, IFAI. "Attendance reached a five-year high and we had a lot of positive feedback on the quality of the content on the future of the U.S. textile industry. We're looking forward to the 2019 Outlook Conference at the Ritz-Carlton Reynolds in Greensboro, Ga., May 6-8, 2019."
July/August 2018