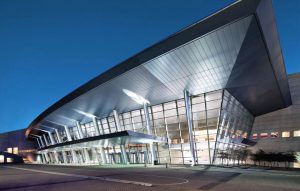 Industrial fabrics, geosynthetics and composites industries will be represented at collocated trade shows in Dallas this October.
TW Special Report
Organized by the Roseville, Minn.-based Industrial Fabrics Association International (IFAI), IFAI Expo 2018 will collocate with CAMX and GeoDallas this fall in Dallas. To be held October 15-18 at the Kay Bailey Hutchison Convention Center, the conference promises access to a combined show floor featuring more than 800 total exhibitors, as well as networking opportunities with other specialty fabrics, advanced textiles, composites, and shade and weather professionals at a variety of informal events during the expo. More than 15,000 people are expected to attend the combined event.
IFAI Expo serves all aspects of the industry, and highlights segments targeted to specific markets including specialty fabrics, advanced textiles, smart fabrics, shade and weather protection, military, marine, geosynthetics, and fabrics structures, among other markets.
"We're excited to be in Dallas this year for IFAI Expo 2018 where we will be co-locating with CAMX, the composites and advanced materials Expo," said Steve Schiffman, president and CEO, IFAI. "Attendees will enjoy a great value and have access to all six exhibit halls, an expanded array of market segments and over 800 exhibitors for one price. Our Pre-Expo Conference will feature six different tracks and over 60 training courses."
IFAI has revamped the Opening Reception event. This year, the offsite party to be held at the 2616 Commerce Event Center — a unique tri-level venue with rooftop space offering skyline views — from 5:30 to 7:30 p.m. on Tuesday, October 16, will feature drinks, appetizer stations and live entertainment including the IFAI's member band Hangin' by a Thread. Tickets will be required for entry. Full registrations and GeoDallas registrations include a ticket. Otherwise, tickets can be purchased by members for $35 and non-members for $85. IFAI is offering an early bird discount of $10 off tickets purchased by September 17.
Show Floor Activities
This year's Expo features a show floor packed with exhibitors as well equipment workshops and education demonstrations, campfire sessions, Advanced Textiles Lounge, IFAI Hub/Membership Lounge, Fabric Sourcing Center, Testing Demo Zone and Industry Awards Gallery.
The 2018 expo will feature five areas of education on the show floor: Campfire: Shade; Campfire: Specialty; Campfire: Advanced Textiles; Testing Q&A; and e-Textiles Workshop and Discussions. Organizers report the show floor education opportunities are a great way to pick up business-building tips, learn from experts and share best practices.
Mentor Meetings return to IFAI Expo 2018. Both attendees and exhibitors may schedule 30-minute appointments in advance to meet with independent experts during the show to seek confidential advice.
The IFAI Expo Testing Program in collaboration with North Carolina State University's (NC State's) College of Textiles will again be available to expo attendees on and off the show floor. The Pre-Expo Conference features a testing curriculum designed to educate on the methodology and interpretation of standard test procedures. Participants who complete the Testing Track at the conference in addition to lab requirements in the Testing Demo Zone on the show floor will earn a Textile Testing Certificate, which can be applied toward NC State's Textile Technology Certificate Program.
The Testing Demo Zone will gather the latest-generation testing equipment from exhibitors. Attendees are invited to watch live demonstrations and videos, as well as participate in question and answer sessions and the Intro to Testing Seminar to learn more about textile testing, current research, product development and product claims. Those who complete the Intro to Testing Seminar as well as additional lab requirements at the Testing Zone can earn an Intro to Testing Certificate, which can be applied toward a NC State Textile Technology Certificate Program.
A new feature at IFAI Expo 2018 is the Manufacturing for Good demonstration booth. Attendees will be able to watch equipment demonstrations and follow the manufacturing process as duffel bags are made on the show floor. This live charity event supports the Bridge North Texas, a multi-service center for people experiencing homelessness. IFAI member companies will donate the materials as well as manufacturing expertise to make the bags, which will be used by people served by The Bridge.
For a complete list of all the events and happenings surrounding the 4-day expo, please see the "Schedule at a Glance."
Educational Events, Awards
This year's Expo features an extensive educational preshow conference schedule. In contrast to past years, the Pre-Expo Conference will only be held Monday from 8 a.m. until 5:30 p.m. No conference sessions will occur once the show floor opens on Tuesday.
There are 48 total sessions to choose from with topics ranging from shade, marine, sewing, automation and green practices, to advancements in knitting and business operations. Each 50-minute session is structured as a lecture, panel or discussion, and will focus on case studies, best practices, how tos, research and industry issues. Participants may move between session rooms throughout the day and are encouraged to tailor their own curriculum. Full registration is required to participate in the Pre-Expo Conference.
IFAI will again recognize new and innovative products and services found on the show floor with the Show Stopper program. The annual International Achievement Awards (IAA) — judged by industry experts, editors, architects, educators and design professionals — will honor innovation, technical skill and design excellence. In addition, the four Student Design Competitions sponsored by four IFAI divisions will recognize student talent in Advanced Textiles, Awning and Canopy, Fabric Graphics and Fabric Structures. The Industrial Fabrics Foundation also will present Innovation Awards in six categories with one achievement honored with a top overall prize.
Keynote Address
This year's keynote speaker will be featured Tuesday, October 16, 2018, from 8:30-9:45 a.m. prior to the show floor opening. All exhibitors and visitors are invited to attend Mark Scharenbroich's talk titled, "Nice Bike — Making Connections That Move People." According to IFAI, Scharenbroich will focus on how to effectively make meaningful connections in both professional and personal situations through three strong actions: Acknowledge, honor and connect.
Collocated Events
IFAI's GeoDallas Conference is a two-day regional conference featuring short courses, panel discussions, case studies and training lectures for geotechnical, civil and environmental engineers. Participants will earn 14 professional development hours, and also gain access to the Geosynthetics Pavilion show floor.
CAMX — the Composites and Advanced Materials Expo, is produced by the American Composites Manufacturers Association (ACMA) and the Society for the Advancement of Material and Process Engineering (SAMPE). The show bills itself as the "event that connects and advances the world's composites and advanced materials communities — the go-to place for products, solutions, networking and advanced industry thinking."
CAMX features a conference program with more than 300 conference and technical sessions as well as a poster session. The conference is arranged into eight tracks: Additive Manufacturing; Advances in Materials; Business, Regulatory & Workforce Development; Design, Analysis & Simulation; Green & Sustainability; Manufacturing and Processing Technologies; Market Applications; Non-Destructive Evaluation and Testing.
The three collocated events offer something for everyone involved in the industrial, geosynthetic and composites industries. Dallas is the place to be this October!
July/August 2018