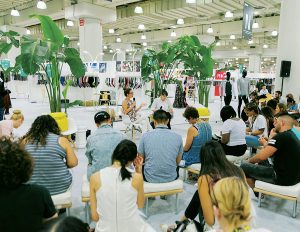 Collocated fabric, sourcing and home textiles shows will highlight Autumn/Winter 2019-20 trends, as well as findings and trims.
TW Special Report
Texworld USA — along with Apparel Sourcing USA and the Home Textiles Sourcing Expo — will be held July 23-25, 2018,at the Javits Convention Center, New York City.
Texworld — produced by Atlanta-based Messe Frankfurt Inc. in partnership with Austria-based Lenzing AG — is based on sister show Texworld held in Paris, and is designed to connect fabric manufacturers with top buyers.
Also produced by Messe Frankfurt, Apparel Sourcing USA is a marketplace dedicated to sourcing international manufacturing services. The show provides apparel brands, retailers, wholesalers and independent design companies a place to connect with international apparel manufacturers.
Home Textiles Sourcing Expo — produced by Messe Frankfurt in partnership with the China Council for the Promotion of International Trade (CCPIT-TEX) — offers manufacturers, retailers, jobbers, converters, contract specifiers and designers a venue to source fabrics and finished soft goods for home collections and applications.
According to organizers, the collocated events are sure to offer a one-stop shop for textile buyers, independent designers, fabric sourcing professionals and other industry people with an interest in apparel fabric sourcing, apparel design, trends, industry education, and manufacturing/private label development services.
"Texworld USA together with Apparel Sourcing USA and Home Textiles Sourcing offers designers, fabric sourcing professionals and anyone looking for manufacturing or private-label development a marketplace for networking, education and sourcing," said Show Director Jennifer Bacon.
Texworld USA
As an international business platform, Texworld USA offers a huge selection of quality and affordable fabrics covering the entire spectrum — from on-trend fabrics, and sustainable and eco-friendly fabrics to innovative performance fabrics — as well as trims and accessories from trusted suppliers from all over the globe. Exhibits will be organized into 15 product groups: Cotton; Denim; Embroidery and Lace; Faux Fur; Findings, and Trims and Accessories; Functional Fabrics; Jacquard; Knits; Linen; Prints; Shirting; Silk; Silky Aspects; Wool; and Yarns.
"Texworld is a viable global fabric and manufacturing resource that I look forward to each and every season," said RoDerick Gilbert, senior designer, Robert Graham Designs.
According to Messe Frankfurt, the July 2017 edition of the show attracted 5,000 visitors and 513 exhibitors from 12 countries.
Highlights at the July 2018 event include a Texworld Showcase Trend area showcasing Autumn/Winter 2019-20 trends compiled by Texworld's Art Directors — Louis Gérin and Grégory Lamaud; a Frankfurt Style Award Fashion Activation featuring works of selected designers; Textile Talks with discussions hosted by StartUp Fashion among other hosts; an Explore the Floor series with guided tours of the show floors led by industry experts; and a Facebook live segment with Fashion TV, among other highlights.
The Texworld USA seminar series organized by Lenzing Fibers will feature speaker Laurie Pressman, vice president, Pantone. The schedule for the complimentary industry-expert-led sessions and panel discussions will be published online at the Texworld website in advance of the show.
Apparel Sourcing USA/Home Textiles Sourcing Expo
Exhibitors at Apparel Sourcing USA are organized into eight end-user groups as follows: Activewear, Childrens/Infantwear, Juniors, Ladieswear, Bridal/Special Occasion/Cocktail, Menswear, Sportswear, and Swimwear/Lingerie.
New at Apparel Sourcing's July edition is the Local Loft. "In 2018, we will introduce the Local Loft, which is a unique platform highlighting local and sustainable apparel factories, contractors and services geared towards attendees looking for domestic and locally-sourced production facilities," said Bacon.
"This year's Spotlight area will feature 'The Art of Customization – Findings, Trims and Accessories,' a trend chosen by the Texworld art directors," Bacon added. "The show will feature a trim activation curated by the Trim Queen Jana Platina Phipps. Jana is a NYC-based embellishment expert known for her refined vision in the use of trimmings in fashion and home furnishings. Jana also will be conducting a hands-on workshop on how to create trims."
Products from international suppliers at Home Textiles Sourcing are grouped into six major categories:
Bed – including bed linens, bedding, quilts, throws and decorative cushions;
Bath — including bath textiles and accessories;
Table — including kitchen linens, table coverings and table decorations;
Floor — including carpets and rugs;
Window — including decorative fabrics, curtains and textile curtain accessories; and
Upholstery — including upholstery fabrics and decorative cushions.
Items in each category are made using a variety of fabrics and/or components.
One highlight at Home Textiles Sourcing is "The New Home Textiles Landscape – What's Needed to Survive and Thrive Tomorrow" panel discussion. Sponsored by Home Textiles Today, the discussion will be moderated by the publication's Editor in Chief Jennifer Marks.
Home Textiles Sourcing and Apparel Sourcing USA visitors also are welcome to attend the complimentary Texworld USA seminars.
Admission to the collocated events is free for qualifying trade show visitors. Guests may register online prior to the event, or on-site using photo identification and a business card. Exhibit halls are open on July 23 and 24 from 10 a.m. until 6 p.m., and on July 25 from 10 a.m. until 4 p.m.
In total, more than 750 companies and 7,000 attendees are expected to participate in the July editions of all three shows.
---
For more information about Texworld USA, Apparel Sourcing USA, and Home Textiles Sourcing Expo visit texworld usa.com, apparelsourcingshow.com and hometextilessourcing.com.
---
May/June 2018