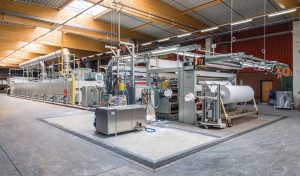 Monforts coating and finishing technology provides advanced textile manufacturers flexibility to successfully negotiate diverse markets.
By Jürgen Hanel
Technical textiles are extremely diverse in their end-use applications and manufacturers can be called upon to quickly produce a succession of materials with widely differing properties and performance applications – often within a single shift.
For customers of Germany-based A. Monforts Textilmaschinen GmbH & Co. KG, these materials range from substrates for digitally-printed soft signage to carbon fabrics for today's high-performance composites, and from filter media that must perform in extreme temperatures to flame-retardant barrier fabrics.
Then there are the heavy-duty membranes employed in the collection and storage of methane in biogas plants, as well as materials equipped with sensors and electrical conductors now used as base liners in dye-sensitized solar cells, to name just a few examples.
These very different materials, however, have one thing in common – they all require expert coating and finishing for maximum efficiency. The technology must allow ultimate flexibility and offer the ability to switch rapidly from one fabric formula to the next, without compromising on economical use of energy or raw materials.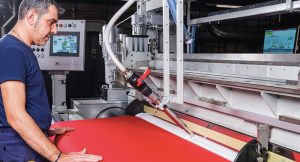 Modules
The introduction of the latest Monforts multifunctional coating heads for the company's industrial texCoat and Allround coating units offer a wide range of options, with modules available for:
Screen printing — The coating head for rotary screen printing is suitable for woven, knitted and nonwoven fabrics, with the ability to apply single-color patterns and also achieve 3-D effects with low liquid penetration, for add-ons of between 10 and 100 grams per square meter (g/m2) and with coating formula viscosities of between 2,500 and 8,000 milliPascals (mPa). It also is highly suitable for patterning denim.
Magnetic roller coating — With this coating head, low-penetration lacquering and pigment dyeing can be carried out, to add functional coatings to fabrics with add-ons of between 10 and 80 g/m2 and within the viscosity range of 1,000 to 6,000 mPa. Again, woven, knitted and nonwoven fabrics equally can be successfully treated.
Knife coating — Is suitable for the one-sided application of foams to coated fabrics in order to seal against water, other liquids and gases; or alternatively for the addition of breathable coatings. Foam lamination and coatings for fashion items also can be applied using the knife method. Foam coating is particularly suitable for the production of highly effective blackout fabrics.
Two separate modules are available for knife coating:
A knife system for coating viscosities of between 3,500 and 12,000 mPa and add-ons of between 10 and 150 g/m2. A coating speed of up to 50 meters per minute (m/min) is achievable with this head.
A roller knife coating head for working with coating viscosities of between 3,000 and 35,000 mPa and a wide add-on range of between 20 and 1,500 g/m2. Depending on the material and coating, high speeds of up to 120 m/min are possible with this unit.
The texCoat module can be integrated into new lines or retrofitted into existing ones, while the Allround is a complete system designed to be integrated into a complete Monforts finishing range.
The acquisition of Austria-based Timatec and the integration of its range into the Monforts portfolio has further strengthened the company's position in respect to coating technology.
The company is the only manufacturer that can offer completely integrated coating lines from a single source and the coating machine is tailored to the subsequent Monforts drying technology — with all the benefits resulting from a fully integrated programmable logic controller.
Monforts' system has the shortest fabric path from the coating unit into the tenter and the company offers all variations of coating application systems as well. All of these options are available in wider widths, with the engineering and manufacturing from a single source in Europe.
Because of its company structure, former Timatec units were sold only in Germany, Austria and Switzerland. Today, the company has new references in Turkey, Mexico, India, Pakistan and other markets.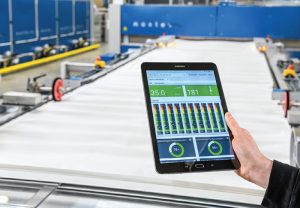 Quick Changes
On the Allround, the modular coating heads can be quickly and easily changed via a specially-designed undercarriage from the side of the unit, allowing it to be readily adapted for different applications.
The Montex Allround consists of a load cell, a spreading unit and a pulling device along with the selected coating head. It allows for tension-free coating of the substrate along a greatly-reduced web path and a very short period of "open" coating prior to the substrate entering the dryer to ensure a significantly reduced chance of contamination. The shortest possible distance between the coating head and the tenter infeed ensures the highest quality coating results.
Further special modules for powder scattering and spraying also are available and the unit can be enclosed with a special casing to handle fabrics treated with organic, or even toxic, solvents.
Organic Solvents
There has been a wariness around handling organic solvents, but in the end, they're not as difficult to coat on textile substrates as they are on plastic films where they already are widely used, and these solvents offer possibilities for companies to explore and develop entirely new products, especially in fields such as medical and filtration.
Nevertheless, they do require a highly-controlled and contained environment, and this was a key consideration when the technical textiles line available for trials at the Advanced Technology Centre (ATC) at Monforts' headquarters was constructed.
The line incorporates a Montex 8000 four-chamber, horizontal chain tenter and is fitted with an explosion-proof coating application chamber.
Every single component within the chamber has to meet the standards of the European Union's ATEX directives for working in an explosive atmosphere. A range of sensors linked to alarms operate at various levels within the chamber to ensure the specified lower explosion limit is never exceeded and the ventilation adapts accordingly.
Special features on the finishing line relate to a further advanced function — the ability to treat materials not only at temperatures of up to 320°C, but also to be able to treat the top and bottom faces of certain materials at different temperatures within a single pass through the machine.
To achieve this, the first two chambers of the tenter are fitted with special, heavy duty TwinAir ventilation motors and separate burners for individual top/bottom temperatures. A temperature differential of up to 60°C can be achieved between the upper and lower nozzles within the chamber.
There are many applications where employing two separate temperature treatments is beneficial, such as floorcoverings — where the textile face fabric is treated at one temperature and the rubber backing at another — as well as polyvinyl chloride flooring that employs chemical foams, or for materials like blackout roller blinds with heavy backings.
At the same time, in the pharmaceutical industry there is a wide range of different applications for organic solvents such as antiseptic treatments that have to be treated very carefully and applied at very specific temperatures in order not to destroy their efficacy.
Other materials, such as polytetrafluoroethylene-coated filter materials also are applied and then cured at separate temperatures.
Stretching
Another key feature of the technical textiles line at Monforts' ATC is the special stretching device capable of pulling 10 tons in length and 10 tons in width — a huge amount per square meter of fabric and necessary in the production of materials such as woven or 3-D knits for high-temperature filter media.
Three weft straighteners — each with different key strengths — have been installed by Monforts' ATC partners Erhardt + Leimer GmbH, Mahlo GmbH & Co. KG and Pleva GmbH, all based in Germany.
This line has been engineered to provide the ultimate in precision coating finishing in order to achieve the standards required by the medical industry, and also the quality standards in place for aerospace- and automotive-grade materials.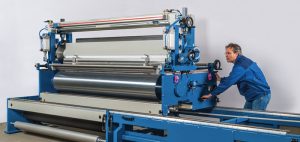 Eco Applicator
For conventional woven and knitted fabrics, the Monforts Eco Applicator as an alternative to the traditional on-wet padder has been highly successful since its introduction in 2011 — both integrated into new finishing lines and retro-fitted to existing ones.
In many textile mills globally, the cost of running integrated manufacturing lines — especially those for fabric finishing that can involve numerous sequences of heating and subsequent drying — is now eclipsing the cost of paying people to operate them.
The ability of the Eco Applicator to significantly reduce energy costs is the key reason for its rapid acceptance on the market.
The soft coating unit eliminates the need for a padder, instead employing trough and roller techniques to apply the required amount of liquid or coating to the fabric.
The unit itself does not actually save the energy, but by applying only the precise amount of functional finish, the subsequent drying time is shorter, and in some cases dramatically so.
Some Monforts customers have reported success stories of cycles that previously took an average of 160 minutes that have been reduced to just 40 minutes. Obviously, reducing the full processing time to a quarter of what it was has a significant impact on the electricity, steam and gas that is consumed.
The technology has been widely proven on woven and denim fabrics, and major knitting manufacturers now also are reaping the benefits the Eco Applicator provides.
Knitted fabrics must never be stretched and needs to be treated in a relaxed state. This is why the Montex tenter dryer with vertical chain return incorporates a TwinAir nozzle system that ensures the relaxed fabric is kept at a suitable height in between the upper and lower nozzle system, allowing for the fabric's bowing, since it cannot be stretched.
Similarly, the Eco Applicator for knits is fitted with an advanced guidance system specially adapted to the needs of delicate treatments eliminating any possible curling of the fabric edges prior to entering the tenter.
Compared with a padder system, where the initial moisture content of the fabric entering the tenter is 60 percent, the Eco Applicator reduces moisture content to 40 percent. The system also has the shortest fabric path from the coating unit into the tenter.
The Eco Applicator's versatility also allows mills to apply finishes to just one side of the fabric, or both; and even to apply separate finishes to each side, or to specific areas of a fabric, creating endless possibilities, whether treating wovens, denim or delicate knits.
Complete Control
The instant connectivity and easy distribution of know-how is changing the face of industrial manufacturing, making the operation of complex machinery much simpler and cutting down the required training periods. At the same time, the chance of human error is reduced.
This is certainly the case with Monforts' latest Qualitex 800 control system, which is available for the automatic and continuous operation of Montex tenters; Thermex and E-Control continuous dyeing ranges; Monfortex and Toptex shrinking systems; and Eco Applicator, texCoat and Allround coating units.
The Qualitex 800 has all the intuitive features operators will be familiar with from touchscreen smart phones and tablets to make navigation extremely easy and cut down the time required to become familiar with the system.
Operation is via touchscreen and wheel-effect selection, and the dashboard can be individually configured to meet the exact needs of an operator's tasks.
All parameters for setting up a machine — working width, chamber temperatures, drive selections and energy settings — can be preselected to a comprehensive range of stored and well-proven recipes specific to the weight, construction and fiber content of the individual fabric being processed. The machine can then be set to "Monformatic Mode" to allow it to operate automatically, based on maximized preset values in respect to parameters such as machine speed, fabric dwell time and the fixation temperature for specific finishing operations.
A series of checks and balances has been built in for both the machine and the operator, with actual performance constantly compared to the preset values and compensatory measures introduced either automatically or by simple manual intervention. All machine parameters are stored for further evaluation and the creation of historic trend charts, and any potential problems are flagged by instant alarms for later performance analysis.
Further assistance is available via the Monforts Teleservice portal, including internet conferences with Monforts specialists in Germany and video and audio problem solving. All documentation in respect to operation, maintenance and wiring diagrams can be accessed. If necessary, the E-CAD drawings and spare parts catalogue also can be remotely consulted, and a camera can be called up at any time for remote visualization of the individual machine and its parts.
Everything is in place to help the customer maximize productivity.
March/April 2018