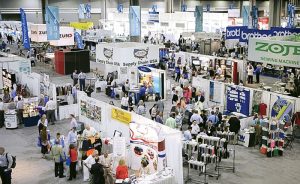 Collocated U.S. editions of Techtextil and Texprocess will showcase the best of the technical textiles, nonwovens, traditional textiles and sewn products sectors in Atlanta.
TW Special Report
Techtextil North America 2018, the show representing the technical textiles and nonwovens sectors, returns to the Georgia World Congress Center in Atlanta for its 15th edition to be held May 22-24, 2018. The show will be collocated with the fourth edition of the sewn products event Texprocess Americas 2018, formerly known as SPESA Expo.
Techtextil North America is produced by Atlanta-based Messe Frankfurt Inc.; and Texprocess Americas is coproduced by Messe Frankfurt and Raleigh, N.C.-based Sewn Products Equipment & Suppliers of the Americas (SPESA).
"Each year, the collocation of Techtextil North America and Texprocess Americas provides a diverse offering of products, services and technologies that represent the entire value chain for technical textiles and sewn products," said Dennis Smith, president, Messe Frankfurt. "We look forward to returning to Atlanta with an expanded show agenda, and even more features and networking opportunities for visitors to take advantage of."
In an event first, on Wednesday, May 23, organizers will host a joint reception open to both exhibitors and attendees with the goal of encouraging further networking and interactions between all participants. Attendees are encouraged to purchase tickets — which cover food, drinks and entertainment — in advance as an add-on to all registration types. Availability is limited, and prices will increase on-site.
Techtextil North America
In 2018, the show again will assemble all vertical aspects of the technical textiles and nonwovens industries including research and development, raw materials, production processes, conversion, further treatment, and recycling.
Visitors will see a wide variety of product groups at Techtextil representing the entire value-added chain in the technical textiles and nonwovens sectors including fibers; yarns; woven fabrics; laid webs; braiding; knitted fabrics; nonwovens; coated textiles; canvas products; composites; adhesives and bonding; research; development; planning; consultation; technology; machinery; and accessories.
Techtextil North America exhibits are classified according to 12 application areas: Agrotech; Buildtech; Clothtech; Geotech; Hometech; Indutech; Medtech; Mobiltech; Oekotech; Packtech; Protech; and Sporttech.
This year, Techtextil North America will feature a High-Tex from Germany area where some 66 companies will gather on the show floor to highlight their high-performance textiles and fibers, as well as machinery. This area of the show floor will host its own set of lectures, demonstrations and multi-media presentations during the event.
Texprocess Americas
Texprocess Americas is promoted as the largest North American trade show displaying equipment and technology for the development, sourcing and production of sewn products.
Product groups and services covered include: computer software and information technology; contract manufacturing and sourcing; cutting, spreading and ancillary equipment; digital, screen, transfer printing and ancillary equipment; embroidery, monogramming and ancillary equipment; laundry, finishing and ancillary equipment; pressing, fusing, vacuum and ancillary equipment; product identification, labeling and ancillary equipment; sewing and ancillary equipment; other supplies and equipment; fabrics and materials; findings, trimmings, components and accessories; manufacturers; recycling and sustainability; services, associations, publications and academia; supplies; supply chain services; and warehousing, distribution and materials handling.
A Supply Chain USA pavilion will join pavilions featuring companies from Germany, Italy, Taiwan, Belgium and China on the Texprocess show floor.
In addition, Texprocess Americas will host a "20th Century Fox's The Greatest Showman Costumes Brought To You By Gerber Technology," exhibit, which will feature replicas of the costumes worn in the recent movie by actors including Hugh Jackman, Zac Efron, Michelle Williams and Zendaya.
Education
Visitors to Techtextil and Texprocess also may take advantage of several educational opportunities through its symposium sessions, Tech Talks and Graduate Student Poster Programs.
Presentations at this year's Techtextil North America Symposium include "Technical Textiles: Enabling Future Mobility in Electric and Smart Cars," "New Standards & Certifications: What Do They Mean for Textile Manufacturers and Consumers," and "Novel Medical Textiles," as well as two sessions on smart textiles.
An advisory council comprised of Margaret Bishop, Fashion Institute of Technology; Dr. Magali Brown, Nicca USA; Sam Buff, Textile Technology Center at Gaston College; Dr. Wei Gao, N.C. State's College of Textiles; Ben Mead, Hohenstein Institute Americas; Dr. Behnam Pourdeyhimi, The Nonwovens Institute; and Dr. Gang Sun, University of California, Davis, worked to develop the Techtextil presentation sessions and will moderate the sessions.
The Texprocess advisory council includes: Mel Berzack, Sewn Products Equipment Co.; Yoram Burg, EFI OptiTex USA Inc.; Dr. Michael T. Fralix, Textile Clothing Technology Corp. and SoftWear Automation Inc.; Dave Gardner, SPESA; Ed Gribbin, Alvanon Inc.; Mark Hatton, American & Efird; Frank Henderson, Henderson Sewing Machine Co. Inc.; Kilara Le, LMI Consulting; Nina McCormack, DAP America Inc.; Sam Simpson, Gerber Technology Inc.; and Michael McDonald, SPESA.
Presentation titles from the Texprocess Americas symposium include "Fit, Sizing & Virtual Try-On Technologies," The Cutting Room – Connecting the Value Chain for Every Textile You Touch," and the bonus session "Industry Talent & Skills Gap Assessment."
As always, the collocated shows will feature a graduate student poster program highlighting research performed by students enrolled at some of the top textile engineering and manufacturing programs in the country. The students' work will be on display throughout the event, and live presentations will give students the opportunity to engage attendees and share their research.
Tech Talks will return to the Techtextil show floor, and be held on the Texprocess show floor for the first time. The Raleigh, N.C.-based Nonwovens Institute will host the complimentary daily mini sessions on the Techtextil side; while The Fashion Institute of Technology, New York City, in collaboration with Voice of Insiders will host Tech Talks on the Texprocess show floor.
"This year's programming is packed with special features and events we think everyone will enjoy and really get a lot out of," said Kristy Meade, show director. "Not to mention, our exhibitors are really bringing their A-game with product launches and new technology. We can't wait to show everyone what we've been up to!"
Show hours are from 10 a.m. until 5 p.m. Tuesday and Wednesday, and from 10 a.m. until 3 p.m. on Thursday. Attendees are encouraged to register in advance to receive an early-bird discount. Prices for the exhibit halls and symposiums will increase for attendees who register on-site. Visitors need only purchase an exhibit hall badge for one of the shows to gain access to both Techtextil North America and Texprocess Americas. Attendees who purchase a one- or two-day symposium pass will receive a complimentary three-day pass for the show floor.
---
To learn more about Techtextil North America and Texprocess Americas as well as register, visit techtexilna.com or texprocessamericas.com.
---
March/April 2018