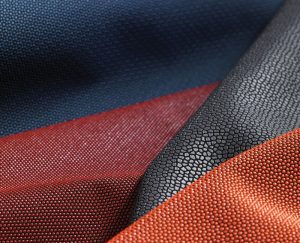 SuperFabric® is a highly durable, yet very flexible fabric developed out of the need for safety gloves for surgeons.
By Jim Kaufmann, Contributing Editor
There's an old adage in business that one way for a company to be successful is simply to identify something it can do really well and then sell it into as many different applications as possible. The SuperFabric® line of products — produced by HDM Inc., Oakdale, Minn. — are an example of this business philosophy masterfully executed. Start by developing an innovative and unique technology, continue to improve and enhance it while finding applications for it in a large number of different arenas. Then keep on advancing.
SuperFabric was not yet a concept when in 1992, a trio of problem-solving researchers — physicist Dr. Young-Hwa Kim, chemist Dr. Joel Nelson and Ayron Glynn — left 3M Corp. and opened their own consulting firm Higher Dimension Research Inc. The company was focused on resolving complex issues for a number of different clients and markets until a fateful day in 1996 when an orthopedic surgeon approached them with the challenge of creating a surgical glove that could provide protection from a medical needle or scalpel while still offering a high-level of flexibility to give surgeons the dexterity they required. That question led to the concept and development of SuperFabric, and a new company — Higher Dimension Materials Inc.
Patented Process For Guard Plates
The innovative solution SuperFabric's current CEO Kim devised focused on creating a system tiny, hard "guard plates" that were then infused onto and effectively linked together by a fabric base.
The notion of employing guard plates along with SuperFabric's patented process of creating and applying them to textiles is truly what makes this technology unique and incredibly versatile. Composition of the guard plates can be altered to fit specific application requirements. Their thickness, shape, size and geometric orientation when applied to the base fabric can also be engineered to impart different physical attributes. Because of their relatively small size, the guard plates leave micro gaps when positioned on a fabric, which along with their specific orientation, imparts a high degree of flexibility. The guard plates can be processed in a variety of different shapes, sizes and geometric orientations, and may be applied to commercially available fabrics.
"The fundamental premise is that locally the guard plates are hard, but globally they allow for full motion, which gives SuperFabric a feel similar to that of traditional fabrics," explained Doris Runa, director, SuperFabric. In principle, SuperFabric is comparable to some types of medieval armor where smaller metal plates were fashioned and essentially hooked together by chain links to make the armor more flexible. SuperFabric's guard plates perform in a similar fashion, but with significantly updated technology. The actual composition of the SuperFabric guard plates is proprietary, but by varying the guard plate composition, size, depth and their arrangement, HDM is able to adapt the fabric's attributes to meet specific performance needs for highly technical applications.
SuperFabric materials are designed to deliver a range of performance features including abrasion, stain and water resistance, durability, slash and penetration protection, weight reduction, breathability, moisture transport and more, while maintaining flexibility and integrity. "Technology is one thing, but there's definitely a significant amount of art and craftsmanship employed to make SuperFabric perform," Runa said. "This technology will continue to evolve and improve as we continue pushing its limits."
The guard plates typically are applied to woven polyester fabrics, but SuperFabric variations can be created using proprietary materials according to a customer's specific requirements as well. According to Runa: "We listen to our clients and make every effort to understand their needs. Then we actively work towards those needs and hopefully exceed them." Following this philosophy, SuperFabric has advanced from a singular use into a suite of products targeting applications throughout the technical and performance textiles arena.
A Core Technology, A Wide Array of Applications
From its original core technology, SuperFabric has established a collection of offerings with specific performance attributes. Current areas of focus include:
Performance SuperFabric — provides high levels of abrasion resistance, slash resistance and more commonly used for personal protective equipment, industrial and technical applications;
Lightweight SuperFabric — targets applications where weight is a primary concern while still providing a high level of functionality;
Reflective SuperFabric — well suited for safety applications requiring high visibility in addition to functionality;
Stretch SuperFabric — a new offering that incorporates a level of stretch and recovery along with its performance attributes;
Multi-Colored SuperFabric — delivers numerous color choices suited for many applications through "a deep infusion (sublimation) of color into the guard plates"; and
Embossed SuperFabric — offers a new level of design, performance and branding possibilities for many applications.
Applications are abundant and vary greatly. "Our biggest challenge really is maintaining focus on specific markets because the applications are vast," Runa said. "But we're not being idle either. We're always looking to improve."
SuperFabric has found success in a number of different and diverse areas. There is significant use in high abrasion applications such as elbow, shoulder and knees reinforcements for motorcycle gear and outerwear, which also benefit from the breathability, resistance to staining and color options. This also holds true for footwear applications such as skateboarding shoes, hiking shoes and industrial, military and tactical boots. Personal protection equipment continues to be a mainstay and includes brands like HexArmor, who acquired a license for SuperFabric and incorporate it into numerous industrial safety products and gloves. Seating applications are finding that SuperFabric is an ideal replacement for vinyl in commercial transport vehicles as well as lab, office and public use environments. Numerous military and industrial applications continue to incorporate SuperFabric components in targeted areas to enhance performance characteristics and durability.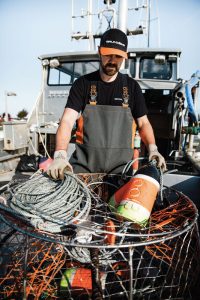 Strong Customer Relationships
Sweden-based Grundéns, a manufacturer of weatherproof garments for commercial fishermen, began using SuperFabric in its high-end gear where performance is a must in all environments. "Waterproof breathables are generally either super heavy or don't wear very well, especially given that the conditions and pretty much every surface on a heavy use commercial fishing boat can be abrasive enough to cut fabrics" reasoned Eric Tietje, Grundéns' Apparel Category director for Grundéns-USA Ltd. "The abrasion resistant plating and overall performance of SuperFabric when used strategically significantly improves our garment's durability which directly translates into our customer's satisfaction." Tietje also likes that SuperFabric is a U.S.-based manufacturer with convenient, excellent customer support. "They're easy to work with and open to new ideas," offered Tietje. "They listen to us and their ability to adjust the product's attributes gives us a solid base to overcome the challenges that our customers present."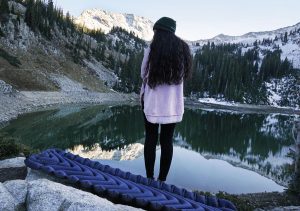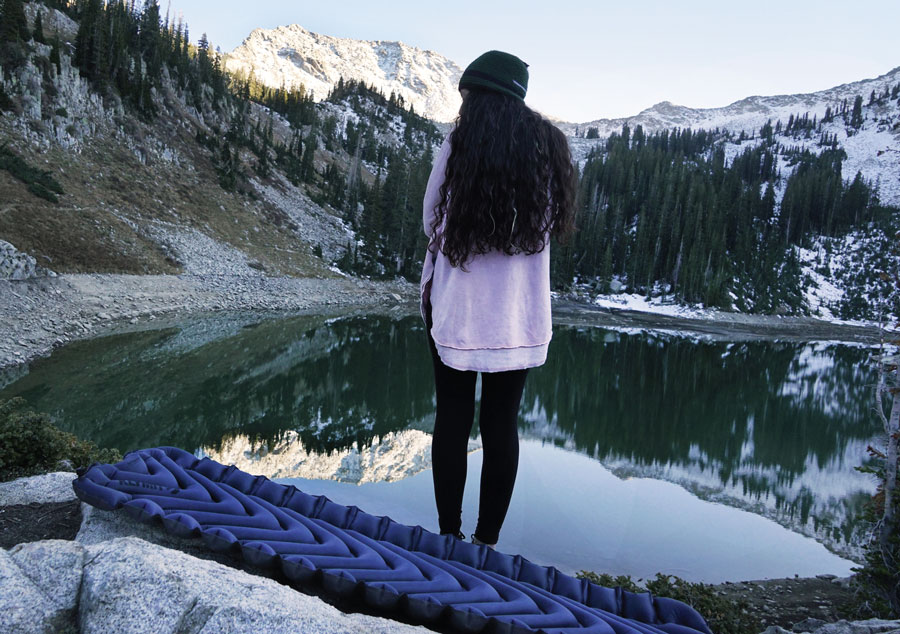 Matt Maxfield, vice president, Development and Operations for Centerville, Utah-based Klymit, a manufacturer of outdoor camping items including sleeping bags and mats, agreed that SuperFabric's engineers can be very helpful. "We wanted to create an extremely durable sleeping pad that wouldn't puncture when on rough ground. We wanted to use SuperFabric, but the challenge was figuring out how to laminate it to our inflatable pad material. They were great to work with and instrumental in helping us find the right solution. The result is our new ARMORED V sleeping pad which we are very happy with."
"The company realized early on that building strong relationships with our customers would be beneficial to both of us because of the unique characteristics of SuperFabric," offered Runa. In the early days, SuperFabric engineers recognized that the guard plate configurations would present unique challenges to the end product manufacturers. So, through trial and error they developed a Construction Guide that is available to all. The guide offers suggestions on how to cut, sew, cement, laminate and generally construct products using the SuperFabric line. It also includes recommendations on the most appropriate equipment including the types of sewing needles, scissors and thread to use in assembling garments, as well as listing several companies who supply these items.
SuperFabric continues to work closely with its customers by not only offering support, but also providing clients with the opportunity for customized product options specific to their individual needs or application. These can include tailored performance characteristics, colors, patterns and additional branding opportunities. "It's fun to assist our clients in exceeding their own expectations" professed Runa. "If we can help them improve their product and their marketplace presence, then more power to all of us."
In this day and age, if a company has the willingness to proclaim their product "super" anything, that company certainly better have the ingredients to live up to the moniker. Fortunately for a wide array of customers and applications that only continue to grow, SuperFabric has what it takes and does deliver.
January/February 2018