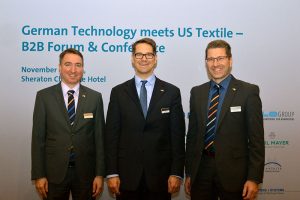 Member companies of the Germany-based VMDA's Textile Machinery Association participated in a B2B Forum in Charlotte to showcase capabilities.
TW Special Report
The Germany-based Mechanical Engineering Industry Association's (VDMA's) Textile Machinery Association recently hosted a B2B Forum & Conference event in Charlotte, N.C., and Mexico City to highlight the capabilities of member companies. The event in Charlotte, held at the Sheraton Charlotte Hotel, featured 25 companies who presented practice-oriented technology topics from along the textile value chain including spinning to finishing and dyeing, as well as saving energy and materials, digitization and smart factories. The parallel presentations were supplemented with the opportunity for B2B meetings and a table-top exhibition area. More than 80 decision-makers from the textile, nonwovens and carpet sectors attended the event.
"In the light of the high number of participants and the intensity of the discussions regarding concrete investment intentions, the VDMA events have been a big success for our company," said Hermann Selker, head of marketing, Trützschler.
The companies who participated:
•    A. Monforts Textilmaschinen;
•    Andritz Küsters, a Division of Andritz Inc.;
•    Autefa Solutions Germany;
•    Brückner Textile Technologies;
•    DILO Systems + Temafa;
•    Erhardt+Leimer;
•    Georg Sahm;
•    Groz-Beckert;
•    Interspare;
•    Karl Mayer Textilmaschinenfabrik;
•    Körting Hannover;
•    Lindauer Dornier;
•    Mahlo;
•    Neuenhauser Maschinenbau;
•    Oerlikon Textile
(Barmag and Neumag);
•    PLEVA;
•    Reseda Binder;
•    Saurer Components
(Saurer Temco);
•    Sedo Treepoint;
•    Textechno Herbert Stein;
•    Thies Corp.;
•    Trützschler; and
•    Welker Vakuum.
View a gallery of event images, including the speakers, here.
January/February 2018