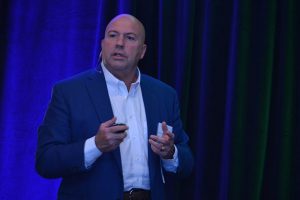 The SYFA recently wrapped up its annual fall meeting in Charlotte, and honored a long-time collaborator.
By Rachael S. Davis, Executive Editor
The Synthetic Yarn And Fabric Association (SYFA) recently held its annual Fall Conference at the Sheraton Charlotte Airport Hotel in Charlotte, N.C. The conference's "Tools For Transformation In Textiles" program featured a diverse group of speakers. Harold W. Hill, Jr., president, Glen Raven, N.C.-based Glen Raven Technical Fabrics LLC, was the featured keynote speaker and he talked about "Building a Culture of Innovation," focusing on Glen Raven's own efforts to innovate and remain competitive as a company.
Nine other speakers gave insightful presentations on a range of topics from economic and Washington policy updates to robotics and other technologies applicable to the fiber, yarn and fabric industries.
"As attendees reflect on the value of the two-day meeting, I think the title of this conference, 'Tools for Transformation in Textiles,' was appropriate," said Hardy Sullivan, vice president, market development, Crypton Inc., and SYFA first vice president. "With Harold's talk we heard about how to create an environment for change; we learned about advancements in resin technology and inkjet printing; and we saw how DNA-based markers can protect products from counterfeiters. In one way or another, we all left the meeting with fresh insight for strengthening our businesses."
Conference sponsors for the fall event included Gold Sponsors Oxford Instruments Inc. and Premiere Fibers Inc.; Silver Sponsor Pulcra Chemicals LLC; Bronze Sponsors Burlington, DAK Americas LLC, PolySpinTex Inc., and Techtextil North America; and Patrons & Exhibitors Sponsors 4M Plants S.r.l., American Fiber Manufacturers Association, Clariant Masterbatches, Economic Development Partnership of North Carolina, Glen Raven Technical Fabrics, Goulston Technologies Inc., Industrial Fabrics Association International, Milliken & Company, National Council of Textile Organizations, O'Mara Inc., Unifi Manufacturing Inc. and William Barnet & Son LLC.
SYFA announced the Spring Conference will be held April 26-27, 2018, so mark the calendar.
View a gallery of the speakers and attendees here.
---
Carmichael Announces Retirement
The Synthetic Yarn and Fabric Association (SYFA) used the occasion of its fall meeting to honor long-time affiliate and past board member Alasdair Carmichael who has announced he will retire from full-time employment with PCI Wood Mackenzie at the end of January.
Carmichael began his career some 48 years ago and is a well-known figure to all who are involved in the fibers and yarns industry. Carmichael spent time working in the United Kingdom, United States and Hong Kong before permanently locating in the United States in 1984. Past companies include Rieter Scragg and Rieter Corp. before Carmichael joined PCI Fibres in 2000 as president – Americas. He provided a full range of consultancy services including man-made fiber research for PCI Fibres and later PCI Wood Mackenzie. Laura Murphy is taking over the fiber activities in North America for PCI Wood Mackenzie and is working with Carmichael as he transitions into retirement. Murphy has an extensive background in the nylon and polyester yarn industry.
During the years Carmichael was based in the United States, he has been very closely affiliated with the SYFA and its predecessor the Textured Yarn Association of America (TYAA). He attended his first TYAA meeting in 1973, which was the second ever association meeting. Carmichael is a TYAA past president and long-time active SYFA board member.
"The success of SYFA is very satisfying for me," Carmichael said. "We were very close to wrapping things up as the textured yarn business in the United States shrank and TYAA membership got smaller and smaller. We had several choices — to close the doors, merge or rebrand, with rebranding being the most difficult of those options. But we chose rebranding, and it worked!"
"With his warm smile and readiness to help educate, Alasdair has been integral to the growth of SYFA as well as its members," said Machell Apple, product director, True Textiles, and current SYFA president. "He is quick to share with anyone his vast textile knowledge. Who among us could have a crowd on the edge of their seats when discussing petrochemicals except the one and only Alasdair Carmichael."
"I'm not going to fade away," Carmichael said. "I will continue to work on a part time basis and will remain connected to a part of the fiber industry. I also will continue to be involved with the SYFA. I look forward to keeping up with my many friends in the industry."
---
November/December 2017