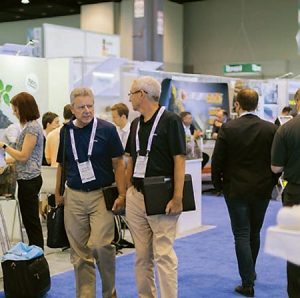 Chicago proved to be a positive location for odd-numbered year Techtextil North America show.
TW Special Report
On the heels of a successful Techtextil in Frankfurt this Spring, Atlanta-based Messe Frankfurt Inc. reported growth for its 5th edition of Techtextil held outside of Atlanta — the 14th overall Techtextil North America event. Held at the Lakeside Center at McCormick Place in Chicago, the three-day event hosted 3,096 attendees, which Messe Frankfurt reports is a record for an odd-numbered year show, and represents a 40-percent increase over the 2015 show held in Houston. A total of 167 exhibitors from 16 countries participated in the Chicago show, which represented a 15-percent increase over numbers in Houston, and there was 60-percent growth in booth space rented by overseas exhibitors.
The show was collocated with JEC Americas' Future of Composites in Construction event, which as always, offered visitor and exhibitor synergies.
"We are pleased to announce that this year's Techtextil North America, hosted in Chicago, Ill., resulted in a 40-percent increase in attendance over the 2015 edition," said Dennis Smith, president and CEO, Messe Frankfurt North America. "Over the course of three days, the event garnered a dynamic audience — with visitors from geographies and verticals not represented at previous editions of the show. This significant growth in attendance indicates the industry's increasing demand for international networking opportunities, and we are proud to provide a forum that facilitates new business relationships and encourages global innovation for the textile industry."
Education
The Chicago event hosted five symposium sessions covering a total of 23 topics presented by industry experts. Topics included smart textiles and wearables, automotive design, advancements in manufacturing and waste minimization, and talent sourcing challenges. In addition, there was a complimentary joint session hosted by JEC and Messe Frankfurt that examined technical textiles and composites in building and construction applications.
The Raleigh, N.C.-based Nonwovens Institute (NWI) also hosted Tech Talks on the show floor with NWI's Director of Industry Engagement Dave Nelson leading sessions on filtration, safety and transportation. Participants in the graduate student poster program also presented their research during Tech Talk sessions. "The symposium sessions were informative and interesting," said Lisa Paige, technical lead engineer, ArjoHuntleigh. "I regularly attend this show in the U.S. and Frankfurt and always get a lot out of the sessions."

"We were very pleased with this year's show," said Dominique Quintal, vice president, sales and marketing, Filspec Inc., Sherbrooke, Quebec. "We had visitors non-stop for three days — existing customers, new customers, customers bringing their contacts to our booth. We were also able to form relationships with other exhibitors, providing a lot of new project opportunities." Quintal mentioned to Textile World that the show resulted in four active programs for Filspec. "One recommendation to exhibitors — come prepared to be challenged and expect to work hard because our experience shows that Techtextil visitors are coming to find solutions," Quintal added.
The next edition of Techtexil North America will take place in Atlanta May 22-24, 2018 at the Georgia World Congress Center.
September/October 2017