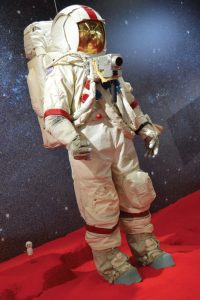 The recent collocated Techtextil and Texprocess shows held in Frankfurt showed growth in both exhibitor and visitor numbers.
By Rachael S. Davis, Executive Editor
The collocated Techtextil 2017 and Texprocess 2017 shows recently took place in Frankfurt under the theme "Living In Space." Organizer Frankfurt-based Messe Frankfurt reported the largest number of exhibitors for the event to date with 1,789 total exhibitors at both shows, which represented an increase of 7 percent over the 2015 edition. In 2017, 1,477 exhibitors from 55 countries participated in Techtextil; and 312 exhibitors from 36 countries presented at Texprocess.
"We will open the biggest Techtextil ever this year," said Detlef Braun, member of the board of management, Messe Frankfurt GmbH, at a press conference held prior to the show's opening. "The high number of exhibitors reflects the outstanding dynamism amongst the producers of technical textiles, who enjoy continuing growth. The multifaceted range of applications to be seen at Techtextil, from products for the automotive industry to those applied in architecture, medicine, clothing and sports stands for the innovative power of the textile industry."
Techtextil also continues to increase in internationality. Some 71 percent of exhibitors — a total of 1,054 — came from outside of Germany in 2017. The five largest exhibitor nations were Italy, China, France, Switzerland and the United Kingdom. Three new nations — Lebanon, Mexico and Vietnam — each were represented at the show for the first time with one exhibitor from each country participating.
The largest exhibitor nations at Texprocess were Italy, China, Turkey, Taiwan and Poland.
Messe Frankfurt reports approximately 33,670 visitors from 104 countries attended Techtextil, up from 28,491 visitors in 2015. More than 7,091 visitors registered for the concurrent Texprocess show and both shows benefitted from the synergy of visitors.
The continued growth and success of Techtextil is supported by figures that illustrate the growth of the global technical textiles industry. Figures compiled by Commerzbank and shared in its "Technische Textilien" study published in 2015, predict the market for technical textiles will grow to $160 billion by 2018. This figure does not include composites or nonwovens. The same report estimates the worldwide share of technical textiles production is 27 percent of overall textile production. Messe Frankfurt reports turnover for Germany-based manufacturers of technical textiles is approximately 13 billion euros per year.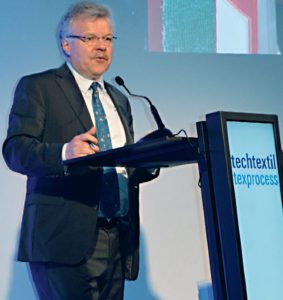 Living In Space
Dr. Reinhold Ewald, a former astronaut with the European Space Agency (ESA) and professor for Astronautics and Space Stations at the University of Stuttgart, was a guest of honor at Techtextil. Ewald's presentation at the opening press conference focused on the significance of and need for advanced and high-performance materials to enable space travel, as well as the impact that such materials make in everyday life as they are developed into consumer products. "High-tech materials based on fibers are essential in space travel when it comes to reducing the weight of space capsules," said Ewald. "Every additional gram increases costs. Furthermore, textiles also save lives. Just think about astronaut suits. At the same time, materials that have been developed for space travel often find their way into daily life."
To complement the "Living in Space" theme, Messe Frankfurt organized a special exhibition in cooperation with ESA and the German Aerospace Centre. The exhibit illustrated a wide variety of applications for technical textiles in relation to space travel and exploration including several space suits and a Meteron Eurobot rover. A Material Gallery highlighted textiles and technologies from exhibitors that were related to space travel. Visitors also could experience a journey through space to Mars in a virtual reality interactive area.
Many Techtextil exhibitors also embraced the Living In Space theme. In particular, Germany-based Brückner Trockentechnik GmbH & Co. KG invited guests to the company's booth to hear a presentation about technical textiles in aerospace given by Professor Dr. Ernst Messerschmid, a former German astronaut with ESA.
Other Events
The French Textile Machinery Manufacturers Association (UCMTF) hosted a press conference featuring member companies N. Schlumberger, Laroche, Superba and Dollfus & Muller that discussed collaborative developments with customers. These France-based companies recently worked on projects with their customers where they had to identify technology needs and then design and develop innovative solutions to fulfill those needs. Pascal Denizart, CEO of the five-year-old France-based European Centre of Innovative Textiles (CETI) also gave press conference attendees some insight into the disruptive textile innovation and applied research center. According to Denizart, CETI is "a place to design, prototype, experiment new products or material for the global textile chain."
"Innovation comes both from new technologies and the market's demands," said Evelyne Cholet, secretary general, UCMTF. "We are proud of our strategy to offer customized solutions and not only off the shelves machinery, to focus R&D on our customers' requirements, to offer cost effective, reliable and environment friendly machines."
Exhibitor, Visitor Comments
"The show has been extraordinarily good," said Jutta Stehr, senior marketing manager, Trützschler Nonwovens & Man-Made Fibers GmbH. "The first day was a little slow, but the second day was overwhelmingly busy with customers from all corners. Voith and Trützschler Card Clothing also report it has been a good exhibition."
Monforts Textilmaschinen GmbH & Co. KG Vice President Klaus A. Heinrichs mentioned that technical textile applications are a growing market for Monforts. "Business for technical textiles for Monforts is about one-third of our overall business, and we are moving more and more into technical textiles applications," Heinrichs said. "High-tech machinery is the strategy for the future of the company and Techtextil is the show for technical textiles. The first day we did not see the number of visitors we expected, but the quality is good. We saw visitors from Pakistan, Spain and France. We have visitors scheduled from the United States who have many projects to discuss."
"The market for man-made fibers is very strong, especially in China," said André Wissenberg, vice president, head of marketing, corporate communications and Public Affairs, Oerlikon Textile GmbH & Co. KG. "There is BCF investment also for carpet yarn in the United States. The second day of the show was very busy, which we didn't expect."
Corry Manderson, business development manager, Innovation, Chicago-based Lawter, was a first-time attendee at Techtextil in Frankfurt. "The show was very impressive in its scale and diversity," Manderson said. "In particular, I appreciated the segmentation of the exhibition into local categories: the manufacturers were grouped into one hall, and the value chain was grouped methodically with the yarn, fabric, and garment companies typically grouped into clusters. As a visitor looking to make the most of a limited amount of time, this was a very efficient way to organize my potential networking opportunities. I was able to meet with not only companies from European Union countries, but also had great meetings with companies from India, Turkey, Taiwan and Japan. Overall, I found the balance between the size of the trade show and the user friendliness of the experience to be remarkable, and I plan to attend the next edition."
The next collocated Techtextil and Texprocess in Frankfurt will be held May 14-17, 2019, at the Messe Frankfurt fairgrounds.
The next Techtextil North America will be collocated with Texprocess at the Georgia World Congress Center in Atlanta, May 22-24, 2018.
July/August 2017