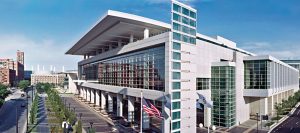 Encouraged by exhibitor and visitor feedback, Techtextil North America locates in the Midwest for the first time.
TW Special Report
Registration is open for the 14th edition of Techtextil North America, which will be held June 20-22, 2017, at McCormick Place, Lakeside Center in Chicago. The show is produced by Atlanta-based Messe Frankfurt and focuses on all vertical aspects of the technical textiles industry.
The 2015 edition of the show held in Houston attracted 145 exhibitors from 18 countries and more than 2,800 visitors. As of Textile World's press time, show organizers reported 151 exhibitors had committed to participate in 2017, which confirms Chicago as the largest Techtextil event to be held in North America outside of Atlanta, where the show is located every other year.
When announcing the location for the 2017 show, Messe Frankfurt cited the proximity of McCormick Place to two major airports as well as its easy access by car. According to Messe Frankfurt, Chicago is home to more than 270,000 businesses, more than 400 corporate headquarters and 300 corporate research and development locations, 31 Fortune 500 companies, and offers a private sector workforce of 4 million people. "Our exhibitors and attendees have both requested this location and we delivered with a venue that has new approach to inviting exhibitors and visitors to this center of the Midwest," said Dennis Smith, president, Messe Frankfurt North America.
Exhibitor Scope
Techtextil North America, like its sister show Techtextil held in Frankfurt, assembles the technical textiles industry from research and development through raw materials and production processes and ending with conversion, further treatment and recycling. Product groups for exhibitors include fibers, yarns, woven fabrics, laid webs, braiding, knitted fabrics, nonwovens, coated textiles, canvas products, composites, adhesives/bonding, research, development, planning, consultation, technology, machinery, accessories, and publishers and associations.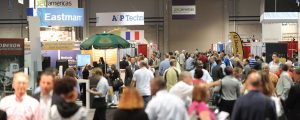 So that show attendees may efficiently find the suppliers they are looking for, Techtextil classifies exhibits according to 12 application areas: Agrotech; Buildtech; Clothtech; Geotech; Hometech; Indutech; Medtech; Mobiltech; Oekotech; Packtech; Protech; and Sporttech. Each application area is represented by a graphic icon displayed on exhibitor booths.
Educational Opportunities
Visitors to Techtextil North America may also participate in the three-day Techtextil North America Symposium. A team of five Advisory Council Members — comprised of Dr. Jesse Jur, assistant professor, Textile Engineering, Chemistry & Science, North Carolina State University; Sam Buff, director, Textile Technology Center at Gaston College; Genevieve Dion, associate professor, Design Department at Westphal College of Media Arts, Drexel University, and director, Shima Seiki Haute Technology Laboratory, Drexel's Expressive and Creative Interaction Technologies (ExCITe) Center; Dr. Sundaresan Jayaraman, Kolon professor, School of Materials Science and Engineering at Georgia Institute of Technology; and Advisory Board observer Gordon Gillerman, director, Standards Coordination Office, National Institute of Standards and Technology — worked with Messe Frankfurt to craft and develop the 2017 symposium. Titles on the agenda in Chicago include: Smart Textiles in the Connected Car Ecosystem; Optimizing the Design and Fabrication of Functional Fabrics; Smart Textile Product Design; The Technical Textile Industry Talent Challenge; as well as a two-part session on standards. Part 1 is titled Standards and Certification — Trade Facilitators; while part 2 is titled, From Lifestyle Equipment to Medical Devices — Standards and Regulatory Expectations.
Techtextil North America will host Tech Talks powered by the Nonwovens Institute (NWI) for the first time in 2017. The Tech Talks will take place each day on the show floor and will be moderated by Dave Nelson, NWI director, Industry Education and Engagement. The topics to be covered are Nonwovens In Filtration, Nonwovens In Transportation and Nonwovens In Safety.
Research performed by students will be shared as part of the annual Graduate Student Poster Program. Posters showing the students' work will be on display on the show floor, and the graduate students will have the chance to present their research to live audiences throughout the event.
Collocation
France-based JEC Group is collocating its Future of Composites in Construction trade fair — formerly known as JEC Americas with Techtextil in Chicago.
"Techtextil North America and The Future of Composites in Construction, powered by JEC Group, will again collocate in 2017," said Kristy Meade, show director, Technical Shows: Textiles, Sewn Products, Equipment and Technology, Messe Frankfurt Inc. "We're excited to bring the platform that connects the technical textile and composite industries to the city of Chicago."
The show floor open Tuesday, June 20 and Wednesday, June 21 from 10:00 a.m. until 5:00 p.m. On Thursday, June 22, the show is open from 10:00 a.m. until 3:00 p.m.
For more information about Techtextil North America 2017, visit techtextilna.com.
May/June 2017