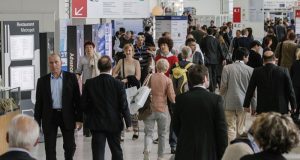 Trade shows return to Frankfurt for the fourth concurrent event
TW Special Report
Germany-based show organizer Messe Frankfurt GmbH reported some four months before collocated shows Techtextil 2017 and Texprocess 2017 were scheduled to open their doors that exhibitors had booked more space than in previous editions. The fourth combined event will be held May 9-12, 2017, at the Messe Frankfurt fairgrounds in Frankfurt. The steady growth of both shows, but especially the newer Texprocess show, confirms the importance of these events to the global textile community.
"Technical textiles rank among the most important driving forces of growth in the textile sector," said Olaf Schmidt, vice president, Textiles and Textile Technologies, Messe Frankfurt. "The fact that so many companies have already registered for Techtextil 2017 is an indication of how dynamically the sector is developing.
"The large number of registrations shows that Texprocess has successfully carved out a place for itself in the market as the leading international platform of its kind," Schmidt added. "Texprocess offers the full spectrum of new software solutions, as well as processes and technologies for garment and leather manufacturing. Moreover, the 2017 edition will cover more themes than ever before."
Techtextil
In 2017, Messe Frankfurt has partnered with the European Space Agency (ESA) and German Aerospace Centre — Deutsches Zentrum für Luft- und Raumfahrt (DLR). Under the theme, "Living in Space," Techtextil will illustrate the wide range of technical textiles applicable to the aerospace industry.
"We are branching out in completely new directions with this year's Techtextil and are, therefore, all the more delighted about the outstanding resonance of our exhibitors," Schmidt said. "Furthermore, the fact that we have gained strong new partners, ESA and DLR, from one of the main areas of application for technical textiles represents solid evidence of the application relevance of the products and technologies shown at Techtextil."
Hall 6.1 will house a "Living in Space" exhibition featuring a wide range of technical textile and functional apparel products used in the aerospace industry manufactured by both Techtextil and Texprocess exhibitors. In addition, visitors will be able to participate in a virtual reality journey through space to Mars to learn how technical textiles will aid in the future development of space travel and colonization of nearby planets.
"The technical-textile sector offers the textile solutions needed to move around and survive in space," said Michael Jänecke, director, Brand Management Technical Textiles & Textile Processing, Messe Frankfurt. "This is what we will show in a professional, and at the same time, entertaining way on a dedicated area at the trade fair. For visitors, the area will offer inspiration and orientation."
In addition, Hall 6.1 will have an "Innovation Made in Germany" area hosted by the Federal Ministry of Economics and Energy that will highlight young and innovative companies based in Germany.
In 2017, show organizers have decided to concentrate bonding and separating technology; cutting, making and trimming (CMT); CAD/CAM; and printing product segments together in Texprocess Hall 4.0. Techtextil exhibitors participating in these areas now will be found in the Texprocess hall and the product groups will be removed from the Techtextil offerings.
Traditionally, Techtextil organizes the exhibits into 11 different product groups: research, development, planning and consultancy; technology, processes and accessories; fibers and yarns; woven fabrics, laid webs, braids and knitted fabrics; nonwovens; coated textiles; composites; Bondtec; functional apparel textiles; associations; and publishers.
In addition, past show participants are familiar with Techtextil's classification system for the exhibits, which are organized according to 12 application areas:
Agrotech — horticulture and landscape, gardening, agriculture, forestry and animal husbandry;
Buildtech — membrane construction, lightweight and solid structures, civil engineering, industrial construction, temporary constructions, interior construction, earthworks, hydraulic engineering and road construction, and agriculture construction;
Clothtech — functional apparel, clothing and shoes;
Geotech — road construction, civil engineering, and dam and waste site construction;
Hometech — furniture upholstery, interior design, carpets, rugs and floor coverings;
Indutech — filtration, cleaning, mechanical engineering, chemicals industry, and electrical engineering industry;
Medtech — hygiene and medicine;
Mobiltech — cars, ships, aircraft, railway and space travel;
Oekotech — environmental protection, recycling and waste disposal;

Packtech

— packaging, protective covering systems, sacks, big bags and container systems;
Protech — personal safety and property protections; and

Sporttech

— sport and leisure, activewear, outdoor equipment, sports equipment and outfits, and sports footwear.
The application areas are illustrated by graphic icons displayed on exhibitor booths. Show organizers report the icons help visitors find the suppliers they need in an efficient manner.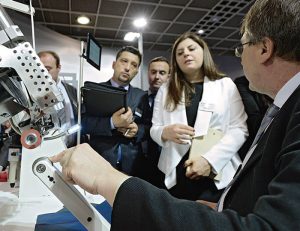 Techtextil Events
Events associated with Techtextil include the 19th Techtextil Symposium, the Techtextil Innovation Award 2017 and the Student Competition.
The symposium will be held in Hall 4.0 in the Saal Europa. Messe Frankfurt has put together a comprehensive group of experts who will focus their presentations on new developments, trends and potential areas of application for technical textiles and nonwovens. Topics include new fibers and textiles, circular economy and sustainability, health and protection, smart textiles, and composites. For the first time, the symposium also will offer a discussion period following the lectures to allow for an active exchange of ideas.
An awards ceremony will be held on May 9 at 10 a.m. to recognize winners of the Techtextil Innovation Award 2017, which "honors outstanding ideas and future-oriented developments in the field of technical textiles, nonwovens and functional apparel textiles," according to Messe Frankfurt. The recipients are selected by an international jury of experts, and all award-winning projects will be displayed in a special exhibit area of the show.
The 14th Student Competition, "Textile Structures for New Building 2017," asked students from civil engineering, product design and related disciplines to submit building designs featuring textiles or textile-reinforced materials. The competition is supported by Architonic, Tenisnet and University of Stuttgart (ILEK). Prize money totaling 8,000 euros will be awarded to winners during an official ceremony during the first day of the show.
Innovative Apparel Show Returns
After its successful debut in 2015, the Innovative Apparel Show will return to showcase the synergies between Techtextil and Texprocess. Each day of the show, international colleges of fashion and design will present their creations live on stage. The designs — presented in Textile Effects, Creative Engineering and Smart Fashion categories — will highlight the possibilities for technical textiles created using modern processing techniques. Four schools were selected for the Apparel Show in 2017 — Paris-based Esmod, Portugal-based ESAD College of Art and Design, Italy-based Accademia Italiana and Germany-based Hochschule Trier.
Texprocess 2015
Texprocess, the International Trade Show for Processing Textile and Flexible Materials, will showcase the latest machines, plants, processes and services for the garments manufacturing and textile processing industry. This year, digital printing will play a predominant role in Texprocess. In conjunction with well-known industry representatives, Messe Frankfurt will present a Digital Textile Micro Factory exhibit that will demonstrate the digital production chain from design and digital printing to cutting and garment production — all live and on site.
In addition, a dedicated series of presentations at the Texprocess Forum will focus on digital printing. Visitors to Texprocess also will have the opportunity to participate in the first European Digital Textile Conference, a complementary program that will be held on Wednesday. As of TW's press time, the digital printing agenda was still in the planning stages. More up-to-date information is available at the show's website.
Texprocess covers 20 product groups that encompass the entire value creation chain: CAD/CAM and product development; production preparation and organization; cutting, making and trimming (CMT); fusing, setting and manufacturing preparation; textile machinery; textile finishing; knitting technology; embroidery technology; stitching, joining and fastening technology, automation technology; stitching, joining and fastening materials, technical accessories for garment, house and home textiles; product processing and finishing; energy, air conditioning, disposal and recycling; quality control; internal material flow; textile logistics; information technology; services, consultancy and training; and media; research, development and training; and sourcing.
In addition to the Texprocess Forum, special events associated with the show include IT@Texprocess and Texprocess Innovation Award.
Both shows are open from 9 a.m. until 6 p.m. May 9-11, and from 9 a.m. to 5 p.m. on May 12.
---
For more information about Techtextil 2017 and Texprocess 2017, please visit techtextil.com and texprocess.com.
---
March/April 2017