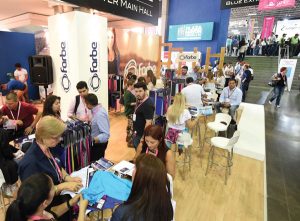 Colombiatex de las Américas reports a satisfactory show in 2017.
By Dr. Virgilio L. González, Latin America Correspondent, Textiles Panamericanos
With its slogan of "A New Game," and approximately $326 million in business expectations, the recently-held Colombiatex de las Américas 2017 closed satisfactorily after three days. Approximately 21,924 people attended the 2017 show — 5.5-percent more than the previous year.
The commercial interests of companies from countries including the United States, Ecuador, Mexico, Peru, Guatemala and Costa Rica was measured. Some 41 percent expect investment in buying textiles, 23 percent in machinery, 10 percent in raw materials, 7 percent in chemical products, 7 percent in threads and yarns, and 12 percent in other categories.
The show hosted 510 exhibitors, mainly from Colombia, India, Brazil, Spain and Italy. Exhibitors showcased machinery, raw materials, fabrics, and finished garments among other products.
Show organizers report 1,928 international buyers attended the show — 9-percent more than in the previous year. Of those attendees, 27 percent were attracted by the important initiative of Pro Colombia.
Colombiatex de las Américas 2017 was successful thanks to the work of some 2,900 people — 72 direct employees and 2,828 people working indirectly to organize the event.
The show was opened by Daniel Arango, vice minister of Trade, Industry and Tourism of Colombia; Luis Pérez Gutiérrez, governor of the Department of Antioquia; Federico Gutiérrez, mayor of Medellín; Felipe Jaramillo, President of ProColombia; and Carlos Eduardo Botero Hoyos, executive director, INEXMODA. The Colombian President Juan Manuel Santos sent a written message expressing the importance of the Colombian textile industry, appreciation of the new opportunities, and stating that the work between the government and industry helps to grow this important industrial sector.
During the press conference, the executives pledged:
To continue the fight against smuggling and unfair competition.
To take advantage of free trade agreements (FTAs) with other countries including establishing FTAs with Costa Rica, India and Aruba, in addition to the traditional markets.
To transform knowledge and technology by means of modern machinery.
To bridge the gap between industry and universities.
Remove tax barriers.
Connect established companies with smaller ones, in order to attract international markets.
Luis Pérez Gutiérrez also spoke about a new project to develop the Gulf of Urabá through the construction of a highway from Medellín to the gulf. With this action, the port in the Pacific Ocean will be able to handle raw materials more efficiently and export Colombian goods to different markets.
International buyers appreciated the quality and prices of goods on display at Colombiatex 2017. The largest delegation of buyers came from Ecuador, with 178 buyers at the show. Interviewed companies from the United States reported they were interested in raw materials and new ventures hoping to take advantage of the FTA with Colombia.
In-Sattva®, Chicago, came to buy underwear and ladies clothing in several styles. The vicinity of Colombia to North America facilitates on time deliveries and this enables the company to take advantage of the FTA.
Minneapolis-based Target Corp., a first time attendee at Colombiatex, was reportedly interested complete package for casual and feminine clothing. The company was considered a buyers VIP and came with exclusive agendas to meet national companies.
Brendan Pape, president, Brist Manufacturing, Bellingham, Wash., commented on the high quality of Colombian production, together with hospitality and attention — both important factors when establishing business relationships.
March/April 2017