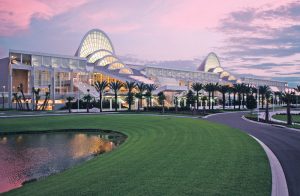 The industrial print technology exhibition established in Europe hosts inaugural show in the United States.
TW Special Report
InPrint is an exhibition for industrial print technology for manufacturing that, according to the organizer — Mack Brooks Inc., a subsidiary of the England-based Mack Brooks Exhibition Group — has become a key marketplace in Europe for state-of-the-art functional, decorative and packaging printing in industrial production. The show has developed a reputation as a place to see unique, cutting-edge technologies, as well as product launches from leading brands in specialty, screen, digital inkjet and 3-D printing solutions.
Building on the success of the European edition and the current growth and interest in industrial and digital printing, organizers are bringing the event to the United States this year. The Orange County Convention Center, Orlando, Fla., will host the inaugural InPrint USA show April 25-27, 2017. The exhibition aims to "provide access to technology that solves the complex problems facing the packaging, decorative, automotive, additive manufacturing and 3-D industries in the United States," according to the organizer.
"Through our industry research and exhibitor focus groups, we found that there was an opportunity for a new platform in the U.S. highlighting the emerging technology happening in the industrial print sector," said Melissa Magestro, executive vice president, Mack Brooks Exhibitions Inc. "There are several successful printing shows already happening in the U.S., but we are marketing to an entirely different audience. InPrint USA is a more specialized, focused show aimed at manufacturers who need complex, customized, cooperatively designed system solutions in order to generate new possibilities and revenue in industrial production."
Defining Industrial Printing
Show organizers define industrial printing as "using print technologies within the process of manufacturing." Industrial printing differs from conventional document or graphic printing — where the items mostly are used for promotional purposes — in that during the manufacturing process, ink or another substance is transferred onto a product for decorative or functional reasons. The applications and industries are broad — from electronic applications, to packaging and 3-D printing — and the fast-growing textile digital printing market is included in this mix. Digital textile printing technologies may offer manufacturers the ability to customize print runs with frequent design changes at a lower cost compared to traditional textile printing technologies.
According to branch experts at Boston-based IT Strategies, the industrial print market currently is valued at more than $100 billion; and the digital and inkjet market is predicted to grow a cumulative average of 36 percent by 2020.
Exhibitor, Visitor Profiles
InPrint USA 2017 exhibitors will present their innovative equipment and industrial printing solutions in five technology categories:
Specialty;
Screen;
Digital;
Inkjet; and
3-D.
Within these five categories, show attendees will find the following equipment, tools and services on display: machinery and printing systems; integrated and customized parts and systems; printheads, screens and other special parts; inks, fluids and chemicals; materials and substrates; hardware and software solutions; pre-press devices; equipment for processing and finishing including cutting, pressing and molding; services for the industrial sector; and research, consultants, trade associations and trade publications. The technologies will cover printing on metal, plastics, foils, textiles, glass, ceramics, wood and other substrates.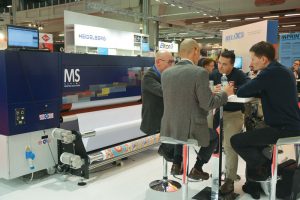 Show organizers report most of the visitors come from the manufacturing sector including industrial print specialists, production managers, research and development heads, technical directors, and designers. Other attendees come from industrial print companies that produce decorative or functional print solutions for integration into a larger manufacturing process; from original equipment manufacturers, integrators, component manufacturers and developers searching for partners and technologies; and from traditional print companies such as commercial and graphic art print houses looking for new revenue streams.
According to Mack Brooks, InPrint USA is relevant for professionals from a wide variety of industries including: additive and advanced manufacturing; aeronautics and aerospace; appliance and equipment manufacturing; architectural; automotive; ceramics and glass; consumer products manufacturers; credit and gift cards; decals, labels and name plates; furnishing and interior décor; medical; packaging and containers; pharmaceutical goods; product finishing and quality control; surface imaging; and rapid and regular prototyping.
Educational Opportunities At InPrint USA 2017
InPrint USA's educational sessions feature industry experts in three key printing areas — functional, decorative and packaging. The sessions comprise four main events — the Showcase Theater, IMI Inkjet Tech Talks, the TCM Decorative Surfaces Conference and the Global Industrial Inkjet Conference.
The Showcase Theater, hosted by exhibiting companies, will focus on innovations in inkjet technology and inks for industrial printing applications. The challenges of growth in the sector will be considered.
The IMI Inkjet Tech Talks are designed to complement the other content presented during InPrint USA and will cover key technology areas including inks, printheads and technology integration.
The TCM Decorative Surfaces Conference will focus on the use of digital printing for decorative materials such as wood paneling, laminate flooring and vinyl tiles.
The Global Industrial Inkjet Conference spans all three days of the show, and will offer attendees news and insights on the market opportunities and challenges in the industrial inkjet arena. Organizers hope the conference "will provide a bridge between opportunity and reality for any business — manufacturer, developer or integrator.



Collocated Event
InPrint USA 2017 will be collocated with ICE USA 2017 — the International Converting Exhibition targeting the paper, film, foil, nonwovens and other flexible web-materials segments. In its fourth edition, the trade show brings together attendees from around the globe to see the latest in machinery, technology and manufacturing solutions first-hand. Registered InPrint USA visitors also will gain free admission to ICE USA.
"InPrint USA is Collocated with the International Converting Exhibition — ICE USA — which already delivers an audience of packaging converters, but we are also actively identifying targets in textiles, printed electronics, and décor who are wanting to learn more about industrial print solutions," said Magestro.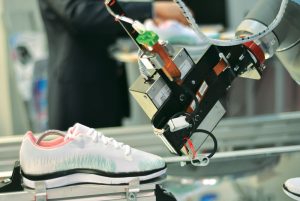 Registration
InPrint USA 2017 is open to the trade only. Attendees who register before April 1 qualify for an early-bird discount and will pay $40 for an exhibit hall pass. After April 1, the fee increases to $60 including for on-site registration. The TCM Decorative Surfaces Conference, including a three-day exhibit hall pass, is $95; and the Global Industrial Inkjet Conference pass is $249, which also includes the exhibit hall pass for all three days.
The show floor is open Tuesday and Wednesday from 10 a.m. until 5 p.m. and there will be a reception on the floor from 3 p.m. until 5 p.m. both days. On Thursday, the show is open from 10:00 a.m. until 3 p.m.
"According to all research, inkjet for textile is growing at approximately 20-percent every year," said Frazer Chesterman, co-founder of InPrint. "This is because there is strong demand from retailers and consumers for smaller batch production that has a high frequency of change. Added to this, new digital technology is maturing at a rate that can meet this demand from an engineering and a chemistry stand point, and once pigment ink is a proven option, then the options of being able to print onto different textiles will accelerate growth even further. InPrint is a show focused on development of technology for growing industrial print applications such as textiles and the only exhibition where visitors can learn of the latest technological options and meet experts that can advise and solve any problems a visitor may have."
"Heidelberg supports the launch of the InPrint Show USA 2017 and we look forward to the impact and value it creates for industrial inkjet technology," said Jason Oliver, senior vice president, digital print solutions, Germany-based Heidelberg. "At InPrint 2015 we showcased Heidelberg's innovative direct to shape technology and generated a huge amount of attention and interest. We expect the same kind of response in the U.S. as the marketplace is significant both in its size and its innovative culture, and we believe that our innovative technology will suit the fast developing nature of the market. InPrint is an event that is needed in order for us to connect our technology and ideas to the right kind of people, those focused on industrial print."
Make plans now to attend this inaugural event.
---
For more information about InPrint USA 2017, please visit inprintshow.com/usa/.
---
January/February 2017