ExpoProducción 2017 returns to the World Trade Center in Mexico City in March.
TW Special Report
The fourth edition of ExpoProducción — co-organized by Atlanta-based Exposition Development Co. and Mexico-based E.J. Krause Mexico — will take place at the World Trade Center in Mexico City, March 29-31, 2017.
The show serves the complete supply chain in Mexico and Central America working in apparel, home and technical textiles' production. Organizers promote the show as a professional platform for manufacturers, brands, retailers and suppliers to connect, network and learn about the newest trends, products and innovations impacting the textile industry.
Exhibitor, Visitor Profiles
Exhibitors will offer products and services from the fashion, home and technical textiles industries including: computer software and information technology; full package and private label contract manufacturing; cutting and sewing equipment; distributor and wholesaler; fabrics; fibers and yarns; findings and trims; nonwovens; research and development; services and logistics; supplies; textile machinery; and associations, academia and publications.
Job titles for attendees cover the gamut and include designers, engineers, educators, plant managers, purchasing managers, quality control managers, and research and development personnel. The visitors come from all facets of the textile industries including aerospace, automotive/ transportation interiors,  garment manufacturing, government manufacturing, home textiles, leather and footwear, military and pet products.
New for 2017 is a Chinese Pavilion highlighting exhibitors from China. "This year, ExpoProduccion is hosting its first Chinese Pavilion, and an additional 10 Chinese companies that came in separately," said Lorie Gross, show director for Exposition Development Co. "We are very excited about this addition to the show. We are also seeing a record number of attendee registrations and a greater presence from manufacturers here in Mexico that are involved in the automotive and aerospace industries. We feel this change is directly related to the growing market needs in this region, as well as our partnership with E. J. Krause Mexico that has a direct reach into those market segments."
Organizers developed a comprehensive series of seminars that will run during the three-day show. The seminars start at noon each day (See Table 1). The exhibition show floor will be open from 2 p.m. until 7 p.m. each day.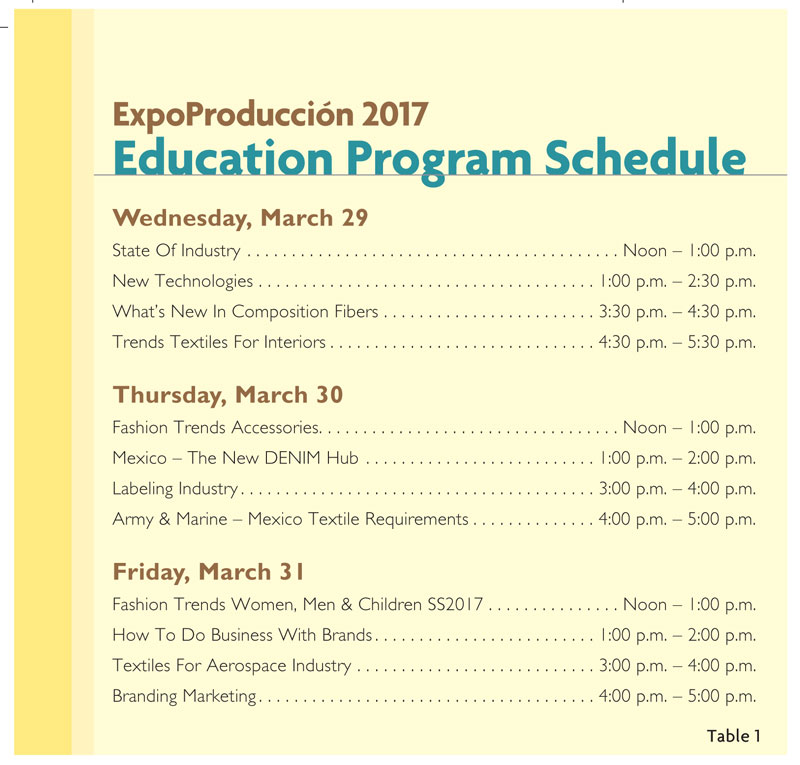 "Overall, we expect a broader range of exhibitors representing the complete supply chain, and more in-depth educational programs along with new elements introduced to the show floor that will enhance both the exhibitor and attendee experience," said Gross.
"ExpoProduccion is a must for companies currently doing business in Mexico and Central America, as well as those who would like to expand their business into the region."
Attendance is free of charge to qualified industry visitors. Preregister to save time during the event or register on site.
---
For more information about ExpoProducción, please visit expoproduccion.mx.
---
January/February 2017