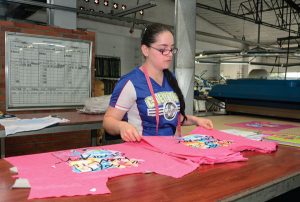 Colombia-based garment manufacturer Creytex produces its own brands and offers full-package production for other brands.
By Dr. Virgilio L. González, Latin America Correspondent, Textiles Panamericanos
Creytex is a vertically integrated Colombia-based textile company that specializes in garment manufacturing. Most of the company's production is exported to the United States. Founded in 1971 by Bernardo Bustamante and his wife Alba Montoya in Medellin, the company has developed two business models — full-package production for well-known brands, and production of its own Belife and Baby Planet brands.
Production Processes
The company uses knitting machines from Japan-based Fukuhara Industrial & Trading Co. Ltd. Yarns used in the knitting process are produced in Colombia and North American. Creytex knits fine yarns in a variety of fiber types including cotton, polyester, viscose, spandex, bamboo and predyed blends.
The company dyes fabrics using disperse and reactive dyeing techniques as well as pigments. Finishing techniques employed include chemical and mechanical finishing to impart wicking, hydrophobic and antibacterial properties; ultraviolet protection; and dirt and oil repellency among other finishes. All finishes are designed to comply with export standards.
Product design and development is conducted by a team of highly qualified graphic and fashion designers as well as pattern makers, tech designers, cost analysts and specialists that create the designs customers request.
Creytex uses automated machinery from Italy-based Morgan Tecnica S.p.A. for cutting and fabric extension. Floating tables allow fabric for the 17,000 units cut each day to be moved without impacting fabric quality.
The tailoring department is capable of multitasking throughout the sewing process. Most installed sewing machines are from Japan-based Brother Industries Ltd. Creytex also has pneumatic, electronic and automated machines that reduce production time for each garment.
Creytex also has capabilities for product decoration including screen printing, embroidery and dye sublimation printing. Dye sublimation offers an increased color spectrum and intensity, allows polychromatic designs as well as application on top of garments without muddying or staining with excellent graphic definition.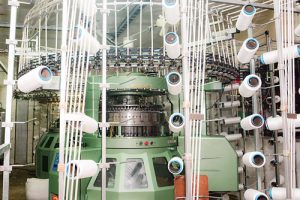 Business Success
Creytex's believes its successful business model lies on:
Fast response time — lead times start at 45 days;
Flexibility — production orders start at 600 units per color and 1,200 per style and in decoration, 72 units can be produced per graphic art; and
Innovation — the company continuously investigates new fabrics, textile blends and fibers while applying the latest technology and textile finishes.
In addition, Creytex has also achieved high quality standards, garnered international certifications. The company's clients include Champion, Columbia, Sports Wear, Reef, Polo, Ralph Lauren, Disney, Under Armour and VF Corp. Exports to the United States account for 70-percent of total exports with Germany, Mexico, Venezuela, Costa Rica and Ecuador making up the remaining 30 percent. Creytex's 450 employees make 350,000 garment units per month, and the installed plant capacity allows for future growth.
July/August 2016