After back-to-back shows in 2012 and 2013 ITM returns in 2016 to gather the textile industry in the heart of Eurasia.
TW Special Report
ITM 2016 — the International Textile, Yarn, Knitting, Weaving, Dyeing, Printing, Finishing and Hosiery Machineries, Sub-Industries and Chemicals Exhibition — will be held a little sooner than originally planned with show organizers — a partnership between Tüyap Fairs and Exhibitions Organization Inc. and Teknik Fairs Ltd. in cooperation with the Turkish Textile & Machinery Industrialists Association (TEMSAD) — moving the show forward from a September date to June 1-4, 2016.
Back in 2012, ITM merged with Texpo Eurasia and held back-to-back shows in 2012 and 2013 to capitalize on the strong textile market in Turkey. At that time, organizers reported subsequent editions of the show would occur triennially beginning in the second half of 2016. However, the organizers reported that for the show to be held during the second quarter had become somewhat of a habit for the industry, and expectations as well as a desire to avoid timing conflicts with other global textile trade shows led to an earlier date for the show than previously announced.
ITM 2016 will be held at the TÜYAP Fair Convention and Congress Center in Istanbul, Turkey. Organizers report they expect more than 1,000 exhibitors to participate in the show in an area of approximately 120,000 square meters covering 14 halls. According to organizers, ITM is the largest exhibition in Turkey and in the region. In 2013, 1,223 exhibitors came from 40 different countries while 39,256 visitors traveled from 70 countries.
The show floor is open from 10 a.m. until 7 p.m. June 1-3, and from 10 a.m. until 6 p.m. on June 4.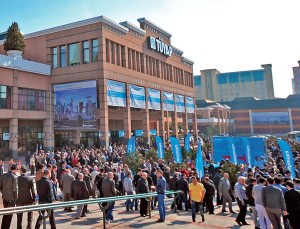 Exhibition Scope
ITM offers a large and varied group of textile technologies to visitors. Technologies presented at the show include: cotton and fiber preparation machinery; spinning preparation machinery; spinning winding, twisting and texturing machinery; nonwoven machinery and technologies; weaving preparation machinery; weaving machinery; tufting and carpet weaving machinery; narrow weaving machinery; cordage and rope machinery including braiding machinery; weft- and warp-knitting preparation machinery; flat- and circular-knitting machinery; hosiery machinery; embroidery machinery; quilting machinery; dyeing and finishing machinery; washing, bleaching and drying machinery; folding and rolling machinery; textile chemicals; laboratory equipment; CAD/CAM/ CIM applications and automation systems; textile printing machinery; digital textile printing machinery; textile printing dyes and chemicals; auxiliary machinery and accessories; compressors; and generators, among other technologies.
Why Attend?
Istanbul is positioned in the heart of Eurasia at the junction of Europe, Asia, North Africa and the Middle East, making it an ideal trade platform for the entire region. It is the commercial and historical center that connects Europe and Asia. The city's strategic position along international transportation networks makes Istanbul an ideal location for a global trading platform.
According to Kurt Lamkowski, customer relationship team manager, Belgium-based weaving machine manufacturer Picanol NV, the company has been present in the Turkish market for a long time, and Picanol is ready to maintain its position in the Turkish market in the future. Picanol collects information about the future needs of its Turkish customers to aid in product development to help Turkish customers remain successful.
"ITM is giving companies the opportunity to meet in a common place and to share ideas with all major textile investors," said Lamkowski.
---
For more information about ITM 2016 and to register, please visit itm2016.com.tr.
---
March/April 2016