Atlanta and the Georgia World Congress Center will host a textile industry trifecta of events in May.
TW Special Report
It's back to the east coast for Techtextil North America in 2016. The show, along with Texprocess Americas 2016 and JEC Americas 2016, will again collocate in Atlanta's Georgia World Congress Center (GWCC) for a three-day event that offers something for just about everyone involved in the textile industry. The technical textiles and nonwovens sectors, traditional textile sector, sewn products sector and composites value chain all will be represented May 3-5, 2016, at this trifecta of events.
The 2014 three-in-one event hosted 759 exhibitors from 29 countries and attracted more than 9,000 visitors.
"We're excited to once again offer the North American textile industry a vast product offering through the co-location of Techtextil North America, Texprocess Americas and JEC Americas as the platform that will blend together the technical textile, sewn products and composites value chain with a goal of enhancing the visitor experience," said Dennis Smith, president, Atlanta-based Messe Frankfurt Inc.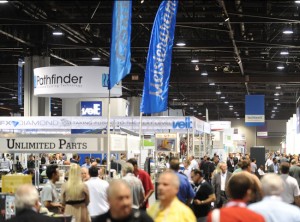 Techtextil North America
Techtextil North America is produced by Messe Frankfurt Inc. The 13th edition of the show will assemble all vertical aspects of the technical textile and nonwovens industries including research and development, raw materials, production processes, conversion, further treatment, and recycling.
Visitors will see a wide variety of product groups at Techtextil representing the entire value-added chain in the technical textiles and nonwovens sectors including fibers; yarns; woven fabrics; laid webs; braiding; knitted fabrics; nonwovens; coated textiles; canvas products; composites; adhesives and bonding; research; development; planning; consultation; technology; machinery; and accessories.
Techtextil North America exhibits are classified according to 12 application areas: Agrotech; Buildtech; Clothtech; Geotech; Hometech; Indutech; Medtech; Mobiltech; Oekotech; Packtech; Protech; and Sporttech.
As in past years, the show floor also will feature country pavilions to gather exhibitors from the same country including Italy, Germany, China, Taiwan, Belgium, and France.
Texprocess Americas
Texprocess Americas is coproduced by Messe Frankfurt and the Sewn Products Equipment & Suppliers of the Americas (SPESA), Raleigh, N.C.
Now in its third edition in the United States, the show is promoted as the largest North American trade show displaying equipment and technology for the development, sourcing and production of sewn products.
Product groups and services covered include: computer software and information technology; contract manufacturing and sourcing; cutting, spreading and ancillary equipment; digital, screen, transfer printing and ancillary equipment; embroidery, monogramming and ancillary equipment; laundry, finishing and ancillary equipment; pressing, fusing, vacuum and ancillary equipment; product identification, labeling and ancillary equipment; sewing and ancillary equipment; other supplies and equipment; fabrics and materials; findings, trimmings, components and accessories; manufacturers;recycling and sustainability; services, associations, publications and academia; supplies; supply chain services; and warehousing, distribution and materials handling.
Texprocess Americas will feature country pavilions from Germany, China and Taiwan; a Cool Zone highlighting the latest technologies, products and processes in the sewn products industry; and a Supply Chain USA Pavilion sponsored by SEAMS, the National Association for the Sewn Products Industry.
Symposiums
Messe Frankfurt also offers visitors to Techtextil and Texprocess an educational opportunity through its Techtextil North America Symposium and Texprocess Americas Symposium, which are held concurrently with the trade show. The symposiums addresses market developments, technological information, new technical processes and products, as well as international industry trends.
An advisory council comprised of Dr. Behnam Pourdeyhimi, The Nonwovens Institute; Mike Clements, Huesker Inc.; Sam Buff, Textile Technology Center at Gaston College; Dr. Anselm C. Griffin, Georgia Institute of Technology; Bipin Kumar, UC Davis; and Marc Shellshear, Gale Pacific Inc., were selected to develop and facilitate the 10 Techtextil presentation sessions featuring more than 40 speakers over the three days.
Topics include tension structures, textile testing, nonwovens, new fiber technologies, smart textiles, auxetic and protective textiles, geotextiles, fabric welding, and sustainability.
The Texprocess advisory council includes Yoram Burg, Optitex USA; Will Duncan, [TC]2; Dave Gardner, SPESA and Gardner Group Inc.; Ram Sareen, Tukatech; Larry Stone, Weissman; and Dr. Pat Trautman, Global Garment Engineering.
Topics to be covered at the Texprocess Americas symposium include automation and robotics, technology in apparel, wearables, reshoring, 3-D technology, and sewing room technology.
Visitors who purchase a one-, two- or three-day symposium pass also gain access to two free bonus symposium sessions, as well as the show floor.
In addition, attendees have the opportunity to engage with graduate students who will present their technical textiles, nonwovens and sewn products research projects through a poster program and also live presentations.
"We continue to experience extremely positive feedback from the industries we serve," said Kristy Meade, show director, Messe Frankfurt North America. "You will see this from the increased size of the exhibit hall to the experts presenting during the symposiums."
SPESA'S VIP Event
The evening of May 3, the College Football Hall of Fame adjacent to the GWCC will play host to the SPESA 2016 Tailgate Party. This dinner and networking event with a denim jeans dress code, gives attendees the chance to develop and maintain business relationships and create new partnerships. Tickets may be purchased in advance, and the event supports the American Apparel & Footwear Association Education Foundation.
JEC Americas
The JEC Americas Composites Show & Conferences will collocate with Techtextil and Texprocess for the second time at the GWCC in Atlanta. The event is organized by France-based JEC Group whose mission over the past 58 years has been to exclusively serve the complete value chain of composites producers and end-users.
Show organizers report Atlanta is a perfect strategic location because JEC Americas is the only major composites event to be held on the east coast in 2016. The Atlanta show will focus on innovations in composites manufacturing related to the automotive and aerospace industries. According to JEC Group, there are more than 300 facilities in the state of Georgia that are dedicated to aerospace parts and products manufacturing and air transportation activities. In addition, Georgia gathers most of the key automotive original equipment manufacturers within in a 500 miles radius. The Southeast is now the fastest growing auto corridor.
The show badge also gets JEC attendees free access to the conference, which features five sessions and more than 20 speakers in two rooms over the three-day show. The main topics to be covered at the JEC conference include thermoset resins and glass fiber industry challenges, aeronautics, carbon fiber in the automotive industry, and 3-D printing.
JEC Americas also includes the Innovation Awards, which recognize new products, processes and applications in the composites industry. Live demonstrations and an Innovation Corner will showcase innovative industry capabilities; and a free technical poster session gives students, researchers and companies the opportunity to display a poster on any composites-related subject.
JEC Americas offers some exclusive programs including leadership circles, a VIP Lounge and Press Club, a private exhibitor reception for business and networking opportunities as well as a composites plant tour of selected industry leaders in the Atlanta area.
Show hours for the collocated events are from 10 a.m. until 5 p.m. May 3 and 4, and from 10 a.m. until 3 p.m. on May 5. Visitors need only register for one of the three shows to have access to all three show floors at the GWCC.
"The synergy we have created through the collocation of our events, has positioned this year's event to be the strongest B2B platform for the technical textiles, sewn products and composites industries in the Western Hemisphere," Meade said.
---
To learn more about Techtextil North America, Texprocess Americas and JEC Americas and to register, visit techtexilna.com, texprocessamericas.com and jeccomposites.com/events/jec-americas-2016-atlanta.
---
March/April 2016