The wet processing industry took the sustainable theme of ITMA 2015 to heart displaying machinery offering enhanced water and energy savings.
By Dr. Peter J. Hauser, Technical Editor
The theme of ITMA 2015 held in Milan in November was "Master the Art of Sustainable Innovation." The exhibitors took this theme to heart as the materials and machinery seen all focused on providing the textile industry with more sustainable wet processing. Although the main emphasis was on water and energy savings through modifications to existing equipment, a few truly innovative developments were on display.
Dyes and Chemicals
Cuyahoga Falls, Ohio-based Americhem, a supplier of additives for fiber producers, offered two new products — mBrace™, a REACH compliant hydrophilic additive; and Nofia™, a non-halogen flame retardant (FR) additive for polyester. Americhem also provides a new masterbatch service; color trend reports; and has opened a new technical center in Manchester, England, for customer product development.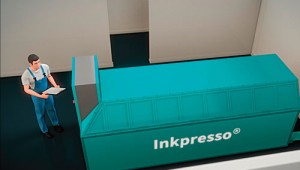 Switzerland-based Archroma showed two non-fluorine water repellent finishes — Smartrepel® Hydro CMD for cotton and cotton blend fabrics, and Smartrepel® Hydro PM for man-made fabrics. Both products are based on microencapsulation technology. Archroma also introduced Earthcolors, a line of dyes manufactured from nut shells, leaves and other agricultural waste. Six dyes are available yielding brown, grey, and olive shades and are applied using a similar processes to the process used with sulfur dyes. A key feature of the Earthcolors program is a traceable supply chain from raw material to retailer, ensuring that sustainable processes were carried out in the production of the dyed garment.
England-based Avocet Dye & Chemical Co. Ltd. exhibited several Oeko-Tex® approved flame retardants. CETAFLAM® DB9 is a durable finish for polyester fabrics, Cetaflam PD 3300 is a a semi-durable finish for cotton fabrics, and Cetaflam PD 3MW is a non-durable finish suitable for multiple fibers.
A variety of new textile chemicals were presented by Germany-based CHT/Bezema Group. Vario Bleach 3E is a bluesign®-approved bleaching agent for cotton fabric, which is effective at 70°C. Ecoperl Active is CHT's non-fluorine water repellent offering, and Egasol Up is a unique polyester dyebath additive that allows for very rapid dyebath heating — 5°C/minute — while maintaining level dyeings.
Dyestuff producer Singapore-based Dystar offers Realan Black MF-PV, a new black dye for wool as an alternative to Mordant Black 9. A fiber reactive dye series called Levafix® ECO, which is not based on p-chloroaniline, was presented at ITMA. ECO Black, Navy, Forest currently are available.
India-based Green Wave Global Ltd. showed a novel enzyme for bleaching cotton. Progen+ is active under neutral conditions at 60°C and forms peracetic acid in-situ. Excellent whiteness, minimum fabric degradation, and acceptable mote removal are achieved.
More non-fluorine water repellents were exhibited by Switzerland-based HeiQ Materials AG. Barrier ECO-Dry for man-mades and Barrier ECO-Cel for cotton and cotton blends offer enhanced durability
Kyung-In Synthetic Corp. (Kisco), a Korea-based dyestuff supplier, presented Synozol Ultra DS dyes, a series of seven dyes for medium and dark shades that can be used in exhaust, continuous, and screen-printing applications.
Denmark-based enzyme supplier Novozymes, emphasized four concepts for processing textiles with enzymes: denim processing; biopolishing at a neutral pH with a silicone softener; processing Tencel®/cotton blends; and fully preparing cotton with only enzymes and natural soaps. The latter process was demonstrated with the Geo towel, a soft, absorbent 100-percent cotton towel.
Novel chemical coatings containing graphene were shown by Italy-based Prochimica® Novarese S.p.A. These coatings combined graphene — sheets of single layer carbon atoms — with traditional coating materials to provide electrically conductive, antistatic and water-repellent properties to textiles.
Germany-based Pulcra Chemicals focuses on active textile finishes. Highlights include Silvadur®, a silver-based antimicrobial with a patented release mechanism; and Repellan® ECO100, a non-fluorine water repellent with bluesign, GOTS, and Oeko-Tex approvals.
A new halogen-free FR product was presented by Germany-based Schill+Seilacher GmbH. Flacavon FU3110 is intended for use with polyester technical textiles and home furnishings. The company reports it anticipates commercializing a non-fluorine water repellent soon.
Preparation Innovations
Switzerland-based Benninger AG exhibited the Trikoflex drum washer, which has been completely redesigned for use with technical textiles. The washer now is available in widths up to 5.5 meters. Benninger also showed the Tempacta, a low-tension steamer-washer designed for knit goods.
Italy-based Lafer S.p.A. presented the liquid ammonia treatment range Permafix for knit goods. Specially designed rollers control fabric shrinkage and 95-percent of the ammonia used during processing can be recovered and recycled.
A singer designed for wide nonwovens was shown by Germany-based Karl Menzel Maschinenfabrik GmbH & Co. The singer has enhanced process controls with improved fuel efficiencies and higher production speeds, according to the company.
Italy-based MCS Group debuted the Starwash FS, an open-width drum washer designed for efficient of washing digital prints under minimum tension. MCS also presented the Multiwash, a combination J-box and spray rope washer that provides efficient washing with significant savings of time and energy.
Dyeing Innovations
A dyeing machine with the capability to dye knit and woven fabrics at extremely low liquor ratios was introduced by Acme Machinery Industry Co. Ltd., Taiwan. The AM-ICD incorporates a conveyor belt system that allows polyester to be dyed at a liquor ratio of 1:2.5 and cotton to be dyed at a liquor ratio of 1:3.5 under very low tension.
England-based Adaptive Control Solutions Inc. presented the Flow Book, a data storage system that captures all relevant dyehouse data, which can be displayed on smart phones to allow for rapid information transfer.
The design of the Rotora beam-dyeing machine from France-based Alliance Machines Textiles has been improved to allow lower liquor ratios during dyeing. The Labojet from Alliance is a laboratory dyeing machine for dyeing small accessories.
Italy-based Loris Bellini S.r.l. emphasized the Pulsar, a package dyeing machine designed to dye yarns at a 1:3.8 liquor ratio. According to the company, the Pulsar operates with 25-percent less steam, chemicals, and compressed air than traditional package dyeing machines as well as uses 70-percent less energy for bath recirculation.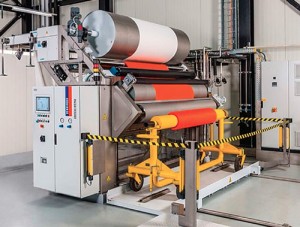 The Küsters DyePad from Benninger is designed for the cold pad batch dyeing of knits. The DyePad is especially useful for short dye runs and operates under very low tension to minimize fabric distortions.
Italy-based Brazzoli S.p.A. introduced the latest Ecologic jet-dyeing machine, which incorporates a wash system that measures water consumption. The machine can process up to 750 kilograms of fabric at a liquor ratio of 1:4.
An improved hank dyeing machine was shown by Italy-based Cubotex S.r.l. The Unimat was designed to combine the capabilities of both cabinet and spray machines into one and can operate at temperatures of up to 100 °C with 30-percent less dye bath, according to the company.
The Netherlands-based DyeCoo Textile Systems BV has commercialized its super critical carbon dioxide beam dyeing machine in Taiwan and Thailand. According to the company, polyester fabric can be dyed to 98 percent dye exhaustion with no need for the usual reduction clearing step with overall process savings of 40 to 50 percent realized. If preparation prior to dyeing is required, conventional aqueous preparation should be carried out.
A ready for commercialization dyeing machine for dyeing polyester yarn packages with super critical carbon dioxide was presented by eCO2dye, Allentown, Pa. Units with yarn capacities of 10, 50, and 100 kilograms (kg) are available with 50-percent reductions in energy and chemical usage expected, according to the company.
Italy-based Flainox S.r.l. introduced an enhanced high-temperature garment dyeing machine. The e3 machine is available in 10- and 30-kg capacities and features automated loading and unloading.
Hong Kong-based CHTC Fong's Industries Co. Ltd. highlighted the Superwin, a package dyeing machine with the capability of employing a unique single flow procedure with appropriate yarns. Liquor ratios as low as 1:3 can be achieved.
Germany-based Fong's Europe GmbH showed the Goller Economica Dye Pad, a heated dye pad designed for open-width knit goods. The pad has been designed to minimize fabric distortions on delicate fabrics.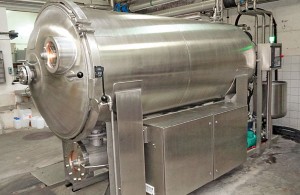 An truly innovative beam dyeing machine was debuted by Switzerland-based Lab-Pro GmbH. The Dyewa machine features a rotating perforated beam whereby the dye bath is sprayed from the interior of the beam onto the fabric wound on the beam. Both cotton and polyester fabrics can be dyed in 200 kg batches using up to 40-percent less water than conventional beam dyeings, according to the company.
Italy-based Laip S.r.l. offered two low liquor ratio jet-dyeing machines. The Airjet 2000 can dye fabric at a liquor ratio of 1:3, while the Jet 250HT is capable of operating at a liquor ratio of 1:1.8.
The Dos-Chem dosing system was presented by Italy-based Lawer S.p.A. The system provides automated dosing and dispensing of dyes and chemicals for laboratory and pilot plant dyeings and includes automated weighing and dissolving of liquids and powders.
MCS introduced the Dynamica Sprint high-temperature jet-dyeing machine that allows five-hour dye cycles at a liquor ratio of 1:3.5. The machine has a unique heat-recovery system that provides for significantly lower energy requirements.
A new wash box design for indigo dye ranges was shown by Morrison Textile Machinery, Fort Lawn, S.C. The Peak washer has a patented flow system that reduces water usage by 50 percent, and also leads to increased rebeaming efficiency by minimizing yarns distortions, according to the company.
Oasis® Dyeing Systems LLC, Leesville, S.C., presented the Oasis® process, a continuous dyeing process for 100-percent cotton that incorporates a Gaston County foam dyeing system on fabric that has previously been pretreated with the Oasis treatment. This treatment permits fiber reactive dyeing with no salt, alkali, thickeners or afterwashing.
An automated package dyeing machine for lab and pilot plant was introduced by Obem S.p.A., Italy. The four-tube machine can accommodate up to 10 packages per tube in either a horizontal or vertical configuration with automated loading and unloading.
France-based Rousselet Robatel displayed its continuous treatment line for fiber bleaching, dyeing, and finishing applications. The conveyor belt system can accommodate production speeds from 100 to 1,000 kg per hour.
A new approach to indigo dyeing called Smart-Indigo™ was shown by Switzerland-based Sedo Engineering S.A. Leuco indigo is produced electrically under an argon atmosphere resulting in reduced pollution and significantly reduced chemical costs, according to the company.
Italy-based Tecnorama exhibited Shakerama, a high-temperature laboratory dyeing system that simulates the liquor ratios and mechanical action of production dyeing machines. Dyes and chemicals are automatically measured and dispensed by the system.
An innovatively designed jet-dyeing machine was presented by Fong's Europe. The Then Supratec LTM features adjustable liquor ratios — ranging from 1:6 to 1:12 — and kier angles to accommodate a wide range of fabrics. The Then Airflow® Synergy 8 jet-dyeing machine on display at ITMA can operate at liquor ratios of 1:3.5 and consuming up to 25-percent less energy, according to the company.
Thies GmbH & Co. KG, Germany, introduced the DyeControl dyebath monitoring system that measures pH, salt, and dye concentrations, as well as total water consumption. This information can lead to reduced cycle times and water usage, according to the company. Thies also introduced the iMaster Mini, a lab and pilot plant version of its iMaster H2O production dyeing machine.
Finishing Innovations
Commercial scale atmospheric pressure plasma equipment was shown by APJeT® Inc., Morrisville, N.C. A variety of surface properties — including repellency, antimicrobial and antistatic — can be achieved in a continuous process without heat or water. APJeT's Morrisville facility is available for pilot trials and proof of concept experiments.
Italy-based Biancalani S.r.l. exhibited the Brio® 24, a low-tension dryer for knit goods. A combination of vibrating trays and hot air flow allows for high throughput with minimal fabric distortions, according to the company.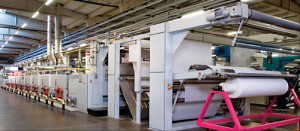 A tenter frame with enhanced air flow and heat recovery was presented by Germany-based Brückner Trockentechnik GmbH & Co. KG. The Power-Frame Ecoline is equipped with a new control system to maximize productivity and minimize energy consumption. Brückner also showed the Eco-Coat, a chemical applicator that minimizes wet pickup.
Switzerland-based Cavitec AG, a member of the Santex Rimar Group, introduced the Cavimelt P+P, a hot melt coater/laminator designed for small production lots and startup companies. Cavitec has incorporated the unwinding and rewinding sections into the compact unit to reduce the machine's overall footprint.
A vacuum plasma system was shown by Belgium-based Europlasma NV. The Plasma Guard system currently offers seven different surface treatments for garments and small articles.
Spain-based Iberlaser exhibited equipment for the continuous laser treatment of denim. The Delta machine is designed to treat full-width denim fabric, while the Zeta machine is intended for treating denim garments.
Spain-based Icomatex S.A. presented an innovative approach to wash box design. The Icowash incorporates submerged vacuum slots to enhance washing efficiency. Higher production speeds, cleaner fabrics, and reduced water consumption are benefits reported by the company.
A new knit compactor was shown by Lafer. The Go-Rubber is an open-width knit compactor that includes both rubber and felt belts to efficiently achieve high levels of compaction.
Germany-based Mahlo GmbH & Co. KG introduced the Orthomax RFMB-12, a fabric straightener for woven fabrics. A combination of both pins and bow rollers provides for optimal straightening.
The Rotolabo Multi-600 coater was debuted by Italy-based Matex S.r.l. This machine is equipped with multiple coating heads for lab, pilot plant, or small production lots and is capable of reaching curing temperatures of 400°C.
Germany-based A. Monforts Textilmaschinen GmbH & Co. KG presented the Montex XXL tenter designed especially for nonwovens. The Montex XXL can accommodate fabrics up to seven meters wide. Monforts also showcased the Thermex Thermo, a denim finishing range with production speeds of up to 80 meters per minute.
Two tubular knit processing machines were shown by Navis TubeTex, Lexington, N.C. The SCS — Spirality Correction System — is a patented system that efficiently removes torque from tubular knits. The company also highlighted the Pak-Nit e3+, which is a high-speed tubular knit compactor that can process two strands simultaneously.
Switzerland-based Santex-Rimar AG, a member of the Santex Rimar Group, introduced the SantaSynpact, an open-width-knit compactor. The SantaSynpact combines rubber and felt belts and can reach production speeds of up to 60 meters per minute.
The Decofast 3.5 was exhibited by Italy-based Sperotto Rimar, also a member of the Santex Rimar Group. This high-speed continuous pressure decator can process a variety of natural, man-made, and blended fabrics.
---
Editor's Note: Dr. Peter J. Hauser is a professor and interim head of the North Carolina State University College of Textiles, Department of Textile Engineering, Chemistry and Science.
---
March/April 2016