Advances in spinning technology centered on machine refinements and the use of data to analyze and communicate.
By Dr. William Oxenham
There was no doubt that ITMA 2015 was bigger and busier than previous ITMAs, and it also was clear that attendees were truly international. In the areas covering spinning technologies, the booths were well attended. There were no radically new developments in processing technologies, and this was a show about consolidation and refinement of ideas and technologies.
Progressive improvements in sensors, drives, computer speed and access to massive data storage including cloud-based systems along with software advances in big data analytics, have been adopted by many textile machinery makers. When these various technology improvements are coupled together they are used to provide manufacturers with new tools to ensure optimized yarn production. This not only relates to maintaining and improving yarn quality, but achieving this economically, using minimum energy and fiber. This concept was adopted by the biggest machinery manufacturers who packaged it into a thematic approach to marketing their products and services. Thus while the general goals are "to produce high quality yarns efficiently and economically, with the optimum use of resources including fibers" these ideals were promoted slightly differently by different companies at ITMA. For example, Switzerland-based Rieter used the groupings "Economy, Quality and Flexibility" in its promotional materials, whereas the Switzerland-based Saurer Group adopted E3 — Energy, Economics and Ergonomics.
While many of the ideas promoted may not seem totally new, the huge amount of data acquired coupled with advanced analysis methods, can be used not only to analyze the impact of many parameters on yarn quality and productivity, but also to afford remote process control, and furthermore provide guidelines for machine maintenance and communicate warnings of impending component failures.
Opening, Cleaning And Blending
The blowroom was probably one of the first to benefit from data utilization in the optimization of bale laydowns from fiber data. Blowroom improvements have focused around efficient opening, cleaning and blending of fibers, while minimizing unwanted fiber loss and fiber damage. The use of online data collection from various sensors enables the optimization of different components to achieve these goals, such as with Germany-based Trützschler GmbH & Co. KG's WasteControl system.
Based on the number of manufacturers offering foreign fiber detectors and eliminators, it is clear that contaminants in the raw material are a major issue. While machines have been available for a number of years to tackle this problem, they tended to have limitations in the type of contaminant that could be detected and ejected. Advances in sensor and lighting technology, particularly LEDs, have broadened the range of contaminants that can be removed.
The Centra from Italy-based Loptex S.r.l. is an optosonar system that combines sonar technology — using piezo emitters/detectors — with a series of 24 color cameras. The sonar system detects white polypropylene (PP) and plastics with the same color as the cotton processed, as well as hidden contaminants such as various plastics of different transparencies and fluorescence. The optical system detects and eliminates contaminants including colored and colorless.
The Trützschler T-Scan TS-T5 has added a G sensor for shiny foreign parts detection to the exsiting F module, which detects colored dark fibers; P module for transparent foreign parts; and UV module for fluorescent foreign parts. Additionally, the system now uses 1,072 LED lights for improved illumination with lower energy usage.
Switzerland-based Uster Technologies AG reports the Uster Jossi Vision Shield 2 provides improved foreign fiber detection by utilizing an imaging spectroscope that operates across a much greater wavelength. This enables the detection of contamination even within the invisible range of infrared and ultraviolet (UV) light. This includes light pastel colors, and particles of similar size to a fiber. Additionally, the spectroscope differentiates cotton from plastics such as PP because cotton tufts exhibit a halo effect under lighting, while plastics do not.
All of the above systems also incorporate sophisticated imaging software and systems to measure the speed of the impurities so that they may be accurately ejected.
Carding
The debate initiated at ITMA 2011 over which carding manufacturer offers the largest carding area, seemed to linger on, but was now directed at claims over the highest production per floor area. Maximum carding production levels, reported by the some of the major machinery makers include the C701 from Italy-based Marzoli Machines Textile S.r.l. with a production rate of 250 kilograms per hour (kg/h); Rieter's C70 with a rate of 280 kg/h; and Trützschler's TC 15 at 260 kg/h. Each manufacturer offered options to improve quality and efficiency. Rieter promoted its Integrated Grinding System (IGS) to ensure permanently sharp clothing that not only maintains high-quality card webs, but also potentially extends the life of the card wire. Trützschler demonstrated the T-CON carding information system that interacts with several other components to ensure that optimum settings are utilized. Trützschler also displayed the can filling station
T-MOVE, which essentially means that the sliver feeder is moved from full to empty can rather than the full can being replaced with an empty can under the coiler. This was coupled with the concept of jumbo cans 1.2 meters in diameter by 1.5 meters high, which are claimed to offer 43-percent more sliver per can. Advantages of jumbo cans include moving fewer cans, which yields labor savings; and also fewer piecings in the sliver.
Trützschler also showed the latest version of its IDF 2 linked drawframe with drafts of up to 2.0 and output speeds of 700 meters per minute (m/min). The addition of an autoleveling system makes the system an attractive approach for rotor spinning directly from the card.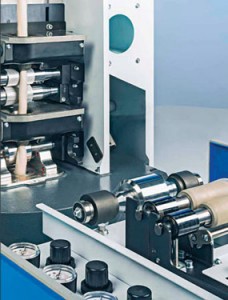 Drawing And Combing
The newer developments in combing were largely associated with increased productivity, improved quality and reduced cost through greater automation. Rieter's E 36 OMEGAlap can achieve production of 600 kg/h, which is claimed to be 50-percent higher than competitors. The orientation of fibers is optimized for better combing performance, and the use of a uniform pressure distribution and constant winding speed combine to give outstanding lap formation. The Trützschler-Toyoda TSL lap former claims production levels of 520 kg/h at speeds of 180 m/min. Both lapformers can use manual or automatic transport systems to the combers.
The major development in combing is the use of automatic lap change and piecing. This was shown by Rieter in its E86 comber with ROBOlap, and by Trützschler-Toyoda in the TCO 12 comb, which was also equipped with an autoleveling system on the final drafting unit. India-based Lakshmi Machine Works Ltd. (LMW) exhibited the LK 69 combing machine, which like the other combers, was reported to be capable of 600 combing cycles per minute.
While there is significant automation in preparatory machinery, the sophistication of a modern yarn production entity becomes really apparent when viewing the roving and spinning frame. The sight of an automatic roving frame with autodoffer and package transportation to the ring frame, which in turn may be fitted with autodoffing and link winding, is a strong visual message that the industry is a high-tech enterprise that can compete with any industry in terms of how it utilizes advances in manufacturing technology.
The roving frame used to be regarded as a necessary evil that was somewhat a bottleneck in yarn manufacturing. Advances in automation have certainly improved this situation and different levels of automation were available from the machinery manufacturers. For example China-based Jingwei— China Texmatech Co. Ltd. (CTMTC) — or from auxiliary manufacturers such as Germany-based Sohler-Neuenhaser GmbH & Co. KG, Spain-based Electro-Jet S.A., and Italy-based Trascar S.p.A. — formerly known as U.T.I.T. — who offer customized doffing and package transport systems.
Marzoli showed its FT6 Roving frame with roving transfer and an integrated bobbin cleaner. This cleaned any remnants of roving from the packages that were returning from the ring frame as they were transferred back to the creel on the roving fame. The FT6 is offered with up to 224 positions and because of smaller headstock, the machine has a smaller footprint. An additional feature is that each position is equipped with a roving sensor, which stops the machine in the event of a breakage. It is claimed that the use of this device obviates the need for suction to remove drafted fibers in the event of an end break, which provides an energy saving of 4 kilowatt hours.
The Saurer Group showed the new ZinserSpeed 5A roving frame, which claims that optimum use of blowing and suction can result in 20-percent energy savings. This machine can be offered in a manual or automatic version because the roving bench moves out to facilitate the doffing cycle and the automatic version has a doffing time of less than 2 minutes. The system was linked via the RoWeLift transfer station to the roving bobbin transport system, which at the show linked to the ZinserImpact 72 ring frame.
Ring Spinning
As was the case at previous shows, the majority of ring frame manufacturers demonstrated various forms of compact spinning that offer distinct advantages in terms of yarn and fabric properties coupled with greater productivity. This technology does however require greater power for compaction during yarn manufacturing and also there are higher labor costs associated with the additional maintenance required on the compact system. The ZinserImpact 72, which uses a perforated top compacting apron, is claimed to be the world's longest spinning frame with up to 2,016 positions. The advantage in utilizing the longer frame, from an example of 1,200 spindles, is 21-percent space savings and an 11-percent reduction in processing costs. Saurer reports this compact system's use of twin fans not only maintains a more uniform suction but can save 50-percent in power costs. The compacting apron design also has been optimized so that the flexion and tension it experiences as it rotates render it self-cleaning.
Rieter showed its K 46 with its now familiar roller compacting system producing Com4® yarns in a machine with up to 1,824 spindles. This machine also incorporates a suction unit for each side of the machine. Additionally, Rieter claims its system only needs 25 percent of the compacting energy of other apron systems, and that the unit obviously does not need frequent apron replacement.
Marzoli showed the Mac3000 compact spinning system, with a perforated bottom roller that can be fitted to several Marzoli spinning machines or retrofitted to existing machines. LMW showed its new compact spinning system LRJ9, which has up to 1,824 spindles. This machine uses a newly developed compacting bottom apron system rather than the mechanical RoCoS type compacting unit that was exhibited at previous shows.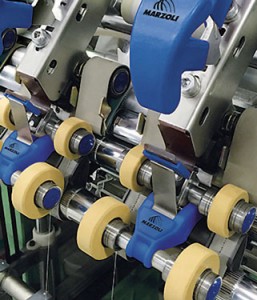 Almost all ring frames were available with automatic doffing and transport systems and most either use an in-house slubbing mechanism — such as Rieter's Variospin for example — or systems such as those offered by Switzerland-based Amsler Tex AG or Italy-based Caipo Automazione Industriale. Additionally, there were several smaller companies showing attachments and modifications for fancy yarns, including Japan-based Toyota Industries Corp., that demonstrated the RX 300 compact spinning system with independent dual roving feed producing yarns with alternating colors along their length.
Rotor Spinning
The two market leaders, Rieter and Saurer Schlafhorst, showed the latest renditions of their technically advanced fully-automated spinning machines.
Schlafhorst's Autocoro 9 featuring the Corobox SE 20 spinning units now is available with up to 720 positions per machine equipped with six doffing and cleaning robots. The machine is capable of commercial rotor speeds in the range of 160-180,000 revolutions per minute (rpm) and yarn production speeds of up to 300 m/min. Because the machine essentially consists of an assembly of individually driven spin boxes, there is the potential to spin up to five different lots at once and 24 spindles can piece at the same time, which has significant benefits for smaller lots. An added feature is the flexibility available in package build which ranges from packages that are 10-percent denser than typical packages, through to soft-wound dye-packages. Schlafhorst also showed the manual BD 6 which is based around Autocoro technology and is capable of speeds of up to 230 m/min.
Rieter's R 66 rotor spinning machine is available with up to 700 positions, with the capability of spinning a different lot on each side of the machine. The new S 66 Spinbox contains several refinements aimed at improving process and product quality, which includes: easier navel change where the navel type is clearly visible; and the improved airflow system, originally developed by Suessen, which is used to optimize airflow around the rotor. The use of individual drives is a differentiating factor between the major machine makers, and Rieter contends that its system is more energy efficient with less power loss to heat.
Air-Jet/Vortex Spinning
Rieter's J 26 automated air-jet spinning machine is available with up to 200 spin units and four robots. The machine is capable of processing different lots on each side and can run at speeds of up to 500 m/min. Rieter reports the double-sided configuration saves up to 60 percent in space and reduced mill operating costs. The P 26 polyester attachment, a water-based misting system that does not contain oil, ensures long production cycles when spinning 100-percent polyester. While this addition was designed the overcome issues associated with depositions created when running polyester, it also leads to beneficial increases in yarn strength while reducing yarn hairiness, according to the company. Rieter has also adapted their Q 10A clearer for the J 26 and this not only senses the usual defects, but can also monitor excess water and check the yarn for untwisted portions that may be present. While there is a fiber loss associated with this type of spinning system, Rieter has reduced this loss to 2-3 percent when processing cotton fiber.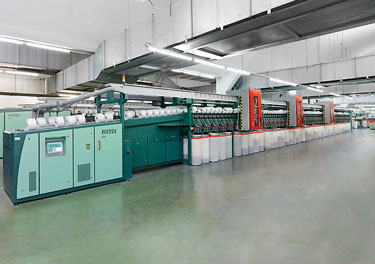 Japan-based Murata Machinery Ltd. reports the Vortex III 870 offers improved yarn quality, ease of use and performance. The single-sided machine can have up to 96 spinning positions running at speeds of up to 500 m/min. According to Murata, use of the STS — Spinning Tension Stability — system, which utilizes a friction roller rather than nip rollers to withdraw the yarn, provides longer term spinning stability at higher speeds. The machine was demonstrated at ITMA running Ne 40 polyester and a Ne 10 polyester/rayon blend on alternate days. Similar to the Rieter system, there are presently issues running 100-percent polyester and Murata's solution is to use the Polymaster system which feeds "oil" and compressed air to counteract the problems of high friction and dust deposits inside the yarn formation nozzle. A spokesman for Murata indicated that its present goal is to extend the range of yarn counts that can be viably spun on the system.
Winding
In recent years, the manufacturers of air-jet/vortex and rotor spinning machines have made significant improvements in the quality of the yarn packages that they can make, and have formats to cater for various downstream processing. However ring spinning is still the dominant spinning process, and while the use of link winding — coupling ring frame to winder — is commonplace, there is still a big market for stand alone winders.
The trends in other areas of spinning, with respect to features such as improved efficiency and energy savings, were clearly also adopted in winding. Big players in staple-yarn processing include Savio, Saurer/Schlafhorst and Murata. Saurer reports the brand new Autoconer 6 from Schlafhorst consumes up to 20-percent less energy, is 6-percent more productive, and offers improvements in tension control and waxing plus improved splicing. Murata exhibited the QPRO Plus bobbin-tray winder and FPRO Plus link coner with claimed higher productivity, quality and energy efficiency. Italy-based Savio Macchine Tessili S.p.A. showed its fifth-generation winding machine the Eco PulsarS, which offers energy savings of up to 30 percent coupled with up to 10 percent increase in productivity, according to the company. The machine also includes new features such as the Controlled Cut System, Yarn Tension Control, Waste Collection and Separation System, and upgraded splicing solutions. Savio also presented the Polar Multicone technology, which uses drumless, digital yarn-layering technology to provide greater flexibility in formatting packages for subsequent processing such as dyeing, warping, weft, double twisting and knitting. In addition, Savio showed the latest rendition of its Volufil system, which essentially incudes thermal treatment — relaxation and/or setting — as part of a winding process.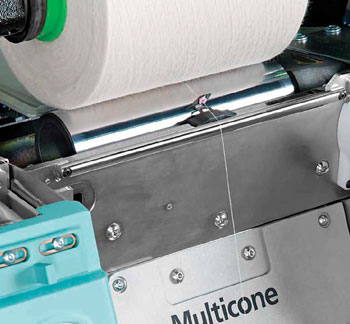 Data Systems
There were many data systems on display at ITMA, and while some were proprietary to the different machinery makers there also were several third parties offering retrofit systems and software. It was clear that the products shown at ITMA were much more sophisticated and capable systems that not only had the potential for more data inputs, but also were much more refined in what they did with the data and the communication with the user.
Uster exhibited the new USTER® Tester 6, which when simply viewed as a testing machine offers significant improvements over the previous versions, with the potential of performing certain tests at 800m/min. The base unit measures sliver, roving and yarn uniformity, plus registers atmospheric test conditions. Additional sensors are available to measure: overall hairiness; hairiness length distribution; yarn diameter, shape, density and variation; and yarn trash and dust. In addition, the use of the Knowledge Based System (KBS) enables the detection of periodicities and determines the source of these defects. It also is possible to analyze the various structural parameters associated with slub yarns. The Uster Tester 6, when linked to the Uster Quality Expert — which gathers online and offline data from the total manufacturing process — is able to display this information as dashboards and comparative reports. Additionally, the system — comprised of the Uster Tester 6, plus databanks and software — is capable of using the measured data and the huge data bank of Uster Statistics to predict features such weaving performance and fabric appearance. Indeed, when incorporating data on hairiness, the system also can make predictions about pilling characteristics. As with systems offered by other manufacturers, it is possible to remotely access the various reports from mobile devices, which is particularly useful when assessing the overall performance of various processes in the manufacturing line.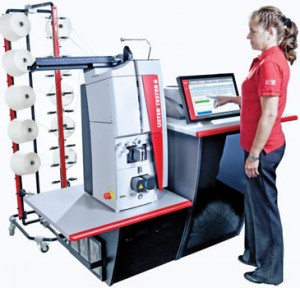 Rieter's latest version of its SPIDERweb Mill Control System offers several improvements plus access is now possible with mobile device and appropriate app. The sensors necessary for this system can be incorporated into new machines or retrofitted to certain existing machines. The system gathers data from several different modules — machine performance, quality of product, power consumption, temperature and humidity for example — which it then collates and analyses. It also incorporates historical data and then creates various reports which can be displayed in the mill as wallboards — efficiency of production, for example — or generate holistic views of the mill or perform very specific analyzes of say one particular spinning frame. Additionally, the self-perpetuating database can be queried and analyzed to determine the impact of factors such as temperature and humidity changes on product quality, processing efficiency and energy consumption.
Trützschler demonstrated its T-Data system that gathers and analyzes data from blowroom through to finisher. This includes data gathered from components integrated into Trützschler machines including trash and neps in carding. The system produces reports and enables queries and visual displays of single or multiple machines including variations in shift data. As with other systems, energy monitoring is an integral part of the system. T-Data can be accessed via smartphone through downloadable apps.
Marzoli showed its YarNet mill management software, which features status displays for each machine including running and doffing, plus providing details of processing conditions and efficiencies. Details of drive components and motors are collected together with information on energy consumption. This data is used not only to assess the processing, but also can be used to quantify the effects of any changes in processing conditions on the final product quality. Additionally, by using virtual board wrapping it is possible to use the data to display the effect of possible changes in slub parameters of final fabric appearance. Marzoli utilizes the data in a further way through its Marzoli Remote Maintenance (MRM) system, which is a joint development with Microsoft. The use of cloud computing and analytics takes selected mill data and uses this to create an optimized maintenance schedule for the mill. By monitoring changes in machine efficiency, energy usage and motor temperatures, it is possible to predict impending problems and plan repairs, including gathering necessary components and required labor so that repairs can be carried out efficiently.
Saurer Schlafhorst's Plant Control System gathers data online and prepares different level reports for the mill, groups of machines or individual machines and/or spinning positions. Saurer reports the system is useful for optimizing productivity and quality, as well as giving rapid alerts on off standard process/product. Saurer also announced its new Service Unlimited (SUN) program to ensure maximum efficiency during the whole product life cycle. This program is the agglomeration of various installation and aftercare functions such as consulting, installation, technology transfer, original parts, maintenance, and repairs and upgrades, to ensure continued optimum performance of Saurer products.
---
Editor's Note: Dr. William "Bill" Oxenham is the Abel C. Lineberger Professor and Associate Dean of Academic Programs at Raleigh, N.C.-based North Carolina State University's College of Textiles, Department of Textile Engineering, Chemistry and Science.
---
January/February 2016