IFAI Expo 2015 bounces back, hosting successful event in Ahaheim.
By Stephen M. Warner, Contributing Editor
A series of strategic moves — including targeted marketing to visitors, good location, involving suppliers in show marketing efforts, return of a keynote address and expansion of the market application inclusions — helped the Roseville, Minn.-based Industrial Fabrics Association International (IFAI) host a successful IFAI Expo 2015 recently in Anaheim, Calif. The mood in the exhibition hall was definitely very positive, especially the first day when the crowd surged on to the show floor.
In 2015, IFAI continued to define several distinct markets within its show — Specialty Fabrics Expo, Advanced Textiles Expo and the newly added Shade & Weather Expo — but combined them under one event banner called IFAI Expo. Each section had its own education track and separate physical space on the show floor.
The aisles in the Specialty Fabrics and Shade & Weather sections were filled until the end of the opening day and continued strong on the second day. According to show management, more than 5,500 people registered for the show, which represents approximately 30-percent growth over last year's event held in Minneapolis. Equally exciting for the exhibitors was that more than half the pre-registered visitors said they were first time attendees. The number of exhibitors also grew slightly to 376.
"The traffic at this show has exceeded the last three years," said Marianne Iosso, vice president, Iosso Products. "We've talked to a lot of qualified buyers who are truly needing quality products, and the days have all been equally good for us."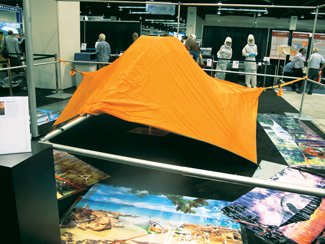 A Stingray tree tent, a portable tree house that can be erected in just a few minutes above a flooded or inhospitable terrain, manufactured by London-based Tentsile Ltd.
Exhibitor Highlights
Big news on the show floor included Glen Raven, N.C.-based Glen Raven's introduction of Sunbrella® Contour, a lightweight knit fabric designed for the shade industry. In fact, the fabric was so new, the company struggled to have enough on hand for booth decorations and samples. The product is Glen Raven's first knit fabric for the technical textiles industry and it should compete with South Africa-produced knitted shade cloth that has dominated the commercial shade and hail protection markets in the southern and middle parts of the United States. Serge Ferrari North America, Fort Lauderdale, Fla., showed its new 502 Precontraint® Satin. The base fabric is a high-tenacity polyester yarn with a satin feel that is vinyl-coated for extra durability. New Haven, Mo.-based Marlen Textiles displayed a new acrylic-coated woven polyester fabric in its TrueTimber® conceal brown camouflage print. MMI Textiles — a fabric converter and distributor based in Westlake, Ohio — introduced its Unequal® line of protective materials marketed for use in military and law enforcement products.
On the equipment side, Navarre, Ohio-based Miller Weldmaster introduced T-300 Extreme Waterproof Plus, a synchronized taping application system that enables a fabricator to waterproof seams that have been sewn previously. Sweden-based Forsstrom High Frequency AB showed its new Forsstrom MG-Flex — a compact high frequency welding machine with a welding head that can rotate 180 degrees.
In Anaheim, the expo featured a display of products used for disaster mitigation and response. Some 29 products were showcased, including equipment used for biohazards, paramedic use, fire protection, chemical and oil spill response, heat and flood protection, emergency shelter, and potable water.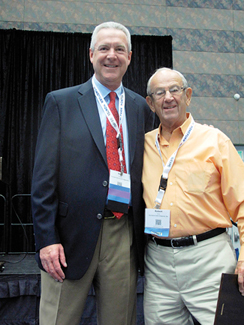 Dave Clarke (left), IFAI Chairman of the Board, and Bob Cole, IFAI's Chairman's Award recipient.
Educational Series
The Advanced Textiles segment featured a two-day series of educational seminars. Leading off the session was a keynote address by Evelyn Ordnuff, National Aeronautics and Space Administration. Her talk focused on the comparison of past and present needs from the textile industry to aid space exploration. Other Advanced Textiles presentations were far-ranging in topics with speakers from the United States Army Soldier Systems Center, Applied DNA Sciences Inc., ArcWear, RX Fibers LLC, First Line Technology LLC, DuPont, Nanoscience Instruments Inc., ASTM International, 3M Corp., AR-Tech International Inc. and Quick-Med Technologies Inc.
Three Advanced Textiles non-technical talks — IFAI Market Research Manager Jeff Rasmussen's "Current Developments in the Smart and Interactive Fabrics Market," OTEXA Senior International Trade Specialist Mary-Lynn Landgraf's "New Approaches to Selling to the Military," and Dr. Maureen MacGillvray and Robert Bona's "MUST Program" — were very informative. The latter talk was about the Military Uniform System Technology (MUST), a program sponsored by the Defense Logistics Agency in an effort to improve the research and development and procurement process through this supply chain segment.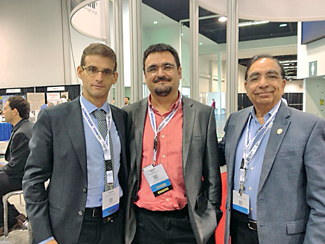 Raj Patel (left), Docril Fabrics, and Eduard Costals (center), and Antoni Puig, Docril/Citrel.
At the reception held for those in the Advanced Textiles education track, IFAI announced the 2015 Advanced Textiles Student Design Challenge Winner. Students Maria Fernanda, Isabel Lugo Prado and Wendy Rosales Martel from the Universidad Ricardo Palma in Peru were awarded first place for their project titled "CHUWA: Pure Water." The winning project was a tensile structure engineered to filter out acid rain using permeable textile membranes and moss to make drinkable water for the benefit of the population in Cerro de Pasco, Peru.
The new Shade & Weather section primarily targeted the awning and shade product markets — an already strong base within the organization. The marketing of this distinct section helped attract a larger-than-usual number of visitors to the expo because of Anaheim's proximity to agricultural markets and their end-product applications including irrigation, crop protection and truck covers. The show's California location also attracted a higher than typical number of companies from Mexico.
This year IFAI brought back the keynote address and it was clearly the talk of the overall event. Adventurer Erik Weihenmayer, blind since age 13, gave an inspirational talk entitled "No Barriers Mindset" to a capacity audience in a ballroom. Weihenmayer has climbed Mount Everest, and his talk focused on a quest for life and achievement despite adversity. "I think this is the best time in history, the most precious time in history to be a pioneer, to reach out, to seize hold of adversity and challenges we face, to harness energy not only to transform our own lives, but to elevate the world around us," said Weihenmayer.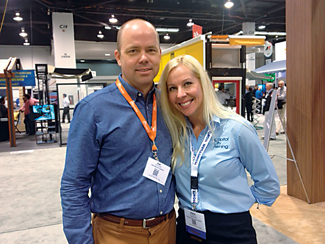 Hal Hunnicutt, Glen Raven, and Kisha Moldovan, Capitol City Awning
Other IFAI Activities During The Show
In addition to the IFAI Expo, the non-profit industry trade association IFAI also holds its annual meeting. This was the 104th Annual Meeting. At the meeting, Katie B. Bradford, became the 51st Chairman of the Board, replacing David Clarke of TenCate, who ended his two-year term. Bradford is the first woman to lead the IFAI. She is the owner of Custom Marine Canvas in Noank, Conn. Steve Ellington, president of Trivantage Corp., Glen Raven, N.C., became the first vice chairman/chairman-elect.
A highlight of the Annual Meeting was the announcement that the Chairman's Award, IFAI's highest honor, had been bestowed upon Robert "Bob" Cole, owner of Goodwin-Cole Co., Sacramento, Calif. Cole has been active in the industry since 1936, interrupted only by his service in World War II. Goodwin-Cole is a fabricator of awnings and other custom products made from technical textiles.
Also at the show, the 61 winners in the 29 categories of the annual IFAI International Achievement Awards were announced. The competition garnered 292 entries from 11 countries.
IFAI announced the dates and locations of its next three events. IFAI Expo 2016 will be held in Charlotte, N.C., October 18-21, 2016; IFAI Expo 2017 will be held in New Orleans, September 25-29, 2017; and IFAI Expo 2018 will be held in Dallas, October 4-6, 2017, and collocated with CAMX, a composite industry trade show.
Overall, IFAI Expo 2015 represented a nice bounce-back for IFAI and the industry.
November/December 2015