ExpoProducción successfully concluded its third edition held February 4-6, 2015, in Mexico City, Mexico. According to show organizer Atlanta-based ExpoProducción Mexico LLC, the show was well-supported, which illustrates the need for a sewn products trade fair in Mexico.
"We are extremely pleased with the continued and growing support we received from our exhibitors and attendees that made ExpoProducción 2015 such a success," said David Audrain, president and CEO, ExpoProducción, Mexico. "The 2015 event showed that Mexico and Central America continue to see growth both for domestic consumption and exports, and that ExpoProducción plays a vital role by providing an event in Mexico that brings together the suppliers and buyers for this emerging and growing apparel and textile market."
A total of 2,398 attendees walked the exhibition floor during the show's three-day run. Visitors were global and came from the following countries and regions: Ecuador, Guatemala, Costa Rica, Honduras, Taiwan, Belgium, South Korea, Spain, France, Italy, Japan, Peru, the United States and Mexico.
Attendees — including designers, engineers, educators, plant managers, purchasing managers, quality control managers, research and development managers, and sourcing managers — came from all facets of the textile industry including aerospace, automotive, garment manufacturing, government manufacturing, home textiles, leather and footwear, medical, military and pet products sectors.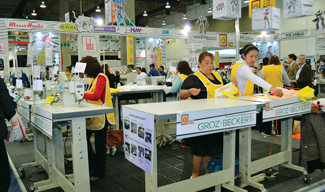 The collaborative Lean Sewing Lines project was demonstrated at Casa Diaz's booth during ExpoProducción.
Exhibits
The show featured 115 exhibitors offering products, services and equipment from across the fashion, home and technical textiles industries including computer software and information technology; full package and private label contract manufacturing; cutting and sewing equipment; distributor and wholesaler; fabrics; fibers and yarns; findings and trims; nonwovens; research and development; services and logistics; supplies; textile machinery; associations and academia; and publications.
Feedback from exhibitors about the show and the business climate in Mexico was positive.
"There have been tough years in the apparel industry in Mexico, but we are seeing opportunity and growth in sewing again," said Alfonso Peláez, Casa Diaz, the exclusive representative in Mexico for leading garment, embroidery and screen printing brands, with more than 80 years of experience in the industry. Casa Diaz had the largest floorspace at the show encompassing booths from many of the companies it represents including Groz-Beckert, Brother, Tajima and Schmetz, among other companies.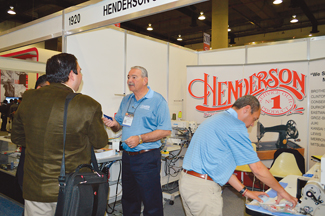 Frank Henderson (center), president and CEO, Henderson Sewing Machine Co.;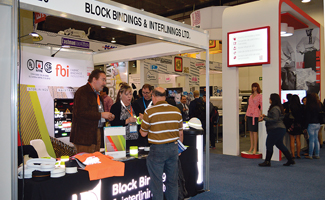 The team from Block Bindings and Interlinings Ltd.

"The synthesis of machinery, technology and ideas to provide manufacturers with solutions is where we see opportunity and big changes in the sewing industry," said Peláez. "We do not see any big developments or innovations in technology." He mentioned the collaborative Lean Sewing Lines project where workers stand to sew, multitasking and moving from one machine to another to produce a complete product rather than sitting at one machine all day sewing only one component of a garment repetitively. According to Peláez, workers experience less fatigue and fewer repetitive injury problems using this process, among many other benefits. Cary, N.C.-based [TC]2 — participating at ExpoProducción as a special guest in the Casa Diaz booth — organized and trained a Lean Team of sewers from a foundation for single mothers of children with special needs. During the show, the team demonstrated the Lean Sewing process while producing backpacks that Casa Diaz handed out to show visitors. The foundation, sponsored by Casa Diaz and Iberomericana University in conjunction with [TC]2, aims to develop skilled sewing specialists for the industry while providing jobs to women with children with disabilities.
Lonny Schwartz, president, New York City-based Superior Sewing, a wholesale distributor of industrial sewing and cutting machine replacement parts and supply items, views the event as a valuable sales tool for his company. As a wholesaler, Superior is a non-traditional type of exhibitor, but Schwartz said the show provides the perfect platform for Superior to safely meet with Mexico-based dealers. "We'll definitely be here in 2017!," Schwartz said.
Seminar Series
A number of companies participated in a seminar series held during the three-day show. New York City-based Fashion Snoops; [TC]2; Burlington Industries, Greensboro, N.C.; Atlanta-based Lectra North America; Jesta I.S. Inc., Quebec; InkCups Now Corp., Danvers, Mass.; Polyfab USA LLC, Manhattan Beach, Calif.; and the Americas Worldwide Responsible Accredited Production (WRAP), Arlington, Va., gave presentations on a variety of topics ranging from fashion trends and sustainable manufacturing to technical developments in fibers and fabrics and software solutions. José Manuel Martínez Cabrera, director general, Cámara Nacional de la Industria del Vestido (CANAIVE), offered a look at the Mexican sewing industry in his State of the Industry presentation.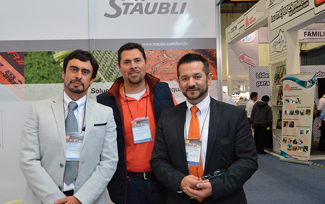 (left to right) Mario Gomez, sales manager, and Jamie Castaneda, after-sales technician, Stäubli Corp. Mexico, and Ludovic Pitrois, Textile Division manager, Stäubli Corp. North America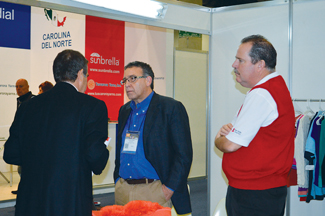 David Sasso (center), vice president, sales, and PJ McCord (right), director of sales, Buhler Quality Yarns Corp.
Luis Valázquez, director of business development, Lectra North America, in his "Creating Value Through Technology" presentation, talked about the growth in Mexico's retail market and how it is an attractive market for fast fashion driven by millennials. Valázquez stressed that Mexico has lots of expertise in making traditional textiles as well as lots of design talent. His suggestion is for Mexico to harness this talent and know-how to establish its own brands that can be manufactured in Mexico for the Mexican retail market versus importing foreign brands produced outside of Mexico.
ExpoProducción is supported by CANAIVE; Clover, S.C.-based Synthetic Yarn and Fiber Association; U.S. Department of Commerce, Office of Textiles and Apparel; and Textile World and its sister publication Textiles Panamericanos.
The next show will be held in 2017, and will continue in a biennial format.
March/April 2015