ITMA Asia + CITME 2014 closed in Shanghai on June 20 on a positive note for most of the nearly 1,600 companies from 28 countries and regions that exhibited at the five-day show. Exhibition owners and organizers report that some 100,000 visitors from 102 countries and regions walked the 150,000-plus square meters of space in 13 halls at the Shanghai New International Exhibition Centre. More than 20 percent of those visitors came from outside of China, mainly from India, Japan, Taiwan, South Korea, Indonesia and Turkey.
The numbers represent a 7-percent increase over visitorship for the previous show in 2012, and also a higher percentage of international visitors.
In terms of exhibitor numbers at the 2014 show, China was followed by Italy, Germany, Taiwan and Japan. In terms of exhibit space occupied, the country was followed by Germany, Japan, Italy and Switzerland.
As for technologies, the spinning sector led in the amount of exhibit space occupied, followed by washing/dyeing/bleaching/printing/finishing, knitting and weaving.
ITMA Asia + CITME is owned by CEMATEX, the European Committee of Textile Machinery Manufacturers, in partnership with the Sub-Council of Textile Industry, CCPIT (CCPIT-TEX); China Textile Machinery Association (CTMA); and China International Exhibition Centre Group Corp. (CIEC). Organizers include Beijing Textile Machinery International Exhibition Co. Ltd. (BJITME) and Singapore-based MP Expositions Pte Ltd.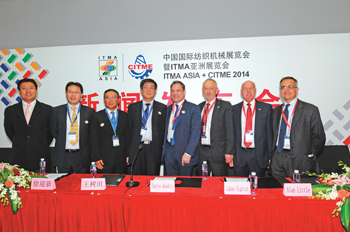 ITMA Asia + CITME officials addressed the press at the beginning of the show Left to right: Liang Pengcheng, general manager, BJITME, and secretary general, CCPIT-TEX; Zheng Shijun, vice president, CIEC; Xu Yingxin, executive vice president, CCPIT-TEX; Wang Shutian, president, CTMA; Charles Beauduin, president, CEMATEX; Lukas Sigrist, Ph.D., retired secretary general, Swissmem; Alan Little, director, BTMA; Federico Pellegata, Ph.D., director, ACIMIT.
IPR: Growing Importance Among Chinese Exhibitors
Intellectual property rights (IPR), long an issue among Western textile technology providers and machinery manufacturers, has become increasingly important within the Chinese textile machinery sector as well. During the opening press conference for ITMA Asia + CITME, the show's organizers stressed that IPR were being rigorously protected and enforced.
"The Chinese manufacturers have developed technology that they want to protect," remarked CEMATEX President Charles Beauduin when asked about IPR enforcement progress at the 2014 show. "We have received far fewer complaints of IP infractions than before, and we have a good platform to enable resolution of complaints."
Visitor Mix More Global, But China Still Top Market
European exhibitors interviewed by Textile World noted an increase in international visitors at this year's show, and also a high visitor quality. In addition to visitors from the countries named above, visitors from Malaysia, Pakistan, Bangladesh, Vietnam, Egypt, Iran, South Africa, Brazil, Argentina, other Latin American countries and Eastern Europe were mentioned.
Many European exhibitors count China as their most important market, and many have built manufacturing plants in China to serve the Asian market. More sophisticated versions of the machines are made in Europe, and even the machines made in Asia may contain components and electronics made in Europe.
Itema S.p.A., Italy, for example, showed two versions of its A9500 air-jet loom: the A9500p premium, which runs at 1,450 to 1,500 revolutions per minute; and the A9500e easy, designed for the Asian market. Itema opened an assembly plant in China in March, and China accounts for 65 percent of A9500 sales, said Marketing & Communications Manager Diana Profir. She also pointed out that Itema produces a lean version of the R9500 rapier loom — the R9000 — in China.
Chinese Market Faces Competition
Although China is still the top market for textile machinery, that business is slowing, several exhibitors said. Switzerland-based Saurer AG CEO Daniel Lippuner said high cotton prices set by China's government and higher costs are affecting that market, and that India and the United States are strong markets for Saurer's spinning, winding, twisting and embroidery machinery and components.
Trützschler GmbH & Co. KG, Germany, maker of spinning, nonwovens and man-made fiber machinery as well as card clothing, has a large manufacturing operation in Shanghai that serves mainly customers in China and India, said Jutta Stehr, senior marketing manager, Trützschler Nonwovens & Man-Made Fibers GmbH. At ITMA Asia + CITME, the company showed mainly spinning machinery and also an interactive model showing the various options for a nonwovens line.
To address competition from lower-cost Asian countries, China is shifting to more automation, noted Eva Babbo, sales and marketing representative, Savio Macchine Tessili S.p.A., Italy. All of Savio's regional sales representatives were on hand at its booth to show the company's full range of spinning and winding machinery.
At spinning machinery maker Rieter Group, Switzerland, Edda Walraf, vice president marketing, Spun Yarn Systems, remarked that the Chinese textile industry is facing challenges, noting that larger companies can get financing, while the smaller companies are relying on China's cotton policy to help them stay afloat. Still, she said Rieter is satisfied with the current business activity.
Oerlikon Manmade Fibers, Germany, was celebrating 50 years of activity in China by its Barmag and Neumag units. The company now has plants in five locations in China and employs some 840 people there.
Carlos Klöti, marketing manager at Jakob Müller AG, Switzerland, was very happy with the show results, noting a good response to the company's new Müjet® MBJL6 120-centimeter-wide air-jet label weaving machine. Müller has plants in India and China in addition to its European plants.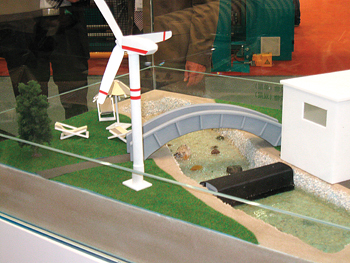 Half of the looms made by Dornier are used for technical textile applications, such as those shown in this diorama in Dornier's booth, and for protective clothing.
Peter Dornier, CEO, Lindauer Dornier GmbH, Germany, said there is demand for technical textiles in Asia. Half of the weaving machines his company manufactures are used for such applications. Dornier stressed its sustainable technologies and showed technical textiles applications in its booth, and partnered with Stäubli and Bonas to show systems for weaving home textiles and automotive fabrics in their respective booths.
Stäubli, with Jacquard systems headquarters in France and weaving preparation systems headquarters in Switzerland, was present all over the exhibition, as many loom manufacturers included Stäubli systems on their demonstration looms. In its own booth, the company demonstrated its SX Jacquard machine on a Tsudakoma water-jet loom and had several other looms fitted with its Jacquard and dobby systems. Stäubli has been manufacturing in China since 1997.

Exhibit Halls More Mixed
There appeared to be a greater mix of European and Chinese exhibitors within the halls than before, perhaps in an effort to attract more visitors to see the Chinese machinery. It was noted that in the past, the European halls were more crowded because buyers prefer the European machinery, which has been perceived to be of higher quality and to offer more innovations than Chinese machinery.
In some halls, machinery sectors were intermingled. For example, some spinning machinery exhibitors found themselves next to weaving machinery exhibitors who didn't follow expo rules stipulating that the machinery be turned off for part of each hour to allow for some relatively quiet time during which one could conduct business without yelling.
New Venue, Time For 2016
It was announced that ITMA Asia + CITME 2016 will move to a new venue and time of year. The venue, the National Convention and Exhibition Centre in Shanghai's Hongqiau business district, is under construction and when finished will offer 400,000 square meters of exhibit space. It also will have direct links to both of Shanghai's airports and its downtown. The 2016 show will be held October 24-28 instead of in June. Organizers noted that Shanghai is cooler in October, but some exhibitors complained that the timing causes logistical problems.
"The late October date is too close to ITME [India Textile Machinery Exhibition], which is held in early December," said Erwin Devloo, marketing communications manager of Belgium-based weaving machinery manufacturer Picanol NV. "This means that we must ship two separate booths because there isn't enough time to ship from one show to the next." Other European exhibitors echoed Devloo's concern.
September/October 2014