The Industrial Fabrics Association International (IFAI), Roseville, Minn., is busy preparing for the IFAI Specialty Fabrics Expo 2014 and Advanced Textiles Expo to be held Oct. 14-16, 2014. After the IFAI Specialty Fabrics Expo and Advanced Textiles Conference and Trade Show held in 2013, the specialty fabrics organization examined member feedback and market needs and determined a new idea and format for its exposition was warranted.
Both shows are designed to advance ideas, products and technologies; and help grow businesses and markets across the entire industry. The Specialty Fabrics Expo will focus on awnings, digital printing, graphics, tarps and tents. The Advanced Textiles Expo will cover products in the aerospace, engineering, geosynthetics, medical, safety, technical and military arenas.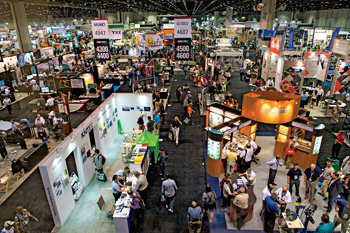 The Minneapolis Convention Center in Minneapolis will host the combined event. The show floor will be open Tuesday, October 14, and Wednesday, October 15, from 10 a.m. until 5 p.m., and Thursday, October 16, from 10 a.m. until 3 p.m. IFAI expects approximately 400 exhibitors and 6,000 attendees to participate in the 2014 expos. Organizers report the event historically has attracted new visitors with each location change, with up to 40 percent of the attendees visiting for the first time. The show was last held in the Midwest 20 years ago, and IFAI hopes this year's Minneapolis location will attract participants from Minneapolis-based large corporations such as 3M and Ecolab, and biomedical companies such as Medtronic and Boston Scientific; as well as participants from nearby cities including Chicago and Detroit; and from Ohio, Wisconsin and Canada.
Show Floor Highlights, Education Programs
On the show floor, attendees will find an Extreme Sportswear display presented by Jomar Softcorp, the ShowStoppers display featuring the best new products from exhibitors, and a Fabric Sourcing Center featuring samples of exhibitors' products. Fabrics on view at the sourcing center include outdoor, indoor performance, industrial, safety and protective, mil-spec, textile component materials and trims, and sport and apparel fabrics. IFAI and FabricLink staff will be available to assist visitors looking at samples and answer questions.
The Advanced Textiles show floor will include a Fiber & Yarn Zone featuring fiber and yarn producers and distributors.
IFAI will host a comprehensive series of education programs during the event. The Specialty Fabrics Expo's offerings include a Marine Symposium, an Awning Symposium and Business Seminars designed to highlight business tools and trends to advance ideas and help grow businesses.
Advanced Textiles seminars will begin Monday, October 13, and will offer attendees an in-depth look at applications, technologies and achievements in advanced textiles. A full series of events is planned for Monday and Tuesday, and participants may choose between full-conference or single-day registration. On Wednesday, there will be a bonus session with additional programming for attendees, and business seminars will be featured on Wednesday and Thursday. Presentations at the Advanced Textiles seminars will be broken into medical, safety and smart tracks, covering topics including Textiles, Technology Tomorrow: From Laboratory to Life Saving; Advances in Medical Nanotextiles; and Fibers of the Future, among other topics.
Various other seminars, symposia and workshops also will be offered (See sidebar).
International Achievement Awards
As in past years, IFAI will host the International Achievement Awards (IAA) during the expo. This annual competition recognizes innovation, technical skill and design excellence; as well as promoting awareness of the specialty fabrics used in thousands of products and applications. Entries are judged by a panel of industry experts, architects, educators, design professionals and editors chosen for their knowledge in a field of study or product area. Winners are selected based on design, workmanship, uniqueness, complexity and function. In 2013, IFAI received 236 entries from companies in 13 countries for the 26 competition categories, which ranged from fabric structures to geosynthetics.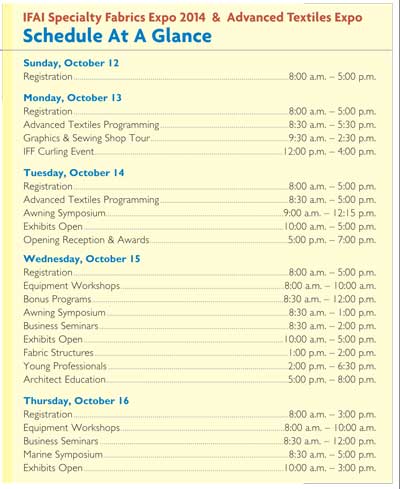 Please click Schedule to view larger

---
For more information about IFAI Specialty Fabrics Expo 2014 and the Advanced Textiles Expo, as well as concurrent events and seminars, visit ifaiexpo.com.
---
September/October 2014