From Tuesday, May 13, through Thursday, May 15, 2014, the Georgia World Congress Center (GWCC) in Atlanta will host a comprehensive textile trade event gathering machinery and technology suppliers for the technical textiles and nonwovens as well as traditional textile sectors; sewn products equipment and services suppliers; and composites value chain. The event will comprise three shows: Techtextil North America 2014 — the 11th North American edition of the annual international trade show for the technical textiles and nonwovens industries; Texprocess Americas — the second edition of the biennial exhibition presenting equipment and technology for the development, sourcing, and production of sewn products; and the JEC Americas 2014 Composites Show & Conferences, the third U.S. edition of the annual show for the global composites value chain.
Techtextil North America, produced by Messe Frankfurt, Atlanta, incorporates the American Textile Machinery Exhibition-International (ATME-I®), which is sponsored by the American Textile Machinery Association (ATMA®), Falls Church, Va., and will present textile machinery and equipment, products and services targeted to the overall textile and apparel industry. Texprocess Americas, co-produced by Messe Frankfurt USA and Sewn Products Equipment & Suppliers of the Americas (SPESA), Raleigh, N.C., incorporates the SPESA Expo sewn products and equipment trade show and will present machinery, plant, processing, information technology systems and services for the textile and textile product making-up sector. The JEC Americas Composites Show & Conferences, organized by JEC Group, Paris, will present the entire composites value chain, from raw materials through manufacturing processes.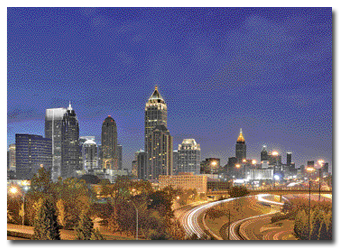 "We've experienced a very positive response from the industries we serve and are extremely excited about the synergy created through the colocation of our events with JEC Americas," said Dennis Smith, president, Messe Frankfurt North America. "We now have a waiting list for our Techtextil North America event, and our Texprocess Americas space sales are significant. Together with our extensive educational symposiums of over 22 sessions featuring 120 speakers, we are well-positioned to be this year's strongest B2B platform for the technical textiles, sewn products and composites industries in the Western Hemisphere."
"We are pleased about the partnership with Messe Frankfurt," said Frédérique Mutel, president and CEO, JEC Group. "Both organizations are fully committed to the industry. Both are experts of their sectors and produce high-value events. Together we will deliver a strategic event."
Altogether, more than 800 exhibitors are expected to show their products and services to approximately 10,000 attendees at the three shows, which will be colocated in GWCC Hall A. Although visitors need register for only one show, they will have access to all three.
Techtextil North America
Techtextil North America is focused on the technical textile/nonwovens sector of the textile industry, and is touted as the only trade show in the Americas that covers the full vertical spectrum of that sector — including research and development, raw materials, production processes, conversion, further treatment and recycling.
To help attendees find providers of the products, services and technologies relevant to their needs and interests, Techtextil North America exhibitors are classified according to 12 application areas: Agrotech; Buildtech; Clothtech; Geotech; Hometech; Indutech; Medtech; Mobiltech; Oekotech; Packtech; Protech; and Sporttech.
Product groups and services offered include: research, development, planning and consultation; technology, machinery and accessories; fibers and yarns; woven fabrics, laid webs, braiding and knitted fabrics; nonwovens; coated textiles; composites; bondtec; associations; and publications.
The fair also will feature five country pavilions showcasing companies from China, Italy, Germany, Belgium and France.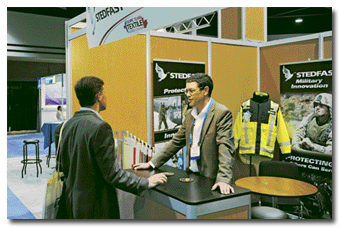 A visitor at Techtextil North America 2012 talks to a representative at Stedfast Inc., a Quebec-based supplier of laminated and coated textiles for military and other applications.

Techtextil Symposium
The 2014 Techtextil North America Symposium — a three-day educational forum held concurrently with the exhibition — will present recent developments in the technical textiles/nonwovens sector. The symposium lineup includes 11 sessions and 60 presentations by leading industry experts covering new fiber technology, protective and military textiles, medical textiles, automotive textiles, smart textiles, nonwovens, nanotechnology, and technical textiles for sports and outdoor applications. The symposium once again will feature a structured program to allow attendees more question-and-answer time with presenters during and after each session.
Texprocess Americas
Texprocess Americas will return to Atlanta following its 2012 debut alongside Techtextil North America. The show is touted as the largest North American trade show displaying equipment and technology for the development, sourcing and production of sewn products.
Product groups and services offered include: computer software and information technology; contract manufacturing and sourcing; cutting, spreading and ancillary equipment; digital, screen, transfer printing, and ancillary equipment; embroidery, monogramming and ancillary equipment; laundry, finishing and ancillary equipment; pressing, fusing, vacuum and ancillary equipment; product identification, labeling and ancillary equipment; sewing and ancillary equipment; other supplies and equipment; fabrics and materials; findings, trimmings, components and accessories; manufacturers; recycling and sustainability; services, associations, publications and academia; supplies; supply chain services; and warehousing, distribution and materials handling.
The fair will feature a new Technology Solutions Pavilion and Theater featuring booth displays and a continuously running series of vendor-sponsored educational presentations showcasing the latest information technology (IT), software solutions and technology-driven services including 2-D/3-D design, product lifecycle management (PLM), enterprise resource planning (ERP), costing, supply chain management and shop floor control, among other services.
Columbia, S.C.-based SEAMS, the National Association for the Sewn Products Industry, will present a "Supply Chain USA — Powered by SEAMS" pavilion covering approximately 2,700 square feet that will feature SEAMS member companies exhibiting their products and services.
Cary, N.C.-based [TC]2, a provider of technology development and supply chain improvement solutions for the apparel, sewn products and related soft goods industries, will organize the Cool Zone, an exhibit area featuring the latest technologies, products and processes in the sewn products industry.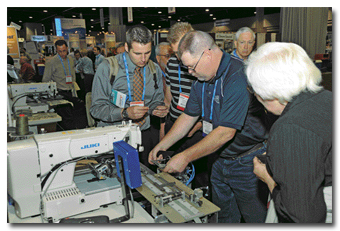 Sewing machinery will be among the range of products shown at Texprocess Americas.
Texprocess Symposium
The Texprocess Americas symposium — a three-day educational forum held concurrently with the exhibition — will present recent developments in the sewn products and equipment industry. The symposium lineup includes 11 sessions and 60 presentations by leading industry experts covering fit and sizing technology; smart textiles; PLM and ERP software; apparel construction; design and product development, automation, smart machines and robotics in apparel manufacturing; welding and stitch-free seam technologies; cut order planning; non-apparel sewn products manufacturing; and reshoring, nearshoring and startup manufacturing.
Student Poster Program
As part of the 2014 symposiums, Techtextil North America and Texprocess Americas together will present a student research poster program. The goal of the program is to provide a forum in which graduate students may present and discuss their work during its early stages, meet peers working in related areas, and meet veteran members in the field. A panel of industry experts will select five students who will present their research to interested technical textile suppliers and end-product manufacturers during the final symposium sessions.

Global Initiatives
The U.S. Department of Commerce (DOC) has designated both Techtextil North America and Texprocess Americas as participants in the International Buyer Program (IBP) Select, which promotes U.S. exhibitions worldwide via U.S. Commercial Services and diplomatic missions. International trade specialists from the DOC will be on hand in the International Business Center on the show floor to offer assistance including complimentary exhibitor matchmaking services to connect exhibitors with international buyers; export counseling; and market analysis. IBP also will distribute to all international visitors a show directory of U.S. exporting exhibitors.
Messe Frankfurt USA and the DOC have identified Mexico, Colombia, Chile, Brazil, the Dominican Republic and India as the top countries to bring buyer delegations to Techtextil North America and Texprocess Americas via the IBP Select program.
JEC Americas
The JEC Americas Composites Show & Conferences will be held this spring in Atlanta for the first time. JEC Group — which also organizes a spring show and conference in Europe, fall show and conference in Asia, and fall conference in the United States — provides networking and information services for composites markets and is said to be the largest composites industry organization worldwide. The focus of the spring 2014 show and conference in Atlanta will be on composites materials and manufacturing.
Composite sector fields include processing and technologies; fibers and textiles; resins; fillers and additives; machines and equipment; software and services; universities and research centers; and consulting firms. End-user markets include aeronautics, automotive, wind energy, construction, marine, consumer goods, and medical, among other markets.
JEC's Innovative Composites Summit Conferences (I.C.S.), a program of strategic, technical and end-user conferences, is a three-day event that will include presentations offering insights on the latest composites innovations, with forums on Tuesday focused on Materials; Wednesday, Application Sectors; and Thursday, Equipment & Process. The I.C.S. program will conclude with a technical poster session during which each speaker will present a poster with technical data for a specific product or industry.
The event also will include the JEC Americas Innovation Awards, which recognize new products, processes and applications in the composites industry.

---
For more information about Techtextil North America 2014 and Texprocess Americas, contact Kari Martin +770-984-8016 ext. 428; kari.martin@usa.messefrankfurt.com; techtextilna.com; texprocessamericas.com. Detailed symposium schedules may be found on each of the show's websites. For more information about JEC Americas 2014 Composites Show & Conferences, contact Aaron Wood +413-448-2260 ext. 470; awood@ahminc.com; jeccomposites.com.
---
March/April 2014