FloorTek Expo, the trade show dedicated to the floor covering industry and organized by the Dalton,
Ga.-based American Floorcovering Alliance (AFA), will be held this fall after a four-year hiatus.
The last show was held in 2009, and the previously biennial show suffered several cancellations and
date changes as the organizers sought the most appropriate time to attract participation from an
industry hit hard by the economic downturn and global decline in new building projects.
The show again will be held in the "Carpet Capital of the World," at the NorthWest Georgia
Trade & Convention Center in Dalton Sept. 10-12, 2013. FloorTek will maintain its focus on
highlighting innovative machinery, technology and services for the floor covering industry, as well
as showcasing technologies for product design, recycling and sustainability.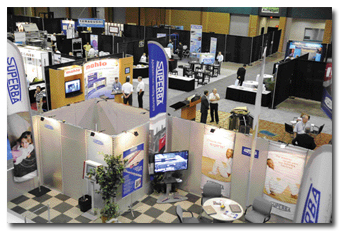 FloorTek organizer, the American Floorcovering Alliance, reports that exhibition space for the
2013 expo is quickly filling up.

Exhibitor Participation


In addition to domestic exhibitors, FloorTek has attracted new international exhibitors from
China, Turkey and Austria, and the alliance is looking forward to hosting a truly international
show. AFA also notes that many exhibitors have applied for larger booth spaces than in past years.
Newly reincarnated Saurer Group, Switzerland (see "Textile World News: Oerlikon Retains
Manmade Fibers, Saurer Reincarnated," this issue) and Oerlikon Neumag, Germany, will return as
exhibitors after a hiatus of several years. NV Michel Van de Wiele, Belgium, which recently
acquired Dalton-based Cobble Tufting, also will exhibit at this year's expo.
New products and updated machinery will be introduced on FloorTek's show floor, including
the U.S. debut of an Atexco carpet printing machine. The expo also will offer several
demonstrations of machinery, such as a sample yarn twister.
AFA Executive Director Wanda Ellis reports that as of TW's press time, floor space already
is more than 70-percent sold out, and additional companies are applying for booth space daily. "We
got a late start in preparing the show this year, but it's amazing how fast we're filling up,"
Ellis said. "We're getting commitments practically every day. There's definitely a real pent-up
demand for this show."

Business Focus


This year, FloorTek aims to educate and bring business solutions to expo attendees through a
series of seminars on select topics of interest to the industry. The seminar schedule and topics
will be posted on FloorTek's website prior to the show.
"We believe FloorTek can be a business-solutions as well as a technology-solutions forum
that will attract more industry management and professionals," said Mike Gallman, vice president,
product management and product development, Calhoun, Ga.-based Mohawk Group, at a recent meeting of
industry executives at the AFA office in Dalton.

Keynote Speaker


Atlanta-based award-winning interior designer Vern Yip will deliver a keynote address during
an invitation-only breakfast to be held prior to the opening of FloorTek on September 10. Yip has
been a featured designer on numerous home-makeover television shows such as TLC's "Trading Spaces";
NBC's "Home Intervention"; and several HGTV series including "Deserving Design with Vern Yip,"
"HGTV Urban Oasis," "HGTV Star" and "Bang for Your Buck." He also has been a contributor to The New
York Times, USA Today, The Washington Post and HGTV Magazine. Among other volunteer activities, he
is a U.S. Ambassador for UNICEF.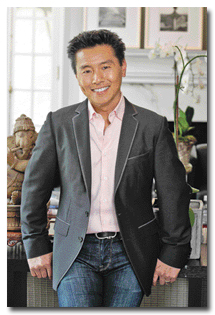 Vern Yip will deliver the keynote address at this year's FloorTek Expo.

Best Of FloorTek


The expo again will feature the Best of FloorTek awards recognizing individuals and
companies that have demonstrated an outstanding commitment to the environment, customer service and
technology innovation. An awards dinner will be held during the event to recognize Best of FloorTek
winners. Those interested in entering the competition may download an award application from the
event's website.
Between now and the show's opening date, AFA is dedicated to building brand awareness and
excitement for the show.
"FloorTek Expo is the only show to focus exclusively on the floor making machinery and
technology that makes our industry great," Ellis said. "After a hiatus of a few years, the Expo is
making a comeback … just like our industry. It's going to be a great show for exhibitors and
attendees alike!"
---
For more information about FloorTek Expo, contact AFA +800-288-4101; afa@americanfloor.org;
floor-tek.com.
---
July/August 2013