In 2012, ITM merged with Texpo Eurasia to create the ITM Texpo Eurasia exhibition, to be held
triennially in Turkey. However, the current strong textile market in Turkey, demand from
exhibitors, and the void presented by a scarcity of major international textile shows scheduled in
2013 convinced co-organizers Teknik Fuarcılık Ltd. S¸ti. and Tüyap Tüm Fuarcılık Yapim A.S¸. to
seize the opportunity and present the merged show again in 2013. The organizers look forward to
capturing the momentum created by a strong show in 2012, and ongoing investment in Turkey's textile
industry.
Teknik Fuarcılık reports that the government in Turkey recognizes the textile industry's role
as one of the leading sectors in its economy, and has implemented several measures to increase the
competitiveness of the sector, including: introducing stimulus packages; reducing value-added-tax
rates; and increasing tax rates on imported fabric and ready-to-wear garments. They also have made
decisions on rationing for quotas on cotton yarn. These changes make doing business in Turkey more
attractive than ever, and hopefully create a climate conducive to hosting another successful
textile exhibition.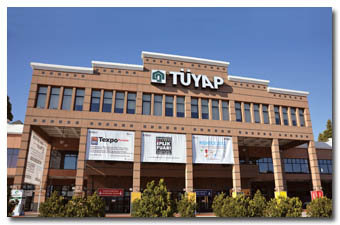 ITM Texpo Eurasia 2013, Hightex 2013 and the Istanbul Yarn Fair will converge at the Tüyap
Fair, Convention and Congress Center May 29-June 1.
As was the case in 2012, the 2013 edition of the show will colocate with the nonwovens and
technical textiles show Hightex 2013 and the 10th International Istanbul Yarn Fair. All three shows
will run from May 29 through June 1 at the Tüyap Fair, Convention and Congress Center in Istanbul.
This comprehensive gathering of machinery, technology and yarn suppliers to the traditional
textiles as well as nonwovens and technical textiles markets brings the whole textile industry to
Turkey at an economically favorable time.
Subsequent editions of the shows reportedly will occur during the second half of 2016.

Success In 2012


Organizers compiled some comprehensive statistics from the 2012 shows. A combined total of
1,037 companies from 37 countries exhibited at the three concurrent events.
A total of 42,991 visitors from 78 countries attended the fairs in 2012. Aside from Turkey,
the top 10 participating countries were Iran, Egypt, Russia, India, Syria, Jordan, Italy,
Uzbekistan, Bulgaria and Serbia. More than 50 percent of the visitors came from Asia Pacific
countries, and approximately 30 percent came from Europe. Visitors came from companies representing
the broad spectrum of the textile industry, with participants reporting activity in almost all
facets of the industry. The majority of the visitors, however, work in the dyeing, printing and
finishing; knitting; fiber and yarn; or weaving segments of the industry.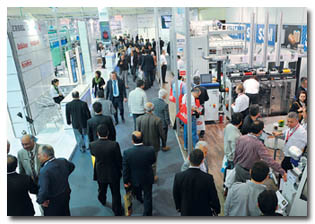 With three fairs running concurrently, exhibitors will cover the gamut of textile
technologies, providing a one-stop shop for show attendees.

ITM Texpo Eurasia 2013


Exhibits for ITM Texpo Eurasia — the 30th International Textile, Weaving, Spinning,
Finishing, Knitting, Hosiery Machines, Related Industries and Chemicals Exhibition — will be found
in Halls 2, 3, 4, 7, 8, 9 and 12 at the Tüyap Fair. Hall 2 will feature cotton and yarn preparation
machinery, yarn twisting machinery, and nonwovens and technical textiles machinery. Halls 3 and 7
will house dyeing, printing and finishing machinery; textile chemicals, laboratory equipment and
quality control systems; and CAD/CAM/CIM applications and automation systems. Hall 4 will house
machinery spare parts and accessories, as well as additional CAD/CAM/CIM applications and
automation systems exhibits. Weaving preparation machinery, weaving machines and weaving machine
accessories will be found in Halls 8 and 9; and flat and circular knitting machines, embroidery and
quilting machines, hosiery machines, and knitting preparation machines will be on view in Hall 12.

Hightex 2013


Hightex 2013, the 5th Istanbul Technical Textiles and Nonwovens Exhibition, is organized by
Teknik Fuarcılık with help from supporting partner the Turkish Textile Machinery Industrialist'
Association (TEMSAD).
Halls 2 and 10 of the Tüyap Fair will feature Hightex exhibitors, whose offerings will be
organized into five categories:
Technology: airlaid; crosslapping; drylaid; meltblown; needlepunch; spunbond; spunlace;
stitchbond; thermobond; weblaid; wetlaid; and welding;
Machinery: adhesive blend and application systems; bonding and separation technology; braiding
machinery; CAD/CAM software; coating and lamination systems; converting machinery; cutting and
separation systems; dyeing, printing and finishing machinery; drying systems; embossing machinery;
fiber breaking machinery; flocking-impregnation systems; laboratory measurement equipment; narrow
textile production machinery; needling machinery; nonwoven processing machinery; tufting machinery;
waste packaging and recycling technology; and weaving machinery; among other types of
machinery;
Raw Materials: fiber; raw materials and composites; and yarn;
Finished Products: agricultural textiles; apparel textiles; building textiles; cosmetic and
cleaning textiles; ecological textiles; food textiles; geotextiles; home furnishing textiles;
industrial textiles; medical and hygiene textiles; packaging textiles; protection textiles; sport
textiles; and transport textiles, among other types of finished products; and
Smart Textiles: antibacterial textiles; apparel for health; conditioning textiles;
electrotextiles; medical textiles; military textiles; nano-technological fabrics; new-generation
comfort apparel; protective apparel; smart polymers/materials; smart sportswear; textile-based
conductors; textiles combined with nonwovens; textiles with sensor technology; and wearable
computers.

Istanbul Yarn Fair


The 10th International Istanbul Yarn Fair is organized annually by Tüyap Tüm Fuarcılık and
touts itself as the most extensive yarn fair for raw materials, yarn and manufacturing in Turkey
and the Eurasia region. The show encompasses acrylic and acrylic-rich yarns; cotton and cotton-rich
yarns; elastane yarns; embroidery yarns; fiber, bobbin and reel; handknitting yarns; linen and
linen-rich yarns; metallic yarns; natural yarns; noble/fancy yarns; polyamide yarns; polyester and
polyester-rich yarns; polypropylene yarns; sewing yarns; silk and silk-rich yarns; technical yarns;
textured yarns; viscose and viscose-rich yarns; wool and wool-rich yarns; and related publications.
Yarn Fair exhibits will be located in Halls 5 and 6 at the Tüyap Fair, Convention and
Congress Center.
---
Spotlight: TEMSAD
The Turkish Textile Machinery Industrialist' Association (TEMSAD) re-elected Adil Nalbant
chairman at its shareholders general meeting held recently in Istanbul. TEMSAD members — textile
machinery, spare parts and chemicals manufacturers — work together to promote a positive image for
Turkey's textile machinery industry locally and internationally with a view to making its machinery
preferred and sought after.The association was established in 1998, and since then, its members
have committed to working toward shared goals and values for the future, including investing in a
textile sector that is a significant contributor to the Turkish economy. Part of this vision
includes support for various international textile trade fairs, such as ITM Texpo Eurasia and
Hightex, and TEMSAD leads its members in that process.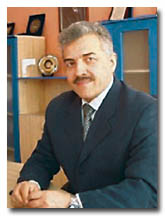 Nalbant
---
For more information about ITM Texpo Eurasia 2013, Hightex 2013 and the Istanbul Yarn Fair, and
to register, visit itm2013.com; hightex2013.com; and istanbulyarnfair.com.

March/April 2013