ShanghaiTex 2013, the 16th International Exhibition on Textile Industry, will be held at the
Shanghai New International Expo Center (SNIEC) in Shanghai, June 10-13. Its organizers — Shanghai
International Exhibition Co. Ltd., Shanghai Textile Technology Service & Exhibition Center, and
Adsale Exhibition Services Ltd. — and co-organizers — Shanghai Xinfang Textile Engineering Co.
Ltd., Shanghai Huafang Exhibition Service Co. Ltd., Beijing Yazhan Exhibition Services Ltd., and
Shanghai Dahua Exhibition & Conference Corp. — hope the biennial show will "act as a pioneer to
lead the transformation and upgrading of the Chinese textile industry by bringing a full array of
textile products, machinery and technology from China and all over the world under one roof."
Established in 1984, ShanghaiTex boasts the longest history of any textile trade show in
China. The show in 2013 is sponsored by Shangtex Holding Co. Ltd., China Council for the Promotion
of International Trade Shanghai Sub-council, and China Chamber of International Commerce Shanghai
Chamber of Commerce.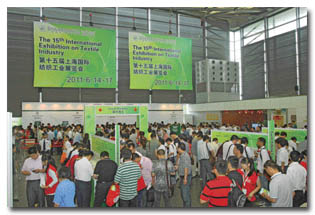 ShanghaiTex organizers expect more than 1,000 exhibitors and nearly 60,000 visitors at the
upcoming edition of the show.

New Theme Zones For Exhibits


ShanghaiTex has added three new theme zones for 2013. In addition to the five existing
product categories — Knitting & Hosiery Machinery; Weaving Machinery; Spinning &
Techtextile Machinery; Printing, Dyeing & Finishing Machinery & Textile Chemicals; and
Spare Parts and Accessories for Textile Machinery — visitors also will find exhibits in New
Materials, Technologies & Designs For Knitting Products; Techtextile Technology & Product;
and Digital Printing Machinery zones.
The New Materials, Technologies & Designs for Knitting Products zone focuses on the
latest knitting products and related technologies. The Techtextile Technology & Product zone
will present a wide range of performance fabrics and value-added products from the technical
textiles arena. The Digital Printing Machinery zone will highlight new-generation digital printing
machines and integrated digital textile printing solutions.
"Since the business environment becomes more competitive and dynamic, industry players
request a one-stop platform for their total sourcing requirements," said Stanley Chu, chairman,
Adsale. "Many of our visitors are leading manufacturers who are constantly exploring options to
improve their productivity and to respond quickly to customers' needs. The newly added theme zones
are industry-focused, which will surely bring plenty of inspirations for new materials and
technology to our visitors."


According to organizers, Global Industry Analysts Inc. released a report in 2010 on world
textile printing production that forecast global production of printed textiles would reach 32
billion square meters (m2) by the year 2015. Analysts also predicted that 15 percent of the global
fabric printing market would be produced digitally within the next five years.
Many companies have already committed to exhibit at ShanghaiTex 2013 including: Japan-based
Konica Minolta, Epson, and Mimaki Engineering Co. Ltd., and Israel-based Kornit Digital, in the
Digital Printing Machinery zone; Germany-based Groz-Beckert KG, Karl Mayer Textilmaschinenfabrik
GmbH and Memminger-Iro GmbH, and Italy-based Lonati Group, in the Knitting & Hosiery Machinery
zone; Hong Kong-based Fong's Industries Co. Ltd., Italy-based Brazzoli S.p.A., and Taiwan-based
Asia Kingdom Machinery Industry Co. Ltd., in the Printing, Dyeing & Finishing Machinery &
Textile Chemicals zone; and Italy-based Savio Macchine Tessili S.p.A., Germany-based Trützschler
Group, Shanghai-based Oerlikon Textile, Switzerland-based Rieter Ltd. and India-based Lakshmi
Machine Works in the Spinning & Techtextile Machinery zone.
ShanghaiTex organizers have invited Santoni S.p.A., Italy — a knitting machine producer
specializing in seamless knitting, and a member of the Lonati Group — and textile machinery
supplier Chemtax Industrial Co. Ltd., Hong Kong, to be strategic partners at the 2013 show.

Exhibition Participation


In 2011, more than 1,000 exhibitors from 23 countries and regions including Austria,
Bangladesh, France, Germany, India, Israel, Italy, Japan, the Netherlands, Pakistan, China, Spain,
Switzerland, Thailand, Turkey and the United States occupied 92,000 m2 of floor space at SNIEC. The
number of visitors reached a record high of 55,080. This year, show organizers anticipate filling
100,000 m2 of ex-hibit space, with more than 1,000 exhibitors showing their products and services
to some 60,000 visitors.
In 2011, Germany, Korea and Taiwan participated in group pavilions on the exhibition floor.
It is expected that country pavilions again will be arranged at the 2013 edition of the show.
Also in 2011, ShanghaiTex introduced the International Group Delegation Programme to meet the
overseas demand from customers interested in Chinese textile machinery. Companies or associations
with 10 or more people attending the show were encouraged to form buyers' groups, which entitled
them to a set of services including express registration at the group delegation counter, free use
of the visitors lounge, a networking program, travel packages and connections with potential
business partners.

Concurrent Seminars


ShanghaiTex organizers have planned some concurrent workshops and forums so that show
visitors may learn about industry developments and trends as well as cultivate new ideas. Some of
the planned events include: "From Fibers & Yarns to Ready-to-Wear Apparels-Fashion
Manufacturing Lines," "A Roadmap to Digital Textile Printing," and "Interactive Forum — From
Manufacturing to Brand Building."
The show floor will be open from 9:30 a.m. until 5:30 p.m. on June 10-12, and from 9:30 a.m.
until 3:00 p.m. on June 13. Admission is free, and visitors may pre-register online or register
on-site during the show.
---
For more information about ShanghaiTex 2013, visit shanghaitexonline.com.
---


March/April 2013