Roadways and other paved surfaces can be subject to the damaging effects of sub-surface moisture-
and temperature-induced swelling and shrinking, and traditional geosynthetic materials haven't been
especially effective in stabilizing the moisture content in the ground that underlies the pavement.
Especially in environments such as the Alaskan tundra — which is subject to frost heaves owing to
varying rates of expansion and contraction of the freezing and thawing water held in the soil — or
parts of Texas, Georgia and other warmer-climate states that have expansive soils — which are
stable enough when wet but which may dry up and crack in the heat of a severe summer drought — the
movement of the water in the soil affects the pavement as well and can cause it to buckle or crack
in response to that movement. What is needed is a way to equalize the moisture content throughout
the roadbed, which will help eliminate the threat of weather-induced damage to the pavement.
TenCate Geosynthetics North America, Pendergrass, Ga., part of the Netherlands-based Royal
Ten Cate NV's TenCate Geosynthetics division, has developed a woven geosynthetic that is designed
to provide roadway stabilization in the face of extreme weather and environmental situations.
TenCate Mirafi® H2Ri is a double-layered fabric made with high-tenacity polypropylene filaments to
provide reinforcement and soil retention, and a yarn comprising patented hygroscopic, hydrophilic
4DG (deep groove) multi-channel nylon fibers that wick water out of the roadbed and move it
laterally through the fabric and thus mitigate the effect of frost heaves, or, alternately, the
uneven drying out of expansive soil.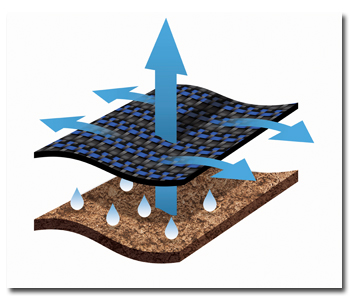 The wicking yarns in TenCate Mirafi® H2Ri wick water out of the roadbed and move it laterally
through the fabric, thus mitigating the effects of differential settlement.
The development of Mirafi H2Ri came about following a meeting between representatives of
TenCate and the Alaska Department of Transportation (DOT), which was struggling with frost heave
problems on roadways in Alaska, according to Brett Odgers, market manager, roadway reinforcement,
TenCate Geosynthetics North America. "We turned the problem over to our product development people,
and they came up with a wicking yarn to help mitigate the DOT's issues."
Wicking yarns are used a lot in performance apparel, but they had not previously been used in
a geosynthetic stabilization application. Instead, Odgers said, road builders traditionally have
put down six to 12 inches of sand or aggregate that the water could move through, or they have
installed some sort of drainage net. "The problem with that is that if there are changes in the
grade, the water can't move uphill and will pocket at the lower level. The benefit of H2Ri is that
water will move uphill as it is transported through the fabric." This movement will help solve
problems caused by differential settlement because the moisture content is equalized throughout the
roadbed.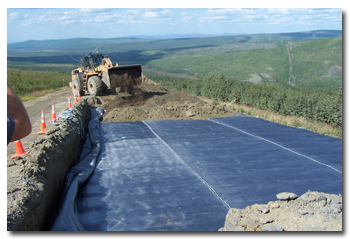 TenCate Mirafi® H2Ri is placed directly on the prepared site in an overlapped or seamed
arrangement, depending on subgrade strength, and then covered with fill.
According to TenCate, H2Ri has higher tensile modulus properties than traditional
stabilization products, and the double-layer construction with uniform openingsenhances the
separation, filtration and drainage functions.
"We developed the weave structure for some reinforcement products we came out with last
year," Odgers said. "It allows us to use both the nylon and reinforcement yarns together, and it
gives a better flow through the fabric so it won't trap water."
This solution applies to environments other than the Alaskan tundra as well. "We're doing
research now with the University of Texas, Austin, on using H2Ri for expansive soil applications,
and the preliminary work is pretty positive," Odgers said. "Any time you need to reinforce and move
water out of the system, this will be useful, but these two applications — frost heave and
expansive soil — are particularly challenging." He added that the same product would be used in
both applications.
---
For more information about TenCate Mirafi® H2Ri, contact Brett Odgers +913-909-7150,
b.odgers@tencate.com.


---
February 2012