When designing and manufacturing a sustainable textile product, raw material production and
processing into fiber come first. If the raw material is a natural plant fiber, there may be
questions about the amount of water and chemicals needed to ensure a successful harvest of
high-quality material. If a manufactured fiber, there are questions about the nature of the raw
material and the way it is processed into fiber — does the raw material come from a renewable or
recyclable/recycled source; is a closed-loop process in place to minimize environmental impact;
what kinds of chemicals are used in the process and what is their impact; how much energy is
required and what is its impact; and can the end product be recycled or composted at the end of its
useful life?
As part of its series of articles on sustainability in textile manufacturing,

Textile World
last year featured initiatives aimed at recycling plastics and textile materials into new
fibers for use in the textile and apparel industry

(See "From Waste To Worth,"
TW, November/December 2010)
. The following article will discuss several plant-based natural and man-made fibers.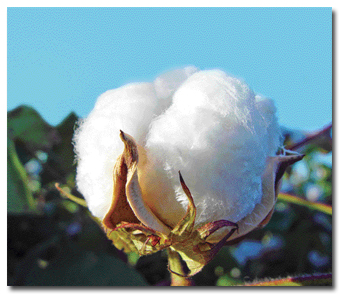 New, more productive cotton varietals being planted today and improved cultivation practices
are helping the fiber to reduce its environmental footprint.

Cotton


Cotton claims a 36-percent share of the textile fibers market. The fiber is prized for its
comfortable, soft, breathable, absorbent qualities, which make it the fiber of choice for numerous
apparel articles plus bedsheets, towels and a range of other textile products. With recent
developments of various technical treatments, it also is finding its way into performance markets,
such as athletic and outdoor apparel, that traditionally have been dominated by man-made fibers.
Conventional cotton often comes under fire because of a misperception that its cultivation
requires huge amounts of water and pesticides, and leaches nutrients from the soil, but the fiber
has cleaned up its act, so to speak. New, more productive varietals need minimal irrigation and are
more resistant to damage by the boll weevil and other pests, and improved conservation tillage
practices have led to a balance between soil erosion and soil creation. Cotton Incorporated, Cary,
N.C., the research and marketing company that promotes Upland cotton, has dedicated a section of
its website,
www.cottoninc.com, to the sustainability issue, and provides
considerable data supporting its contention that cotton is a sustainable crop. The Memphis,
Tenn.-based National Cotton Council of America's website,
www.cotton.org, includes a section that lists conservation
programs available to help cotton growers reduce the environmental impacts of cultivation.

According to Cotton Incorporated, approximately 50-percent more cotton is produced on the same
acreage today compared with 40 years ago. Worldwide, cotton is grown on 2.5 percent of the
cultivated agricultural land and uses 3 percent of the water required for agricultural production.
Two-thirds of the U.S. cotton crop requires no irrigation, and pound-for-pound, 45-percent less
irrigation water is needed today compared with 25 years ago. Pesticide and herbicide use has also
decreased, and many pesticides target specific pests and do not harm beneficial insects. Since
1996, there has been a 23-percent reduction in use of insecticide active ingredients, and a
28-percent reduction in environmental impact. In addition, according to the Bremen Cotton Exchange,
Germany, tests conducted in 2008-09 showed no pesticide or heavy metal residue on raw cotton fiber
from 15 countries. Cotton cultivation also stores more carbon dioxide (CO2) than it emits, with 2.2
kilograms (kg) of CO2 per kg of fiber stored in fiber and soil compared with 1.8 kg of CO2 emitted
into the air during production.
While conventional cotton's eco-credentials have improved considerably, biotechnology plays a
major role in giving the plants characteristics that help reduce their vulnerability to pests and
increase productivity, and chemical pesticides and herbicides are used to protect the crops.
Organic cotton producers, by contrast, plant non-genetically modified seeds and practice methods
such as crop rotation; soil fortification through the addition of organic matter; physical removal
and cultivation practices to control weeds; maintenance of soil conditions that encourage the
presence of natural predators; and use of beneficial insects, trap crops and other means to control
pests. According to the Organic Trade Association, Brattleboro, Vt., global organic cotton output
in 2008-09 grew 20 percent over the previous year to total nearly 803,000 bales, which represents
0.76 percent of total global cotton output. And consumer demand for organic cotton textiles is
growing as well: In 2009, world sales of organic cotton apparel and home textiles rose 35 percent
over the previous year to an estimated $4.3 billion.

Bast Fibers


Bast fibers are receiving renewed attention in the quest to increase the use of sustainable
fibers in all kinds of textile products, but particularly for apparel. Naturally Advanced
Technologies Inc. (NAT), Vancouver, Canada, has licensed technologies from Alberta Innovates to
process bast fibers such as flax and hemp using enzymes to soften them and remove the lignin. The
resultant materials, branded CRAiLAR®, fit well in the sustainable fibers niche on a number of
counts: As crops, flax and hemp are fast-growing, can be cultivated using minimal to no pesticides
or herbicides, and require no irrigation except in drought conditions. In the Southeast, flax can
be cultivated as a winter crop in alternation with warm-weather crops. In addition, the enzymatic
process is non-polluting and economical. NAT is ramping up its production of Crailar Flax, which it
sees as an ingredient fiber to blend with cotton for apparel applications, among other uses

(See "NAT Announces CRAiLAR® Flax Developments," Fiber World News, this issue)
. The flax fiber exhibits reduced shrinkage and improved dye uptake and wicking compared with
cotton, and also dries more quickly, the company reports.
NAT also produces CRAiLEX® dissolving pulp, derived from hemp or flax, using technology
licensed from Alberta Innovates. The process does not use harsh chemicals and is more economical
than traditional kraft pulping equipment. The pulp exhibits a high viscosity and purity and shows
promise for use as an additive and functional ingredient for commercial products, and as an
ingredient in a textile yarn extruded using an eco-friendly modified closed-loop lyocell process.
Crailex developments are still in early stages.
When bamboo first was marketed for textile applications, much attention was focused on its
sustainable attributes, including the plant's fast-growing, carbon-absorbing, pest-resistant
properties, but in all the marketing hype, the viscose process most often used to turn bamboo into
a textile fiber — and which turns it into something quite different from the original bast fiber —
was discreetly disregarded. The Federal Trade Commission now requires that bamboo viscose fiber
must be qualified as such. The viscose process uses caustic chemicals, and unless methods are used
to capture and recycle them, harmful byproducts can be released into the air and water. Meanwhile,
a lyocell process also can be used.
Litrax AG, Switzerland, offers a mechanically and enzymatically processed bamboo fiber,
marketed as Litrax-1®, that retains the bast fiber's intrinsic properties and can claim all the
eco-benefits of its natural plant characteristics and its cultivation. The environmentally-friendly
enzymatic process softens the fiber, which offers good breathability and moisture management as
well as water and odor absorbency. Litrax-1 also blends well with cotton, Tencel®, silk, merino
wool and other fibers — providing complementary properties to or reinforcing properties of the
partner fiber.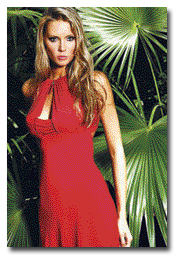 German fashion designer Michaela Bieling uses Litrax-1®/Tencel® fabrics in a collection for her
MY CHILI apparel line.



Regenerated Cellulosic Fibers


Lenzing AG, Austria, has been manufacturing viscose for nearly 70 years, and more recently
also has been producing lyocell fibers — including Tencel — as well as Lenzing Modal®. All fibers
are derived from wood.
The viscose process is controversial in sustainability circles for reasons noted above.
However, Lenzing has evolved its viscose process so that the byproducts are recovered to be
recycled or sold, and the company has earned the European Environmental Award in recognition of its
efforts to minimize the environmental impact of all of its processes.
Tencel is derived from fast-growing eucalyptus trees harvested from sustainably managed
plantations. The plant requires no irrigation nor pesticides, and it can be grown on land that is
not prime food-producing land. The fiber's closed-loop lyocell manufacturing process uses a
water-soluble auxiliary, and the processing chemicals are recovered. The resulting fibers are
biodegradable and 99-percent recyclable, Lenzing reports, as well as being hypoallergenic, soft,
breathable, moisture-wicking and bacteria-growth-inhibiting. Its applications range from apparel
and home textiles to automotive and industrial uses.
Modal is a particularly soft fiber derived from beechwood. Again, Lenzing reports the
processes are optimized for sustainability, and the byproducts are recovered for use in the
production of sweeteners and other foods, as well as glass.

Biobased Man-Made Fibers


Renewably sourced man-made fibers offer numerous environmental advantages over
petroleum-based fibers, and they provide desirable performance benefits as well. The polymers used
to make these fibers are derived all or in part from plant sugars or oils.
Ingeo™ polylactide (PLA) biopolymer is produced by NatureWorks LLC, Minnetonka, Minn., using
lactic acid derived from corn sugar, although it also can be derived from other cellulosic raw
materials including agricultural waste and non-food plants. According to NatureWorks, Ingeo is
produced using 50-percent less non-renewable energy and its production emits 60-percent less
greenhouse gases (GHGs) than polyethylene terephthalate and other petroleum-based polymers. The
company continues to improve its environmental footprint as it implements measures including use of
a new plant-based feedstock and renewable energy such as wind and biomass, as well as optimizing
the manufacturing process.
Ingeo is used to make textile fibers as well as a range of plastic products. U.S. fiber and
yarn producers licensed to produce Ingeo products include Fiber Innovation Technology Inc., Johnson
City, Tenn.; O'Mara Inc., Rutherford College, N.C.; and Palmetto Synthetics LLC, Kingstree, S.C.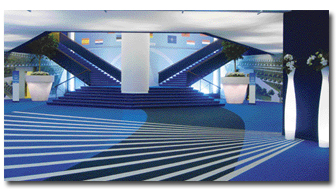 France-based Sommer Needlepunch's Eco2punch® carpet made with Ingeo™ biobased fiber can be
recycled and converted back to virgin-quality lactic acid.


PLA properties include low moisture absorption and good wicking, low flammability and smoke
generation, good ultraviolet resistance, low refraction index, and low specific gravity. Textile
applications include apparel, outdoor furnishings, carpet and nonwovens. Eco-friendly end-of-life
options for product disposal include composting of contaminated items and recycling of clean items.
Off-grade feedstock is recycled at NatureWorks' processing plant in Blair, Neb.
DuPont™ Sorona® polytrimethylene terephthalate (PTT) polymer is produced by Wilmington,
Del.-based DuPont at its plant in Kinston, N.C. PTT fiber is known by the sub-generic designation
triexta, assigned in recognition of a unique combination of properties that include the ability to
blend with and improve performance of other fibers. Sorona's makeup includes 37-percent annually
renewably sourced plant-based ingredients by weight and 28-percent biobased carbon. DuPont is
working to find other materials to make the fiber more sustainable. Compared to production of
polyamide (PA) 6, for which it can be substituted, Sorona is produced using 30-percent less energy
because it is extruded at lower temperatures, and its production generates 63-percent less GHG
emissions. It also contains no heavy metals and is intrinsically stain-resistant. Other properties
include fade resistance, wrinkle resistance and quick-drying properties. Fibers and fabrics can be
dyed at 212°F, and no additional heat, pressure or chemicals are required, DuPont reports.
In carpet applications, Sorona offers durability and wear resistance as well as permanent
stain and bleach resistance. Used as a face fiber, it can be recycled by shaving it off of the
carpet backing and repelletizing it to process into new carpet fiber.
Rilsan® PA 11, produced by France-based chemical company Arkema, is derived from the oil of
castor beans. The polymer has been used in high-performance technical industrial applications since
it was developed in 1942. In recent years, it has been processed into apparel and carpet fiber. The
castor bean plant grows in poor, non-irrigated soil conditions, and fiber production generates half
the carbon dioxide and potential GHG emissions compared with PA 6,6 production.
A Rilsan technical apparel yarn branded Greenfil® is offered by France-based yarn
manufacturer Groupe Sofila. Invista, Wichita, Kan., includes 10-percent Rilsan in its Antron®
Bio_Legacy™ white dyeable nylon carpet fiber and is exploring ways to increase that percentage.
Invista reports PA 11 and PA 6,6 — the other nylon component in the fiber — are very compatible and
can be recycled back into polymer for new fiber using PA 6,6 methods.
September/October 2011