T

he Clover, S.C.-based Synthetic Yarn and Fiber Association (SYFA), whose role "is to
promote the production, improvement, and use of synthetic yarns and fibers and to facilitate
various end-uses," recently held its 2010 Fall Conference, titled "G3 — Global, Green and Growing —
New Domestic Textile Market." More than 100 members and guests attended the two-day conference
featuring 11 presentations.
After opening remarks and a welcome by SYFA President John Edwards of Nan Ya Plastics
America, Mary O'Rourke, O'Rourke Group Partners LLC, presented a market outlook and reported on
sourcing trends from sportswear to uniforms. In considering global trends, O'Rourke spoke of
changes in attractiveness in the U.S. market that are associated with low-margin products, while
China's supply to Europe is led by higher-margin products, and Asian and Chinese domestic markets
provide strong margins and a less demanding market. She commented that U.S. and European markets
will take until 2011 to recover to 2007 volumes and are characterized currently as "skittish,
cautious and thrifty." She also said that stockout metrics, trade preference levels, improved
sampling and true value costings are attractive trends for a move to regional sourcing in the
Americas.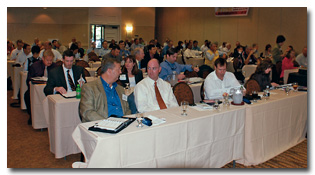 More than 100 SYFA members and guests gathered in Charlotte for SYFA's two-day 2010 Fall
Conference, "G3 — Global, Green and Growing," which featured 11 presentations on a broad range of
synthetic fiber and business topics.
SYFA's next speaker, Eraina Duffy, a veteran with more than 27 years at Nike Inc., brought
years of experience focused on corporate sustainability programs. Having led Nike's sustainability
materials initiatives since 2001, Duffy outlined Nike's various programs, which include recycling
shoes, use of organic cotton and non-polyvinyl chloride alternatives.
Jo Douglas provided an overview of developments at the South Carolina State Ports Authority.
Douglas is the agency's regional sales manager and tariff administrator.
National Council of Textile Organizations (NCTO) Vice President Michael Hubbard gave
an update on lobbying efforts on behalf of U.S. textiles. China currency, the U.S.-Korea Free Trade
Agreement, the Trans-Pacific Partnership agreement and customs enforcement were hot topics.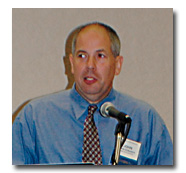 SYFA President John Edwards welcomed attendees to the association's fall
conference.
James Calder, manager of the regulatory group of Intertek Health and Environment, discussed
chemical and environmental compliance and regulation issues facing the global supply chain. He
brought to bear the complexity and need for understanding of the changing world of regulation.
PCI Fibres' Alasdair Carmichael presented a comprehensive overview of the global synthetic
marketplace. Comprising a review by fiber, market and trends, Carmichael's data-dense presentation
was a conference highlight.
Additional presentations were made by Rick Todd of the South Carolina Trucking Association,
Frank Hurd of The Carpet and Rug Institute, Sarah Faye Pierce of NCTO and Joseph Langley of IHS
Inc. Langley provided an analysis of the North American light vehicle market.
---
For more information about SYFA, visit
www.thesyfa.org or contact Kim Pettit +704-589-5895;
kpettit@thesyfa.org.

---
November/December 2010