A

ustria-based Lenzing AG is the undisputed world leader in cellulosic fiber production.
From its humble beginnings in 1938, the company has become a global player. Lenzing provides the
global textile and nonwovens industries with high-quality products. The Lenzing Group is the only
manufacturer worldwide to produce all three man-made cellulosic fiber generations: classic viscose,
modal and lyocell. In an exclusive interview with Textile World, Friedrich Weninger, member of
Lenzing's Management Board, explains why.
"Fibers are the core business," Weninger said. "Our company philosophy is to be the leading
fiber innovation company."
In 2009, Lenzing produced 570,000 metric tons of viscose fibers, and 88.4 percent of the
Austrian production was exported. The most important markets for Lenzing are Indonesia, China, the
United States, Turkey, Europe in general, and Austria as a country of origin.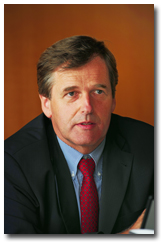 Friedrich Weninger

The Person


Weninger, a sporty engineer, holds a master's degree, and is married and the father of two
children. His hobbies are golf, skiing, reading and his family. And what is his personal challenge?
Weninger: For my family, I want to provide our kids with the optimal education so
that they can manage their future properly. In my job, Lenzing should achieve high profits on a
sustainable basis. This shows that it is possible to survive as a fiber producer in high-cost areas
like Europe — in an industry that is facing competitors mainly sitting in the low-cost areas [such
as India and China]. Nearly all the former European and American fiber producers shut down their
[domestic] units and left the industry. But Lenzing is still expanding in Europe and the U.S. The
key elements are commitment and innovation.

R&D At Lenzing



TW
: As an innovation-driven company, does Lenzing have machinery or process patents?

Weninger: "As a global market leader, Lenzing holds about 2,000 patents. The
Lenzing Group as the leader in technology and innovation has been setting standards in the world of
cellulosic fibers for decades. Continuous development of viscose, lyocell and pulp technology
ensures that Lenzing will continue to enhance its lead in the future.

TW
: Where do you set priority in your R&D work?

Weninger: We are setting priority in innovative applications of all our fibers,
especially in new applications for nonwovens, technical applications and high-end textiles. Some
150 people are directly involved in R&D.

TW
: You call Lenzing an innovation leader. Can you give some current examples?

Weninger: With pleasure. Tencel® [lyocell] in powder form enables enhanced
moisture absorbency: Lenzing and Eurofoam [a division of Germany-based Greiner Group] – a leading
European producer of foam plastic – jointly developed cellpur, an innovative filling material for
mattresses, making it the first successful incorporation of Tencel in foam plastic and creating a
material with high moisture absorbency. It not only provides first-rate moisture management, but
breathability and permeability as well. Body moisture released while sleeping is absorbed and
transported, thus creating an even more comfortable sleep.

TW
: At Heimtextil 2010 in Germany, you mentioned that you will launch Tencel in carpets.

Weninger: This is another example of innovation: This year, we launched Tencel as
the first cellulosic fiber worldwide to be used in carpets. For the first time, we can transfer all
the advantages of cellulosic fibers into the wall-to-wall carpeting industry. The special
moisture-management properties inherent in Tencel help to optimize the indoor environment and to
avoid mold. We can combine soft touch with perfect durability and a maximum of hygienic standards –
absolutely moth-free for decades. We expect a very strong market perception for this innovative
application.

Large Fiber Portfolio


The viscose process covers all cellulosic fibers except Tencel lyocell, which has a totally
different technology approach. Lenzing's fiber production is based on the four pillars
Lenzing Viscose®, Tencel, Lenzing Modal® and Lenzing FR®. Weninger said viscose is the most
important fiber at the moment regarding turnover.

TW
: What is the environmental impact of each process? The lyocell process is a closed loop, but
what about the other viscose processes? Is Lenzing's rayon process more environmentally friendly
than other rayon processes?

Weninger: In the lyocell process, no critical chemicals are involved. The viscose
process is a bit more challenging in terms of environmental issues as there are chemicals involved
like sulphur, zinc and others. Lenzing developed a production technology with almost closed process
cycles that enables us to produce viscose fibers on a very environmentally friendly basis.

TW
: Buhler Quality Yarns Corp., Jefferson, Ga., now offers a MicroTencel® yarn in the
United States. What is the difference between Tencel and MicroTencel?

Weninger: Microfibers generally spun into yarns give a different feel, touch,
softness and optical effect because more fibers are in the cross section of the yarn. Fine yarn
counts need finer fibers.

Market Situation



TW
: How do you see the current market situation? Was Lenzing hurt by the recent financial
crisis?

Weninger: After a very challenging first quarter in 2009, we saw a market upswing
in all major fibers markets in the course of 2009. Up to now, we are faced with very encouraging
demand for Lenzing fibers, and the absolute top seller at the moment is Lenzing Modal.

TW
: Lenzing's reputation is to be a market leader. What do you think are the reasons for that
image?

Weninger: Well, we are the world leader in cellulosic fibers in terms of fiber
capacity, innovation, technology and service. We are setting the standards — in the last decades,
all major developments came from Lenzing. We are the only company worldwide that can provide all
three generations of cellulosic fibers – viscose, modal and lyocell — on an industrial basis. We
are proud of what we have achieved in the last 70 years, but this does not mean we will stop our
efforts to serve the textile and nonwovens markets with the highest possible innovation and service
in the next decades.

TW
: Comparing today's market requirements and those of 10 years ago, what are the biggest
differences, and why?

Weninger: China has boosted the viscose industry by high expansion — viscose is
not seen any more as a niche product, but as a substitute for cotton now. China and India have
become big end-consumers for textile and nonwoven products as their per capita income has risen.
This will boost global fiber demand. These countries look very much for specialties and
differentiation.

TW
: Is there any influence from the retailers?

Weninger: Retailers are looking much more for differentiation. They want new
products and not just [price differentiation]. I think it's much easier to innovate new ideas with
retailers than it was 10 years ago.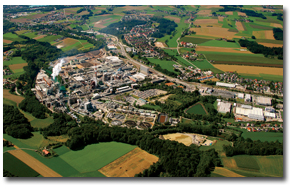 Lenzing's headquarters site in Lenzing, Austria, is home to the company's largest
integrated pulp and viscose production globally. Photograph courtesy of Lenzing AG

The Future



TW
: What will you do to keep your market position?

Weninger: We will keep our position as the global market leader through our speed
of innovation, the highest R&D expenses in the industry, an excellent technical service and
support as well as our global distribution power. We provide our customers with optimum quality for
their individual purposes. They get the best technical support and service worldwide. And we
guarantee reliability and environmentally sound production of our fibers.
Weninger is very optimistic that the strong demand for cellulosic fibers will continue over
the next couple of years, stating, "Reasons are the growing wealth in the emerging markets, the
fact that world cotton production has come to a limit, and the demand for fibers based on renewable
resources and produced on some environmentally friendly basis will steadily grow."
May/June 2010