M

achinery and technology suppliers for the highly technical and nonwoven textile as well
as traditional sectors, and sewn products equipment and services suppliers will colocate in Atlanta
when Textile and Sewn Products Industry Week (TASPIW) opens its doors at the Georgia World Congress
Center (GWCC) Tuesday, May 18, through Thursday, May 20, 2010. TASPIW will comprise three
well-established trade shows: the East Coast edition of Techtextil North America (TTNA) and its
concurrent TTNA Symposium; the quadrennial ATME-I® Megatex — American Textile Machinery
Exhibition-International®; and the triennial SPESA Expo and its concurrent seminars and related
events.
Although visitors need register to attend only one show, that registration will gain them
access to all three, which will be held in GWCC's Hall B. Under the TASPIW umbrella, all three
shows will be participating in the U.S. Commercial Service's 2010 International Buyer Program,
which promotes 35 selected U.S. trade shows and their exhibitors internationally and brings
delegations of foreign buyers to the shows in search of business opportunities.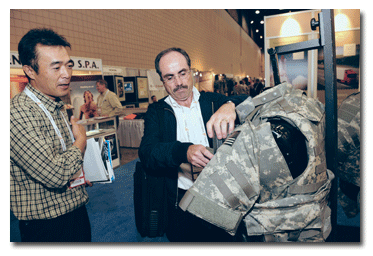 Visitors to Techtextil North America 2008 examine military apparel on display at an
exhibitor's booth.

Techtextil North America

Show organizer Messe Frankfurt Exhibition GmbH, through its Atlanta-based U.S. subsidiary,
Messe Frankfurt Inc., this year will be putting on its seventh TTNA. For TASPIW, the East Coast
North American edition of the world-renowned Techtextil brand of trade shows will be moving from
its usual location in the Cobb Galleria Centre in suburban Atlanta to colocate with ATME-I Megatex
and SPESA Expo at GWCC downtown.
TTNA is dedicated to the technical-textile/nonwovens sector of the textile industry, and is
the only trade show in the Americas that covers the full vertical spectrum of that sector —
including research and development, raw materials, production processes, conversion, further
treatment and recycling. The North American show, inaugurated in 2000, originally was a biennial
event located in Atlanta in even-numbered years, in alternation with the flagship Techtextil
exhibition held in Frankfurt in odd-numbered years. The brand has since expanded, and the show now
has several editions held in major textile regions around the world. TTNA itself was expanded last
year as well to include a West Coast edition in Las Vegas in odd-numbered years that alternates
with the East Coast show in Atlanta.
To help attendees find providers of the products, services and technologies pertinent to
their needs and interests, TTNA exhibitors will be classified according to 12 application areas:

Agrotech, including agriculture and forestry, horticulture and landscape, animal husbandry,
fences and more;
Buildtech, including membrane, lightweight and solid construction, civil engineering and
industrial construction, temporary construction, interior construction, earth, water and traffic
route construction, agricultural construction, and more;
Clothtech, including specialized high-tech materials for apparel and footwear;
Geotech, including civil engineering, earth and road construction, dam engineering, dump
construction, ground isolation, drainage systems, and more;
Hometech, including furniture, upholstery and room design, carpets, floor coverings, and
more;
Indutech, including filtration, cleaning, mechanical engineering, chemical industry, electrical
industry, seals, sound absorption products and more;
Medtech, including medical applications and biomaterials, hygiene, rescue organization
equipment, and more;
Mobiltech, including automotive, shipbuilding, aircraft, aerospace, rail and transportation
textiles, motorcycle and bicycle construction, and more;
Oekotech, including environmental protection, recycling and disposal applications, and
more;
Packtech, including packaging, protective cover systems, sacks, big bags, storage systems and
more;
Protech, including personal and object protection; and
Sporttech, including sports, leisure, activewear, outdoor, equipment and outfits, and sport
shoe applications, and more.
Products and services offered include: fibers and yarns; wovens, scrims, braids and knitted
fabrics; nonwovens; coated textiles and canvas products; composites; Bondtec including adhesive,
bonding, laminating, finishing and other processes and materials; research, development, planning
and consultation; technology, machinery and accessories; publishers; and associations.

TTNA Symposium

The TTNA Symposium, under the direction of William C. Smith, Industrial Textile Associates,
has earned high ratings as a forum for presenting the latest developments in the technical
textiles/nonwovens sector. The schedule includes 13 sessions and more than 65 presentations by
leading industry experts covering cutting-edge technologies and applications, industry developments
and trends, and issues that impact the technical textiles sector.
Kicking off the symposium as part of the General Session Tuesday morning, keynote speaker Kim
Glas, deputy assistant secretary of commerce for textiles and apparel, will speak about relevant
trade issues and the Department of Commerce's Sustainable Manufacturing Initiative. The opening
session also will include a global industry overview, a look at U.S. manufacturing and discussions
related to the technical textiles sector.
Subsequent sessions will cover subjects related to natural fibers and sustainable materials,
technical textiles research, military developments, new product development, nonwovens,
smart/intelligent fabrics, high-performance narrow fabrics, fiber and yarn developments, protective
textiles, technology and medical textiles/biotechnology. The ever-popular session on technical
textiles research, led by Dr. Martin Jacobs, executive director of the National Textile Center,
will present some of the latest research being conducted at universities associated with the center
as well as poster sessions showing recent student work.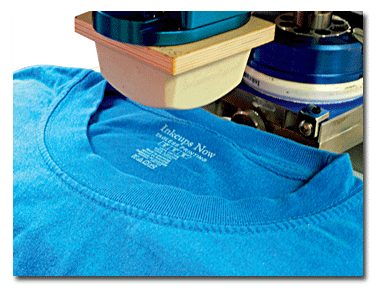 Machinery for printing labels on T-shirts will be among the range of machinery to be shown
at ATME-I® Megatex.

ATME-I® Megatex

Owned and organized by the Falls Church, Va.-based American Textile Machinery Association
(ATMA) and United Kingdom-based Mack Brooks Exhibitions, ATME-I Megatex 2010 will draw
textile manufacturers and professionals from around the world to see the latest textile
manufacturing machinery, equipment, accessories, supplies and services for the yarn and fiber,
weaving, knitting, dyeing, printing, finishing, and nonwoven industries, among other industries.
ATME-I was first held in 1915 in Greenville as the Southern Textile Exposition. In 1969, ATMA
became involved with the expo, and the show's name was changed to American Textile Machinery
Exhibition-International. It continued to be held in Greenville until 2006, when it moved to
Atlanta. The show last took place in October 2006, and was colocated under the Megatex umbrella
with IFAI Expo 2006 and the American Association of Textile Chemists and Colorists' (AATCC's) 2006
International Conference and Exhibition. That overall event saw a combined total attendance of more
than 13,000 visitors and suppliers from more than 80 countries. According to 2006 show registration
records, nearly 25 percent of attendees were owners, CEOs or other management personnel; 13 percent
were responsible for technical, operations, planning or purchasing; and 13 percent were involved in
manufacturing/production and research and development.
Exhibit categories at this year's ATME-I Megatex will include:

machinery for spinning preparation, man-made fiber production, spinning, winding, texturing,
twisting, auxiliary machinery and accessories;
testing and measuring equipment
pneumatic equipment and air-conditioning plants;
transport, handling and packing equipment;
equipment for liquid, air and solids recycling;
software for design, data monitoring and processing (CAD/CAM/ CIM) and integrated
production;
automatic controls and data collection systems including process controls;
technical information sources, education and associations and professional services;
machinery, apparatus, accessories, supplies and services required for the general maintenance
of plants and equipment;
allied industrial activities;
weaving preparatory and weaving machinery, tufting machinery, auxiliary machinery and
accessories;
knitting and hosiery machinery, auxiliary machinery and accessories;
washing, bleaching, dyeing, printing, drying, finishing and making-up machinery, auxiliary
machinery and accessories;
other machinery and accessories;
cut and sew machinery and accessories for the making-up industry;
textile testing and measuring equipment, laboratory equipment, electrical equipment, air
compressors and air dryers, lubricants and lubricating equipment;
mill and process supplies for weaving, knitting and finishing plants;
dyestuffs and chemical products for the textile industry;
associated goods and services for the textile industry; and
agents and distributors.
ATME-I Megatex will conduct a series of educational, networking and business seminars in
tandem with the show as well. The ATME-I Megatex Golf Day, organized by ATMA, will be held prior to
the show. As part of TASPIW, ATME-I Megatex also will host an exhibitor networking party for all
visitors and exhibitors. Show organizers will release event details as the show nears.
Colocating alongside ATME-I Megatex will be the AATCC International Conference, which will
feature three educational tracks, a poster session, student paper competition, student textile
bowl, welcoming reception and awards luncheon. The educational tracks will feature presentations
applicable to all aspects of the textile industry; and will include Concept 2 Consumer®, Chemical
Applications, and Materials.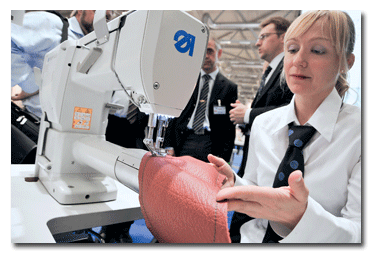 Demonstrations of machinery and technology for the sewn products industry will be offered
by many SPESA Expo exhibitors.

SPESA Expo

SPESA Expo 2010 and its concurrent symposium, owned and produced by the Sewn Products
Equipment Suppliers of the Americas (SPESA), Raleigh, N.C., covers the entire concept-to-delivery
sewn products lifecycle. The expo will offer a complete range of equipment technology and services
for all sectors of the global sewn products industry including apparel, footwear and accessories;
home furnishings and upholstery; luggage and leather goods; technical and industrial textiles;
safety and protective gear; and automotive and transportation interiors. Visitors will have the
opportunity to observe live demonstrations and new product introductions from exhibitors
specializing in cutting, spreading, sewing, pressing, finishing, design and production software
solutions, sewing threads, needles, purchasing, logistics, and more.
As of

Textile World
's press time, SPESA reported booth sales had already surpassed the total exhibit space
occupied in the previous SPESA Expo, held in Miami Beach, Fla., in May 2007. The organization also
reports that attendee registration is very strong, surpassing the numbers seen at the same point
prior to SPESA Expo 2007.
As a result of strong exhibitor and attendee response, SPESA has added several new exhibit
categories to this year's expo, including fabrics and materials, trims and components, product
development services, production and supply chain services, and information technology.
The expo also will feature a variety of new attractions, including the first-ever "Made in
USA Supply Chain," pavilion, presented by Columbia, S.C.-based SEAMS, the National Association for
the Sewn Products Industry. The pavilion is expected to cover more than 2,000 square feet and will
feature products made by SEAMS member companies, as well as individual exhibits by U.S.-based
companies that provide manufacturing and other services for the soft goods supply chain.
"Supply Chain of the Americas" will highlight opportunities and resources available to sewn
products manufacturers, brand marketers and vertical retailers in the Western Hemisphere. Designed
to complement the expo, this exhibit will expand the event's coverage to the entire
concept-to-delivery sewn products lifestyle – adding a new direction for the show, which in the
past primarily has showcased machinery and technology.
Other new attractions include the IT Showcase, which will display innovative enterprise- and
industry-specific software solutions; the Cool Zone 2.0 exhibit, featuring exciting new
technologies that are changing the sewn products industry; and numerous country and regional
pavilions from Latin America, Asia and Europe.
SPESA will hold several pre-show events on Monday, May 17, beginning with a workshop from
9:00 a.m to 4:00 p.m. titled "Exploring Lean Business Practices" and an executive conference from
1:00 to 5:00 p.m. titled "Building the Supply Chain of the Future – Case Studies From Today." Both
will feature speakers from Cary, N.C.-based [TC]
2, a provider of technology development and supply chain improvement solutions for the
apparel, sewn products and related soft goods industries.
On Monday evening, SPESA will host an Industry V.I.P. Opening Gala to benefit the American
Apparel & Footwear Association (AAFA) Education Foundation, which supports and recognizes
students and institutions that contribute toward the advancement of the apparel industry. The
event, to be held at the Georgia Aquarium in downtown Atlanta from 7:30 to 9:30 p.m., will offer an
evening of networking and entertainment.
The SPESA Expo Forum will offer 30 workshops and seminars during the course of the expo.
Activities will kick off with a headliner breakfast Tuesday morning that will include a program
titled "Global Sourcing Perspectives — Things to Consider," led by Laura Rowen, director of
manufacturing, Brooks Brothers; and Dr. Mike Fralix, president and CEO, [TC]
2. Other presentations will cover a wide range of topics of interest to sewn products
industry leaders.
For more information about Techtextil North America and TTNA Symposium, visit
www.techtextilna.com. For more information about ATME-I®
Megatex, visit
www.atmei-megatex.com. For more information about SPESA
Expo, visit
www.spesaexpo.com. Online registration for the exhibits is
free. In addition, registration for activities associated with each exhibition is available at the
respective websites.
March/April 2010