T

he Roseville, Minn.-based Industrial Fabrics Association International's (IFAI's) IFAI
Expo 2009, held September 23-25 at the San Diego Convention Center, reported a strong turnout
despite the current economic situation. The expo was host to 6,190 participants from 62 countries,
with 344 suppliers from 16 countries exhibiting their products and services to the specialty
fabrics market. Many exhibitors noticed that although the quantity of attendees was down, the
quality was high.
"The show was very worthwhile," said Rob Obradovich, president, Hartland, Wis.-based Keder
Solutions LLC. "I met people in different parts of the industry that I'd never been associated with
before, which was great because I walked out of there with more knowledge than I walked in with,
and also with a couple of good orders."
"The IFAI Expo was a huge success for our company," said Ron Brignac, vice president of
sales and product development, Oak Ridge, N.C.-based Chameleon International LLC, exclusive
manufacturer and distributor of ChroMyx temperature-sensitive, color-changing, flexible sheet
material. "The first two days were nonstop for us, with rarely a time to sit down. We were able to
meet many fine people, and are very pleased with the relationships that were developed. The
networking with vendors was good and is proving to be mutually beneficial."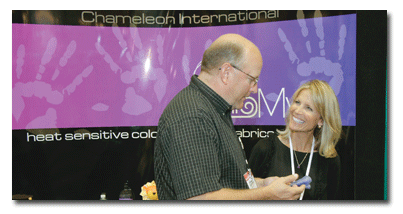 Chameleon International LLC exhibits its ChroMyx sheet material at IFAI Expo 2009.

Focus On Recovery

The economic recovery was the overarching focus for most exhibitors at this year's expo.
Suppliers and manufacturers are weathering the global financial downturn by innovating products and
exploring new markets for growth, proving the specialty fabrics industry is resilient. "It takes
people and companies thinking outside of the proverbial box to create new or improved products in
their industry," Brignac said.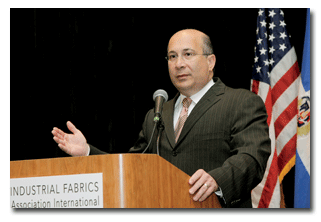 Keynote speaker Ron Insana – a CNBC financial expert and veteran financial industry
journalist and observer – gave a positive prediction for the industry in his address, entitled "Now
What? Managing Money Through the Economic Storm." He reassured attendees, saying, "It's not the end
of the world. … We will come out of this."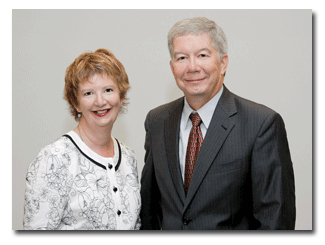 Janet Lane, executive director of IFAI New Zealand, IFAI's newest country sector, poses
with IFAI President and CEO Stephen M. Warner

Show Highlights

IFAI Expo 2009 presented more than 100 educational symposiums informing business owners,
manufacturers and design professionals about new technologies and business growth opportunities in
the specialty fabrics market.
The Textile Industry Coalition on Government Procurement's sold-out annual military textile
conference featured presentations by key military professionals who develop and procure items for
US armed forces. The textile coalition honored former Congressman Duncan Hunter, who served as
chairman of the House Armed Services Committee, presenting him with the Award of Outstanding
Military Merit in recognition of his championship of a strong Berry Amendment and efforts to
nurture a strong manufacturing climate.
The medical textiles symposium, "Patching Holes in Human Tissue -Current Applications of
Textiles in Medicine," explored the latest textile advancements in medical and biomedical
applications for tissue and bone repair, nanofibrous scaffolds, vascular prosthetics and biotextile
developments in surgical therapies. IFAI's Safety and Protective Products Division presented
"Technical Textiles Rocketing to Space," offering insight into the latest research, materials and
design forecasts for technical textiles in aerospace applications. According to IFAI, one of the
best-attended sessions was the "How to Design Green Roofs & Landscapes" workshop, which was
free to licensed architects and outlined how geosynthetic and other textile materials can be used
to design sustainable, energy-efficient environments and buildings.
IFAI announced winners of the 2009 International Achievement Awards (IAA) for specialty
fabrics design excellence in 28 categories. This year's IAA competition received a record 416
submissions from 17 countries, demonstrating the diversity of specialty fabrics applications. IFAI
also announced first-, second- and third-place winners of the sixth annual Safety Products Student
Design Challenge, a contest that pairs student designers with companies that provide support and
supply them with high-performance fabrics to create their projects. Click
here
to view a complete list of winners of these two competitions.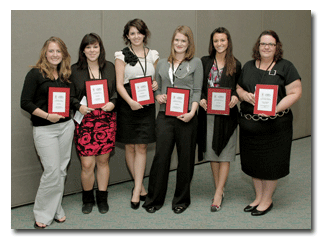 Winners of the sixth annual Safety Products Student Design Challenge display their
awards
.

Outlook

A recent study, titled "State of the Industry" and published by IFAI Research, notes that by
2010, the global technical textiles/specialty fabrics market is projected to grow to 24 billion
tons and to be valued at $127 billion. The organization reports that, based on the fact that 230
exhibitors have already booked booths for IFAI Expo Americas 2010, scheduled to take place Oct.
27-29, 2010, at the Orange County Convention Center in Orlando, Fla., the turnaround began at IFAI
Expo 2009. Allen E. Gant Jr., president and CEO of Glen Raven, N.C.-based Glen Raven Inc. and a
long-time exhibitor at IFAI Expo, said, "In these difficult times, we were pleased with the
attendance and the innovation that was demonstrated at the show."
Also scheduled for next year is Advanced Textiles '10, the third edition of IFAI's
US-European entrepreneurial networking conference, which will be held June 16-17 in Paris. "Based
on the endorsement of an international audience and support from many prestigious European
organizations for our first two conferences in Berlin and Brussels, we are confident the annual
IFAI Advanced Textiles conference is viewed as the leading exchange platform for the technical
textile industry," said Stephen M. Warner, president and CEO, IFAI.
French technical textile association Clubtex will be the key sponsor of Advanced Textiles
'10. IFAI also has announced it will add an offshoot of Advanced Textiles to next year's IFAI Expo
in Orlando.
November/December 2009