I

MB 2009 — World of Textile Processing took place recently in Cologne, Germany. Reflecting
the current economic situation, there were some one-third fewer visitors than in previous years.
However, IMB has been the world's most important trade fair for all kinds of apparel and textile
processes. Some European and US exhibitors with high-quality equipment were satisfied with the show
and had a lot of visitors, but Far Eastern exhibitors mainly had fewer visitors than in previous
shows.

Trends


The trend toward verticalization is more prominent than ever. Knitters have been 100-percent
verticalized for a long time. Technical textiles producers are doing the same for three reasons:
quality; generation of added value in-house; and protection of production secrets. And the trend is
seen also in other industry sectors.
Approximately one-third of all IMB exhibitors are focusing on technical textiles in all
forms, and many also participated at Messe Frankfurt's Techtextil exhibition in June. The
confirmation for this trend came just a few days after IMB closed: The German Engineering
Federation (VDMA) Garment and Leather Technology Association, IMB's conceptual sponsor, announced
the end of its cooperation with show organizer Koelnmesse GmbH and together with Messe Frankfurt
GmbH will launch a new show, Texprocess, in Frankfurt. Messe Frankfurt officials stated they want
to emphasize to all markets the message of one marketplace for the whole production chain.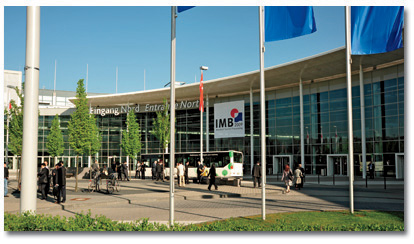 IMB — World of Textile Processing was held

at Koelnmesse in Cologne, Germany

Product Highlights


There were just a few new products at IMB, including Brother International's ink-jet printer
followed directly by embroidery, Avery Dennison's labeling technology, a new sewing thread from
Gütermann, a vertical plotter from Audaces and new cutter and software applications from Lectra.
Brazil-based Audaces Automations' vertical plotter has reduced space requirements. The
company states the model is very successful worldwide. It has a unique format, measuring 60
centimeters (cm) wide, 100 cm deep and 230 cm high. It has many speed options and can print in
widths from 143 to 183 cm. Paper rolls up to 250 meters (m) are possible. The plotter uses
Hewlett-Packard's ink-jet technology to print an array of patterns in order to provide the best
fabric yield.
Lectra, Paris, presented its VectorTechTex FX Extended for cutting very long pieces — up to
4.2 m long and 2.5 cm thick — of composite materials for wind turbine blades and helicopter rotors
and such. The FX Extended is said to offer up to 20-percent increased production compared with
standard VectorTechTex cutters and can be fitted with an ink-jet printer to ensure the traceability
of cut pieces.
DesignConcept Auto and DesignConcept TechTex for 3-D/2-D design and product development —
Lectra's flagship solutions for textile-based product design and development — enable users to
create virtual models, run feasibility analyses, develop templates and estimate costs, reducing
time-to-market of finished products. DesignConcept TechTex is designed for industrial fabrics
processors. DesignConcept TechTex (V4R1) for large-scale composite product design creates more
products at lower cost, and reduces finished product weight while maintaining good mechanical
properties, the company reports.
Groz-Beckert KG, a Germany-based manufacturer of needles, weaving machine parts and knitting
cylinders, showed its Loop Position Control technology. Featuring an improved shank and groove
geometry, the needles ensure improved thread protection and reduced thread load during thread
run-in over the edges of the longitudinal groove. The result is improved loop formation in critical
applications, and reduced skipped stitches and thread breakage.
Groz-Beckert's SAN® 5 Gebedur® needle features a new blade design to prevent problems — such
as skipped stitches, point or material damage, thread splicing and breaking, as well as needle
breakage — that can occur when sewing industrial fabrics. The target was high needle stability and
optimum penetration. The special design significantly improves bending resistance. The deep scarf
and special eye design enable a regular stitch pattern and improved seam durability.
Gütermann AG, Germany, a producer of threads, yarns and twisted yarns, offered a sewing
thread using Micro Core Technology® (MCT) — the first microfilament polyester-based core spun
technology. MCT is standardized for every application field, offering threads with uniform,
high-quality appearance and improved brilliance and softness.
Avery Dennison Corp., Pasadena, Calif., showed its Pathfinder® Ultra® Platinum 6039™, said
to be the only portable printer that scans, processes data, prints and applies a label on the spot.
The reduced procedure time and ease of terminal use on store shelves mean a company can relabel
products without having to close the store.
Bridgewater, N.J.-based Brother International Corp. exhibited an ink-jet printer based on a
new printing and ink technology, providing new options for production of T-shirts and fashion
articles. Immediately after drying on a conveyor belt dryer, the article can be embroidered. All
production stages are in-house.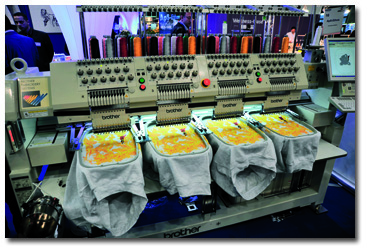 Brother International's ink-jet printer using

new printing and ink technology is followed

directly by an embroidery machine, shown above

applying a design on printed articles.

Looking Ahead


Koelnmesse CEO Gerald Böse said many companies were irritated with the VDMA Garment and
Leather Technology Association's decision to end its partnership with IMB. However, Koelnmesse
wants to maintain IMB and "will continue to provide the textile sector with an internationally
important trade fair for the textile and clothing industry in Cologne in the future," Böse said.
IMB Forum will take place in May 2010.
The first Texprocess will take place May 24-27, 2011, together with Techtextil, in direct
competition with IMB. On one hand, it is quite astonishing that the long-term cooperation between
Koelnmesse and VDMA has ended. On the other, as noted above, technical textiles are totally
verticalized and the production process is under one roof. One could say the new show reflects this
state of affairs: From yarn to finished products, all machinery will be seen under one roof.
July/August 2009