W

hen asked "What types of capital equipment expenditures do
Textile World
readers' companies make?" the leading response in the 2009 Reader Profile was lab/testing
equipment. Given the nature of textile products and processes, the response makes perfect sense.
Whether it is product quality, verification against regulated or vendor standards or even a little
reverse engineering – politely known in certain circles as deformulation – testing technology is an
everyday necessity. Recently, interest in product analysis has moved forward as concerns over
contaminants have made the news. Also, technical textile trends have made more people aware of the
physical testing necessary to market products like geotextiles and related performance products.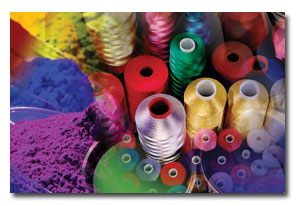 Photography courtesy of X-Rite Inc.

Qualitest USA


According to Marcus Bergsten, product/marketing manager of Fort Lauderdale, Fla.-based
Qualitest USA, testers in the company's Q-Line of Universal Testing Machines are typically used to
test breaking strength and elongation of textiles according to ASTM D5034. "They are used for
testing all textile products from yarns to heavy-duty geotextiles and fabric for personal
protection gear," Bergsten said. "All manufacturers in the textile industry at all levels of the
added value chain will benefit from the Q-line, both for research and development work and for
quality control."
The Q-line has been in full production since 2006, and its development was based upon a
previous product line.
"We have been supplying the market with High Quality Universal Testing Machines for more
than 15 years," Bergsten said.
Bergsten added that the main attributes are that the company supplies lightweight testers
with a small footprint, which makes the testers easy to place in a lab; and they offer a wide test
range per load cell with extremely accurate test results that conforms to all applicable standards.

Measured Solutions


Measured Solutions Inc., Spartanburg, supplies laboratory instruments for testing cotton and
man-made fibers, and all types of yarns including spun, filament, textured, carpet, and industrial
yarns. Managing Director Mark Reese and his staff represent various firms including Germany-based
Textechno, Switzerland-based Rothschild-Instruments and Japan-based Keisokki; as well as FCS
Procedyne and Schwing Cleaning Systems, Aspex/SpinTrak Spinneret Inspection Systems, and Ceccato
Spinnerets.
Reese said spinners, weavers, institutes and yarn dealers can save testing costs by using
Textechno's Statimat DS. First exhibited at ITMA 2007 in Munich and with the first delivery in
2008, the Statimat DS combines testing of yarn and thread tensile properties, unevenness, and count
in one tester.
"Common use of all peripheral components of the tester – like package changer, threading
mechanism for introducing the yarn sample into the test sections, yarn feeding device, waste yarn
disposal and instrument housing with protective front panel, as well as control electronics
including the personal computer (PC)-based Textechno Testcontrol system for the different test
modules built in – all lead to a very economic price for the Statimat DS compared to that for three
separate testing appliances. The operator presents the test samples to only one instead of several
different testers, which results in considerable time and labor savings, and all measured data are
presented in one test protocol, so that the data can be easily interrelated, for example, to
calculate tenacity from the measured strength- and yarn-count values," Reese said.

Uster Tackles Slub Quality


Introduced in July 2008, the Uster® Fancy Yarn Profile for the Uster Tester 5 is a solution
for the quality control of slub yarns.
According to Gabriela Peters, product manager, yarn testing, Switzerland-based Uster
Technologies AG, the importance of quality control in yarn manufacturing is magnified when the
end-use is a high-cost product such as the latest denim jeans with fashionable slub yarns.
Producers of these yarns need to make them appear irregular, yet retain precise and consistent
control over quality – which means fewer complaints and, ultimately, more profit. Uster has tackled
this requirement with a system that analyzes slub yarn quality. The Uster Fancy Yarn Profile uses a
unique measuring method that makes it easier than ever to obtain all the quality-relevant
information for slub yarns, while maintaining the high standards of precision and reliability for
which the Uster Tester family is acknowledged, she explained.

A.B. Carter/Mesdan-Lab


Henderson Wise, national marketing manager of Gastonia, N.C.-based A.B. Carter Inc.,
represents the Autodyn 300 Automatic Strength Tester from the Mesdan-Lab division of Italy-based
Mesdan S.p.A.
The Autodyn 300 tests the tensile strength of 24 different yarns. Wise said Autodyn 300 has
modular features that also can work in semiautomatic mode for industrial yarns, hanks and fabrics.
The tester is controlled by flexible, easy-to-operate software, complying with all current
international textile standards. More than 30 test modules are available in the software. The
tester is versatile, accurate and reliable, thanks to a complete range of interchangeable clamps
and load cells, he said.

Advanced Testing Instruments (ATI)


Advanced Testing Instruments (ATI), Greer, S.C., has been featuring the TruBurst2 pneumatic
burst strength tester, which complies with ISO 13938-2 and ASTM D 3786. The TruBurst measures the
distension and time to burst as well as the pressure at burst. The TruBurst Advanced + includes a
cyclic function that allows the pressure to cycle up and down for a stretch and recovery test.
According to the company, the fully pneumatic and non-contact laser distension measurement
guarantees accurate, consistent and reproducible results. In production for two years, this
bursting strength tester for fabric and nonwovens testing offers pneumatic versus hydraulic
bursting.
ATI also offers the Textest Air Permeability Tester FX 3300 Labotester III, which is used to
determine the air permeability of flat materials and foam cubes. The measuring range covers dense
papers and airbag fabrics as well as extremely open nonwovens and forming fabrics.
By means of the Labodata III Evaluation Program, the test results can be converted from air
permeability into the pressure drop at a given air velocity. This value, which is important for gas
filter materials, is shown both numerically and as a curve depicting pressure drop versus air
velocity in double logarithmic scale. According to ATI, the instrument works in accordance with
AFNOR G 07-111, ASTM D 737, ASTM D 3,574, BS 5,636, DIN 53,887, EDANA 140.1, EN ISO 7,231, EN ISO
9,237, JIS L 1,096-A, TAPPI T 251, and other standards.




Q-Lab Corp.


Westlake, Ohio-based Q-Lab Corp. offers new lightfastness testing technology with the Q-Sun
B02 Lightfastness Tester. In production for approximately 18 months, the Q-Sun B02 incorporates the
newest xenon technology to meet ISO 105 B02 and AATCC textile standards more efficiently and
affordably. According to Q-Lab, the B02's optical filters maintain the required spectrum
indefinitely, so they do not need to be replaced unless they are broken, or the test method
followed specifies regular filter replacement. Its patented Solar Eye Irradiance Control sets a new
standard in calibration and takes only seconds, so there is little chance for operator error, and
expensive calibration contracts are not required.
According to Q-Lab, while any textile lab can benefit from the Q-Sun B02, the tester's
affordability and efficiency make it an ideal choice for small labs that previously could not
afford xenon lightfastness testing.

X-Rite


Kentwood, Mich.-based X-Rite Inc.'s Product Manager Richard Knapp said the Color iQC Version
6.0, introduced in November 2008, is the new major release in the X-Rite Color iMatch and Color iQC
family of color formulation and quality control products.
"While there have been several color supply chain solutions available over the last five
years, none of them has been very successful or received broad adoption," Knapp said. "When we
tried to understand why this was, we quickly found that no two companies followed the same process
and that all existing systems were far too rigid in their implementation and imposed a specific
workflow on the users. With Color iQC Version 6.0, we have produced a color supply chain solution
that can significantly reduce the time it takes to develop colors, is adaptable to existing
customer workflows and business methods, and can be aligned with a customer's parallel business
processes."
In terms of prospects, Knapp added: "This new product allows us to work with customers
throughout the color development process: designers, buyers, brand managers, quality control, and
producers. This product also allows for the expansion of color supply chain management into areas
that were previously excluded and into hard-line products as well."

HunterLab


Hal Good, director of marketing services at Reston, Va.-based HunterLab, explained that the
UltraScan Pro® color measurement spectrophotometer has interesting attributes, and scanning as low
as 350 nanometers (nm) enables measurement of ultraviolet (UV)-blocking materials. He also said
scanning up to 1050 nm enables measurement of camouflage materials. The 5-nm optical resolution and
reporting interval enables precise color measurement of dyes that have sharp spectral cutoff
characteristics. According to Good, the wavelength range is wider than any other color measurement
spectrophotometer. Target customers are those that need to have accurate color measurement of
fabric, yarn, thread or fiber. In addition to measuring visual color, the UltraScan Pro also
enables measurement into the near infrared for camouflage materials, as well as the measurement of
UV-blocking characteristics of materials and the effect of whitening agents.

Datacolor


Bob Karpowicz, Lawrenceville, N.J.-based Datacolor's product manager, instruments, spoke of
the December 2008 release of the Check® II Portable Spectrophotometer.
"Most users sort right on the factory floor, so measuring with a portable instrument is the
key to efficiency," Karpowicz said. "However, the competing instruments do not have the versatility
of the Check II, which sorts using L*a*b*, LCh or CMC tolerances, depending on the needs and
preferences of the user.
"Additionally, we've reduced the time our customers spend transferring data to their PC
software by implementing wireless data transfer on the Check II. Now Datacolor Check II users can
send data via Bluetooth or existing Wi-Fi® networks straight from the instrument.
"Besides the the Check II's exclusive three-mode 555 Shade Sorting function and high-speed
wireless operation, the Check II offers unparalleled agreement with our Datacolor 600 reference
grade spectrophotometer that most textile mills use for color matching. That means that the numbers
you get sorting with the Check II will agree very closely with your mills' numbers," Karpowicz
concluded.

Update: Textile Technology Center At Gaston College


Belmont, N.C.-based Textile Technology Center Director John A. Anderson stated that the
center's mission is to be of service to the textile industry and assist the industry in solving
problems. The center has five testing labs specializing in fiber, yarn, fabric performance, defect
analysis and microscopy. New capabilities are currently being installed as a result of a recent
donation from Fort Mill, S.C.-based Wellman Inc. New services will include testing for metals, such
as lead in fabrics, to the parts-per-million level using inductively coupled plasma spectroscopy;
determining polyester composition using gas chromatography (GC); ultraviolet/visusal analysis of
polymers for component levels; differential scanning calorimetry analysis for thermal properties of
polymers and other materials; various wet analytical techniques and custom analysis of materials
for purity using high-pressure liquid chromatography (HPLC); GC/Mass Spec for unknown analysis of
polymer or material components and impurities; and determining oligimer content of polyester using
gel permeation chromatography/HPLC.
"As we carry out our mission to be of service to the textile industry, we continue to search
for emerging segments that can benefit from our services, technologies and cumulative expertise
through the 'Center of Excellence' shared resource concept," Anderson said. "To use Benjamin
Franklin's words in a slightly different context than he originally spoke, 'We must hang together,
gentlemen … else, we shall most assuredly hang separately.'"
January/February 2009