F

or the second time in the new millennium, the city of Charlotte will welcome the global
specialty fabrics community to the Charlotte Convention Center for the Industrial Fabrics
Association International's (IFAI's) annual IFAI Expo. Pre-show activities held in conjunction with
the 2008 event will begin Monday, October 20, and the expo itself will open its doors Tuesday,
October 21 and continue through Thursday, October 23. IFAI, based in Roseville, Minn., anticipates
some 8,000 visitors from more than 60 countries will attend the event, along with close to 470
companies exhibiting their products and services at the trade show and more than 90 industry
experts leading workshops, symposia and other programs covering a range of topics of interest to
the industry.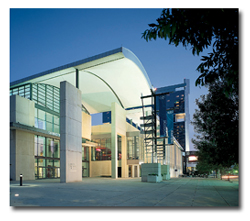 IFAI Expo 2008 will be held at the Charlotte Convention Center.

Photo courtesy of Visit Charlotte
"We've always felt that IFAI Expo is a gathering place for the specialty fabrics industry,
bringing together all the different niche markets and all the different levels of the industry –
it's not just the variety of end products, but also the spectrum from fiber producer all the way to
architects and other users of specified fabrics, and everybody in between," said IFAI President
Steve Warner. "And we're very excited about this year's expo because it's being held in the heart
of textile country in the United States."
The specialty fabrics sector serves a broad range of markets including agriculture,
architecture, awnings, banners, construction, filtration, marine, medical, military, safety and
protective, sports and recreation, tarpaulins and tents, vehicle interiors, and a host of other
markets. Products shown at the expo include equipment; fibers, films and chemicals; fabrics;
components; end products; and services.
The trade show, along with IFAI's Design Exhibition 2008 presenting the work of more than 40
designers from around the world and the Sixth Annual Silent Auction sponsored by the Industrial
Fabrics Foundation (IFF) to raise scholarship funds, will run the full duration of the expo. Other
activities – including a special pre-show conference, workshops, symposia, keynote speeches,
networking events and socializing opportunities, special meetings, companion activities and such
– will occur before, after and alongside these three continuous activities, providing expo
attendees with a plethora of opportunities to learn about new technologies, products and suppliers;
make new business contacts; and reconnect with old associates and friends.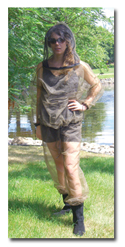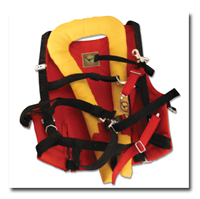 Coghlan's netted jacket, hood and pants to protect against insects (left) and a flotation
vest designed by Bill Burns from Safety Gear for Small Animals will be on display at Design
Exhibition 2008, which will present "far-out" innovative textile products in the health and safety
area.

Pre-Expo Activities

The 6th International Conference on Safety & Protective Fabrics, organized by The Safety
& Protective Products Division of IFAI, will begin Monday morning and run through Tuesday
morning. This is a biennial event that this year will focus on advanced textile applications for
extreme-high-temperature environments. Technical presentations on various aspects of
thermal-protective materials will be given by researchers and representatives from academic
institutions, government agencies, private industry and legislative caucuses. The conference also
will include a tour of National Association for Stock Car Auto Racing (NASCAR) garages to show how
such materials are used in the racing industry, and specifically in NASCAR vehicles.
Conference participants also will have an opportunity to network and socialize Monday
evening during the opening of the Design Exhibition, which this year will showcase what IFAI calls
"far-out" innovative textile products in the health and safety area. Curated by noted advanced
textiles and technology consultant Marie O'Mahony, the exhibition will feature such articles as
smart garments, safety gear for small animals, anti-radar camouflage military gear, and
combinations of textiles with non-textile materials, among other concepts.
Also taking place in advance of the official expo opening is the Third Annual IFF Golf
Tournament. Scheduled for Monday, the tournament is another scholarship fund-raising event that
also provides an opportunity for networking and socializing before getting down to business at the
show.

Breakfast Sessions

Two keynote speakers will deliver addresses during breakfast sessions at this year's expo.
On Tuesday morning, Lou Holtz, a popular motivational speaker, former college football
coach, and recent inductee into the College Football Hall of Fame, will present "Game Plan for
Success," with a message that centers on people and values and how they contribute to successful
relationships and organizations. Holtz's address is sponsored by Glen Raven Custom Fabrics LLC,
manufacturer of Sunbrella® fabrics for furniture, marine, awning and graphics applications.
On Thursday morning, Doris Kearns Goodwin, Pulitzer Prize-winning historian and author of
"Team of Rivals: The Political Genius of Abraham Lincoln," will speak on "Leadership Lessons from
Abraham Lincoln." Her presentation will provide object lessons in leadership, strategy and
political economy – lessons gleaned through a study of Lincoln's relationships with political
opponents who ultimately became his supporters.
On Wednesday morning, IFAI will hold its annual meeting, during which it will present the
International Achievement Awards recognizing outstanding achievement in the specialty fabrics
industry. Warner said this year's competition attracted a record number of applicants. Winning
entries will be on display in the exhibition hall.

Symposia And Workshops

Symposia and workshops are scheduled throughout the day on Tuesday through Thursday.
Symposium topics include fabric graphics, transportation materials, the awning business, expanding
business markets abroad, fabrics and finishes, medical textiles, government contracting, and
"green" strategies. Workshops will cover several fabric welding applications, graphics and
fabricators' focus areas
(See Symposia and Workshops schedules in Table 1).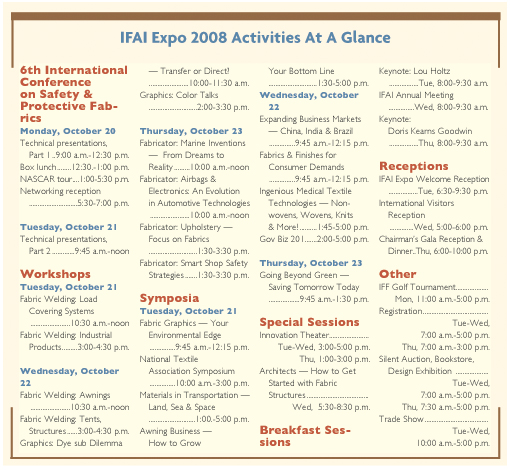 Concurrent Activities

IFAI Expo 2008 has gathered a number of strategic partners, some of which have scheduled
meetings and other programs during the course of the expo to allow their members to avail
themselves of the expo offerings at the same time. Other partners are assisting with certain
IFAI-sponsored activities.
The National Textile Association (NTA) will hold its Board of Directors meeting on Monday.
NTA also is part of a coalition of textile trade associations that has organized a seminar on
government procurement, scheduled on Tuesday (See "
Coalition To Address Government Procurement,"
Textile World News). The seminar will feature as its luncheon speaker Rep.
Robin Hayes, R-N.C., an advocate of government procurement of US-made textile products.
Other organizations scheduling meetings and other activities during the expo include the
Textile Information Users Council, Monday and Tuesday; and the Textile Bag and Packaging
Association, Tuesday and Wednesday.
Strategic partners the American Association of Textile Chemists and Colorists and North
Carolina State University are co-organizers of IFAI's symposium on medical textiles, "Ingenious
Medical Textile Technologies – Nonwovens, Wovens, Knits & More!," scheduled on Wednesday
afternoon.
Other US-based strategic partners include the American Fiber Manufacturers Association,
Canvas Products Association, Detroit Color Council, The Fiber Society, The National Association for
the Sewn Products Industry, National Council of Textile Organizations, Northeast Canvas Products
Association, The Nonwovens Institute, Southern Textile Association, Southwest Industrial Fabrics
Association, Synthetic Yarn and Fiber Association, and the US Department of Commerce. In addition,
there are a number of partners from abroad.

Green Highlights

It appears green considerations will be prominent at IFAI Expo 2008. Two programs in
particular will focus on environmentally responsible aspects of specialty fabric use.
"How to Get Started with Fabric Structures," a special workshop devoted to fabric
architecture, will be offered Wednesday evening from 5:30 until 8:30 p.m. at the Charlotte Hilton
Hotel. The program, sponsored by IFAI's Lightweight Structures Association and Fabric Architecture
magazine, will include a keynote address, "Building Greener, Smarter, Sustainable Structures,"
given by Frank Harmon, FAIA, principal of Raleigh, N.C.-based Frank Harmon Architect PA and an
adjunct professor at NCSU's College of Design. Harmon will show examples from his portfolio of
environmentally sustainable structures. Other speakers will discuss fabric materials and their
physical properties; and elements of designing successful fabric structures.



Capping off the symposium program, "Going Beyond Green – Saving Tomorrow Today," scheduled
for Thursday morning, will look at eco-friendly and sustainable design, technologies and business
solutions, and will include presentations by government, association, business and third-party
certification representatives.

International Relations

For the second time, IFAI Expo will participate in the US Department of Commerce's
International Buyer Program (IBP), a status awarded to only 28 trade shows out of hundreds that
apply annually. The program promotes exhibitions via US Commercial Service offices and US
diplomatic missions. Warner said IFAI is receiving daily inquiries about the expo as a result of
its participation in the program.
For the first time this year, there will be one seminar conducted in Japanese. Hosted by
Elgin, Ill.-based Fabric Images, the seminar will cover the application of images on
traditional Japanese products and fabrics. "We have a large delegation of Japanese visitors
organized through our office, plus others," Warner said. "We expect 40 to 50 people to be in the
audience."
Some German and Chinese exhibitors will be grouped together in special country pavilions to
show their products and services.

Innovation Theater

Another new feature at this year's IFAI Expo will be the Innovation Theater located on the
show floor, presenting selected products and services offered by expo exhibitors. The 20-minute
presentations will be scheduled Tuesday through Thursday afternoons between 3:00 and 5:00 p.m. An
online schedule of presentations as well as onsite promotional signage will help expo attendees
plan their attendance.

Networking Opportunities

Rounding out aforementioned opportunities to network and socialize are the Welcome Reception
Tuesday evening and the Chairman's Gala Thursday evening.
Sponsored by Glen Raven and free to the first 1,000 attendees, the Welcome Reception will be
held at Founder's Hall, near the convention center. Food and beverages will be served, and
musicians will entertain the gathering.
The Chairman's Gala Reception and Banquet will provide an opportunity for expo-goers to
enjoy a final meal together as they celebrate industry accomplishments and recognize new and
retiring IFAI board members.



September/October 2008