T

he


Textile World
2007 Ports Survey
, produced in conjunction with PIERS Global Intelligence Solutions, a
division of East Windsor, N.J.-based Commonwealth Business Media Inc., confirmed the significant
textile products traffic flowing through US seaports. The study's best estimate is that 2.54
million 20-foot-equivalent units (TEUs) — a standard quantity measure used in international
shipping — of total textile-related imports and exports moved through US seaports in 2006. These
shipments had an estimated value of $182.3 billion.
As one might guess, apparel traffic led the way, representing 62.7 percent of the total
estimated value of textile traffic. Fabric scored second, followed by home furnishings, fiber and
yarn, followed closely by floor covering.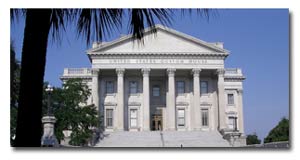 Completed in 1879, Charleston's United States Custom House is one of the most recognized
landmarks in the city and a testament to the city's long history with seaport-based trade. The
building continues to function as originally intended even with a new Federal building established
in the 1960s.
The good news for the domestic textile industry is that fabric as well as fiber and yarn were
net exports in terms of TEUs. Imports dominated the apparel, home furnishings and floor covering
categories, while textile machinery and parts was also a net import category, by more than two to
one in both TEUs and dollars.


With economic conditions led by a weakening US dollar, the recent reports of container
shortages bogging down US exports is an impediment the US textile industry doesn't need. The 35th
Annual South Carolina International Trade Conference (SCITC) — to be held Tuesday, May 27, through
Thursday May 29, at Charleston Place, Charleston, S.C. — will present some interesting
opportunities to get the inside track from a cross-section of shipping and logistics professionals
about this and other issues facing the industry.

Best Practices

Ron Reighter, vice president, global trade solutions, SunTrust Bank, will moderate education
sessions featuring international trade best practices. Topics include technology for international
process improvement, international financial transactions, managing global shipping risk and
marketing in a global economy.
William Armbruster, editor, Shipping Digest, will moderate sessions on Foreign Investment in
Trade Facilities, including one titled "The Impact of Infrastructure on Container Port Operations."
Commissioner Harold J. Creel Jr., Federal Maritime Commission, will present the keynote
address. A transportation forum will feature Jeff Heller, Norfolk Southern Intermodal; Greg
Plemmons, vice president OD Global, Old Dominion Freight Lines; Rick Wen, vice president, business
development, Orient Overseas Container Line Ltd., Ocean Carrier; and Scott Szwast, director of
marketing, International Freight, UPS.
For a full agenda and additional information, visit
www.scitc.org.
May/June 2008