A

s the textile industry in North America begins to deal with a number of new challenges
this year — recently enacted and pending trade agreements, currency woes, unceasing increases in
raw material costs and the clarion call to go green — all the while remaining competitive and even
profitable — the term "niche" perks up the ears of many who are looking for a way to maintain
relevance and viability in their respective sectors.
Frank Horn, president of the Fiber Economics Bureau — the statistics division of Arlington,
Va.-based American Fiber Manufacturers Association Inc. — feels there is a natural evolution going
on right now in the North American textile industry, and "niche" may not be a broad enough
term to describe it.
"It's about remaining competitive, but it's also taking your expertise and reapplying it to
areas where your competitors can't," Horn explained.
In textiles, "niche" has become synonymous with "technical" — US textile companies are now
going beyond traditional textile manufacturing methods to incorporate new techniques to offer
customers end products with that extra something not offered by foreign competitors. The term has
become the saving grace of many companies that struggle to deal with the effects of globalization
on a daily basis. Businesses are adding technical textiles and nonwovens capabilities and products
to their product lines in order to carve out their own niches.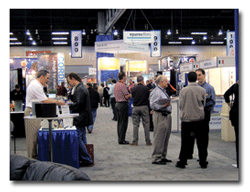 Techtextil North America organizers hope to attract a record number of visitors to this
year's event.

Trade Shows

Reflect Industry Health, Growth

A reliable indicator of an industry's ability to remain competitive is trade show
participation. A record number of visitors attended last year's Frankfurt edition of Techtextil,
International Trade Fair for Technical Textiles and Nonwovens. Show participants rated the economic
situation in the sector as "better than ever"
(See "
Techtextil,
Avantex Set New Records," September/October 2007, www.TextileWorld.com).
Techtextil North America (TTNA) — touted by Atlanta-based organizer Messe Frankfurt Inc. as "
North America's premier trade fair for technical textiles and nonwovens" — and its accompanying
symposium will be held April 1-3 at the Cobb Galleria Centre in Atlanta. Messe Frankfurt hopes to
surpass the 329 companies from 25 countries that exhibited at the last event, held in 2006, as well
as the 4,000 visitors from 43 countries that attended.
"Techtextil North America 2008 will be the fifth edition of the show, and we are expecting
this one to be the biggest one yet," said Stephanie Everett, group show manager – textile shows,
Messe Frankfurt. "We currently have more staff dedicated to this event than ever before, and the
technical textile/nonwovens industry has come to see TTNA as a reliable source for education,
networking and business development.
"The show continues to grow in both exhibitors and visitors," she added. "For visitors, we
just keep further reaching into the North American market and branding the event. For exhibitors,
the biggest growth is, of course, international."
Industry partners include the American Association of Textile Chemists and Colorists (AATCC),
Research Triangle Park, N.C. — a participating sponsor of TTNA since its inception; the Fiber
Economics Bureau; the National Textile Center (NTC), Spring House, Pa.; the North Carolina State
University Nonwovens Cooperative Research Center (NCRC), Raleigh, N.C.; and a number of
textile-related publications, including

Textile World
,

Textile World Asia
and
Textiles Panamericanos.

Nuts And Bolts

TTNA will categorize exhibitors into the following 10 product groups spread throughout
144,000 square feet of show floor space:

• research, development, planning and consultancy including international,
industrial and government research institutes and centers, universities and planning and
consultancy firms, among others;

• technology, machinery and accessories including processing technology,
machinery, waste disposal and recycling technology and quality assurance, among others;

• fibers and yarns;

• wovens, scrims, braids and knitted fabrics including belts, cordage,
cords, nets, ropes, string and tapes, among others;

• nonwovens;

• coated textiles including awning materials, coverings, laminated
textiles, tent/canvas materials, packaging materials, sacking and tarpaulin fabrics, and
accessories;

• composites including textile sheet products, textile-reinforced plastic
and concrete, membrane systems and fiber-reinforced materials, among others;

• bondtec including surface treatment technologies, finishing processes,
and laminating and coating technologies, among others;

• associations; and

• publishers.
In addition to product groups, organizers have arranged visitor target groups into 12
application areas. This arrangement will help visitors find the exhibitors that will best serve
their needs, and will help exhibitors define their products for their target markets.

Global Presence

Several nations will host pavilions at TTNA in order to highlight technical textiles and
nonwovens technologies from within their regions. Canada, China, Taiwan, Germany, France, Italy and
Portugal have already announced plans to participate.

Comprehensive Symposium

The Techtextil-Symposium North America (TTSNA) will offer 13 sessions and 65 presentations
covering the gamut of technical textiles — from an overview of the state of the industry and
presentations covering the concerns of global expansion, high-performance nonwovens, working with
the government, and composites; to those dealing with extreme fibers, automotive, nanotechnology,
body armor for law enforcement protection, and enhancing value through finishing

(See Table 1)
.
Allen E. Gant Jr., president and CEO of Glen Raven Inc. — a Glen Raven, N.C.-based
high-performance fabrics manufacturer known for its emphasis on thriving through constant
innovation — will present the symposium's keynote speech Tuesday morning. Gant will discuss how
Glen Raven has remained ahead of global competitors in the field of specialty fabrics despite the
downturn of the US textile industry
(See "
Executive
Forum," January/February 2008).
Dr. Sabit Adanur of Auburn, Ala.-based Auburn University's Department of Polymer and Fiber
Engineering, will chair TTSNA's composites section. Adanur believes strongly in the event's goal of
showcasing technical textiles.
"Unlike traditional apparel textiles, technical textiles are used in every industry from
outer space to deep oceans, from leisure to deep inside the body, in transportation, safety,
protective, military, defense, filtration, civil engineering, composites, medicine, papermaking …
you name it," Adanur explained. "However, general public and non-textile professionals do not know
the application areas of technical textiles, and they should be educated with shows like
Techtextil. As long as the other industries are alive, technical textiles will also be alive and
well."
---
For more information about TTNA, contact (770) 984-8016, Ext. 411; fax (770) 984-8023;
techtextil@messefrankfurt.com; www.techtextilna.com.

For more information about TTSNA, contact Bill Smith (864) 292-8121; fax (864) 292-5333;
billsmith@intexa.com.

---


January/February 2008