F
loor covering industry professionals will soon head to Dalton, Ga., for FloorTek Expo
2007, the global floor covering manufacturing exposition focused on production technology —
showcasing the most up-to-date machinery, equipment and materials; as well as businesses that
supply and service the floor covering industry.




FloorTek Expo 2007 will take place at the NorthWest Georgia Trade & Convention
Center.

Organized and sponsored by the
Dalton-based American Floorcovering Alliance (AFA) and scheduled to take place at the NorthWest
Georgia Trade & Convention Center Tuesday, October 23 through Thursday, October 25, the
biennial show will feature an exhibition dedicated to the entire range of flooring surfaces — from
carpet, hardwood, vinyl and laminate to stone and non-traditional surfaces. As of

Textile World
's press time, more than 70 companies have already registered to exhibit.
FloorTek Expo also will feature a panel discussion, workshop and seminars, as well as a
number of special events.
(See Table 1 for a comprehensive schedule of events.) Expo visitors traditionally include
CEOs, mill owners, plant managers, purchasers and product engineers. Attendance is free of
charge.


Ciba Customer Workshop


Ciba Specialty Chemicals — a
Switzerland-based manufacturer of additives, dyes and pigments for use in fiber spinning targeted
to such applications as carpets and upholstery, among others — will sponsor a free day-long
workshop and lunch on Wednesday, October 24. Endorsed and supported by AFA, the workshop will offer
presentations on:

• key effects expected by carpet manufacturers today and in the future;

• the latest technologies for color management, including color matching, color feasibility,
design and creation software, and realistic visualization;

• Registration, Evaluation and Authorization of Chemicals (REACH) legislation's effect on
companies that export to Europe, and the benefits of using a consulting service when business is
impacted by the legislation; and

• innovative effects and colorants for carpets and fibers, as well as future
products.


Panel Discussion



FloorTek Expo 2007 will commence with
a continental breakfast Tuesday morning, followed by a panel discussion entitled "The Challenges of
Globalization." The discussion will be moderated by Frank O'Neill, publisher of Floor Focus
magazine. Panelists will include Ralph Boe, CEO, Beaulieu of America; Dan Frierson, CEO, The Dixie
Group; Michael Harris, president, Faribauld Mills Inc.; and Dr. Richard W. Williams, president and
CEO, Williams Cos. Inc.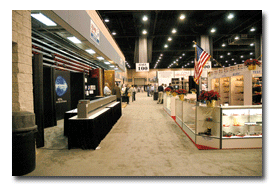 Approximately 100 companies are expected to exhibit at FloorTek Expo 2007.



Best Of FloorTek 2007 Awards Dinner



The Best of FloorTek 2007 Awards
Dinner will kick off at the convention center with a cocktail hour sponsored by Domotex Worldwide
Events, a trade show brand with which AFA has a strong partnership
(See sidebar).
Dinner and a presentation recognizing the Best of FloorTek award winners will follow.
Sponsored by AFA, the third edition of the awards will be presented to individual and corporate
innovators in the floor covering industry. Award categories include:

• Individual Leadership, recognizing individual industry contribution;

• Environmental, recognizing environmental responsibility and practices;

• Product/Method Innovation, recognizing the best product or method of innovation; and

• Contribution to the Industry, recognizing the company that has made the largest historical
contribution to the industry.



Seminars



Four seminars presented by
Baltimore-based law firm Miles & Stockbridge PC — which also participated in the educational
events at FloorTek Expo 2005 — will be held Thursday.
Edward Kondracki, a senior attorney and principal who has represented businesses in the
floor covering industry and their intellectual property rights for more than 40 years; and David
Shaffer and Eric King, associates at the firm, will present "Global Protection of Trademarks," "
Protecting Your Assets from Foreign Competition" and "Enforcing Your Intellectual Property Rights
in International Waters." Kondracki believes seminar attendees will attain a better appreciation of
how to protect their intellectual property, such as patents and trademarks, from foreign
competition in the international trade arena.
Those who wish to attend the seminars may contact AFA or register the day of the
event.



Traveling To The Expo



To aid those traveling to Dalton for
the show, AFA has designated Admiral Travel Inc., Marietta, Ga., as the official travel agent for
the show. For more information on getting to, staying in and traveling from Dalton, contact Hassan
Ramadan (800) 822-2727, (770) 956-0900; h.ramadan@att.net. Visitors who would like to arrange
accommodations in Dalton may contact the following:

• America's Best Inns

(706) 226-1100

• Comfort Inn & Suites

(800) 733-7663

• Country Inn & Suites

(800) 456-4000

• Courtyard by Marriott

(800) 321-2211

• Days Inn

(800) 329-7466

• Hampton Inn

(800) 426-7866

• Jameson Inn

(800) 526-3766

• Quality Inn

(800) 753-6310

• Ramada Inn & Suites

(800) 444-8888

• Wingate Inn

(800) 228-1000

---


AFA & Domotex: A Valuable Partnership



AFA's partnership with Domotex — a
brand of trade shows organized by Germany-based Deutsche Messe AG and held in Germany, the Middle
East and Asia to showcase such products as carpets and rugs, contract flooring, natural stone and
ceramic tiles, parquet and laminates, and textile and flexible floor coverings — began in 1998,
when AFA started its international trade show program. That program included the original Domotex
show in Hannover, Germany.
Since then, as part of the program, AFA has worked to recruit US companies to exhibit at
Domotex events, and also has participated in the trade show itself. "Domotex [Hannover] can open
doors to global markets and provide a look at the European market and trends without having to
travel around Europe," said Wanda Ellis, executive director, AFA. "Regional shows in different
sectors of the world are having an effect on this show in a small way, but it is still a most
economical way to develop a global market for small to mid-sized US manufacturers. "AFA is very
much aware of the need for smaller manufacturers to grow their businesses," Ellis explained. "We
work with local, state, federal and international organizations to provide seminars, on-site
assistance, compliance and more, to help them be export-ready. "With the dollar weak and the euro
so strong, every US manufacturer that is export-ready should look to exporting as a way to grow
their sales," she added. "For 2007, AFA received a grant from the Appalachian Regional Commission
that helped exhibitors with the cost of exhibition space at Domotex. We have applied for a grant to
apply to a two-year program that we have developed to better serve our members and the industry,"
Ellis said.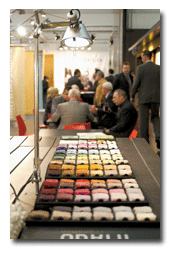 Domotex highlights a range of products for the floor covering industry, including
yarns.

Ellis has seen AFA members' interest
in participating in Domotex events increase steadily and has focused the alliance's efforts on
helping them to exhibit.
"We have expanded the square meters (m2) of space at Domotex [Hannover] by almost 28
percent," Ellis said. "The number of AFA participants has increased from two to 18 since the first
exhibition. Add to that the number that attend from this industry, and the opportunity to make
contacts abroad is amazing."
Eighteen companies exhibited under the AFA banner at Domotex Hannover 2007 this past
January. AFA's pavilion included a State of Georgia lounge and private conference room. The 2008
edition of Domotex Hannover will be held January 12-15.

---

For more information about FloorTek Expo 2007, contact (800) 288-4101, (706) 278-4101; fax
(706) 278-5323; afa@americanfloor.org; www.floor-tek.com. To register for the Ciba customer
workshop, contact (770) 421-7511. Attendees may also register the day of the workshop.

---

September/October 2007