At ITMA 2007,
A.B. Carter Inc.
, Gastonia, N.C., will exhibit spinning accessories including
travelers, rings, tapes and belts, bobbins, splicing systems, knotters, stroboscopes, yarn break
detectors and textile laboratory equipment.
Hall A6, Booth 202
.
Aesa Air Engineering, France, will showcase individual units and complete
solutions for air engineering, including Clean combing, Clean knit, Collector for cotton spinning
preparation, Vac'Air centralized vacuum cleaning system for spinning and weaving, and Weave direct.Hall A4, Booth 316.
Alliance Machines Textiles, France, will present the Riviera Eco+, which runs in
low liquor ratio conditions and features an air system that allows open-width dyeing of fabrics
containing Lycra®. Alliance also will show its Ventura full air-jet machine; and will introduce a
new Rotora beam-dyeing machine that offers cost savings of 50 percent compared with existing
machines, and a small model of its Zephyra air finishing machine that processes up to 50 kilograms
(kg).
Hall B1, Booth 210.
Amsler Tex AG, Switzerland, will exhibit its devices for the production of slub
and core yarns. The devices can be fitted on any type of spinning frame, according to the company.
Hall A3, Booth 554/457.
Andritz Küsters GmbH & Co. KG, Germany, will present a cross section of its
nonwovens products and services — including calender technology and developments in wetlaid
technology — under the motto "nonwoven excellence." The company will highlight the neXchem
impregnating padder for nonwovens, which will be available after ITMA for trials on a Reicofil
pilot line at the Saxon Textile Research Institute. Andritz Küsters also will introduce neXdetect
technology designed to detect stripes on nonwovens and suggest corrective steps to fix the
deviation.
Hall B3, Booth 203/302.
Argelich, Termes y Cia S.A. (ATYC), Spain, will introduce the Evodye machine
designed for processing cotton and man-made goods. The machine features simple operation, high
flexibility, short processing times, and low water and energy consumption — using less than 40
liters of water per kg of fabric for a complete reactive dyeing cycle. ATYC also will showcase the
latest version of its Rapidye horizontal dyeing machine and the Superflux 4V package-dyeing
machine.
Hall C1, Booth 247/342.
Atlas Copco Kompressoren und Drucklufttechnik GmbH, Germany, will showcase its
range of air compressors.
Hall B6, Booth 258.
Atlas Material Testing Technology GmbH, Germany, will exhibit its state-of-the-art
weathering technology at ITMA 2007. The Ci4000 Weather-Ometer® now features a digital control
system, and full-color TFT touch-screen display and additional memory capacity. Atlas also will
display the Xenotest® Alpha+ tester, which performs light- and weatherfastness tests in accordance
with basic textile testing standards, as well as manufacturer-specific tests. In addition, Atlas
will present its Suntest® XXL+ flatbed xenon exposure system. Its 3,000-square-centimeter sample
tray offers high-volume, component and 3-D part testing.
Hall A4, Booth 338.
Beck Circular Knitting Machines S.r.o., Slovakia, will present its line of
circular knitting machines including the BSM 2100 Open, which is suitable for knitting very
fine-count yarns; the Double-bed Beck Interlock machine; and the High Speed close Jersey model,
which offers a high rotation speed.
Hall A1, Booth 205.
Bekaert Carding Solutions NV, Belgium, will introduce new coatings and steels that
improve production output on cards, and a large handling system for continuous wiring of card
cylinders with a surface area of up to 15 square meters. The company also will present products
featuring new designs and finishes for improved quality of sliver and webs processed on cotton and
nonwoven cards.
Hall A4, Booth 235/336.
Loris Bellini S.p.A., Italy, will highlight innovations in dyeing equipment.
Hall B1, Booth 473/568.
Benninger AG, Switzerland, will introduce technologies in weaving preparation and
textile finishing. In weaving preparation, the company will demonstrate the Versomat sectional
warping machine, which features a specially designed robot that allows sectional warping of
sections as small as 4 millimeters (mm); and the Multitens yarn tensioner, which measures yarn
tension at the creel outlet through a closed loop system and ensures uniform tension throughout the
warp. In textile finishing, Benninger will display the Trikoflex LT-V retention compartment,
Trikoflex LT-DB washing compartment and Extracta LH washing compartment.
Hall B6, Booth 127/226; and Hall C4, Booth 161/262.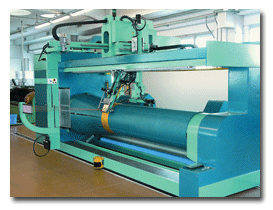 Benninger's Versomat sectional warper



can warp sections as small as 4-millimeters wide.


Berkol®, a business unit of Huber+Suhner AG, Switzerland, will demonstrate its BGS
series automatic cot buffing machine, developed for fully automatic top roller grinding on all
ring, compact, roving and air-jet spinning machines. The company also will introduce its
Berkolizing process. Available as a stand-alone machine or a module, the technology uses
ultraviolet light to alter the surface of rubber cots. The resulting finely buffed surface is less
aggressive to fibers and minimizes lap formation and fiber loss during spinning. The company also
will display its complete line of cots and aprons.
Hall A3, Booth 473/570.
Betex Textilmaschinen und Zubehör Vertrieb, Germany, will exhibit needles, sinkers
and other machine parts for tricot, raschel, flat and circular knitting machines.
Hall A2, Booth 410.
Biancalani S.p.A., Italy, will promote its Airo®24 machine, designed to process
every type of open-width or continuous fabric inline with other units, or as a stand-alone unit.
The machine offers a 400-kg-per-hour drying capacity, a 2,400-meters-per-minute (m/min) treatment
speed and a 40-m/min productivity speed. Typical applications include softening woven shirting and
bottom fabrics; lifting loops and adding softness and volume to terry fabrics; non-chemical
softening of technical and coated fabrics; relaxing and softening fabrics containing spandex; and
adding volume and softness to upholstery fabrics and pile fabrics.
Hall C4, Booth 231/332.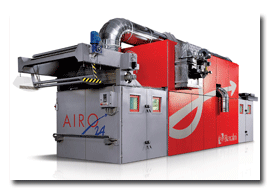 Biancalani's Airo® 24 can process

any type of open-width or continuous fabric.
Blue Fox Porini S.r.l.
, Italy, has been appointed Microsoft's worldwide partner in
the textile and apparel sector. At ITMA, Porini will introduce a textile-and-apparel-specific
technology platform based on Microsoft Dynamics AX ERP stand-alone technology fully integrated with
AX standard. Porini also will highlight a new database product based on Microsoft SQL and Microsoft
Connectivity Tools; and Porini Weaving Manager, an advanced shop-floor control solution targeted to
all sizes and types of weaving facilities.
Hall A2, Booth 217
Bobotex Hans Ladwig GmbH & Co. KG, Germany, will highlight its roller
coverings, coated fabrics, shrinkage felts, clearer cloths, conveyor belts and technical felts,
among other products.
Hall C4, Booth 407; and Hall B6, Booth 302.
NV Bonas, Belgium, a Van de Wiele Group company, will demonstrate 15 jacquards —
including the MJ, LJ, ZJ and S800 models — at various booths around the show. Most will be on
display at the Van de Wiele booth; the Picanol, Dornier, Locati, Vaupel, Startes, MEI and Panter
booths also will feature Bonas jacquards.
Hall B5, Booth 276.
Bouveur, France, will offer its range of spiral and ledger blades used on textile
shearing machinery.
Hall C4, Booth 541.
Brückner Trockentechnik GmbH & Co. KG, Germany, will highlight its Power-Frame
tenters featuring the split-flow air circulation system and Power-Shrink sanfor range for optimal
compacting. The company also will introduce its latest innovation, the Power-Compact universal
compactor, which is suitable for large production quantities of both woven and knitted fabrics.
Hall C3, Booth 313/514.
Calémard, France, will present its technical expertise in the design and
manufacture of inline and offline slitting and rewinding machines, with a focus on technically
demanding applications in nonwovens, textile and industrial markets. The company stresses its
expertise in crush, shear and razor slitting systems; and sealing/cutting technologies.
Hall B3, Booth 165.
Callebaut de Bliquy, France, will show its autoclaves for dyeing and finishing
laboratory trials of 5 kg and production runs of up to 3,000 kg, for applications such as bumps,
cabling, flocking, sticking, wire and others.
Hall C1, Booth 355.
Cezoma – Uniemach BV, the Netherlands, will showcase its line of automatic winders
developed for the textile industry. Cezoma's product line can handle basic textile yarns such as
cotton or polyester, technical yarns including high-strength polyesters and aramids, and monofil or
filament yarns. New products to be highlighted are the CE1187 four-spindle automatic tube winder,
CE1487 four-spindle pre-wound automatic bobbin winder, and the VLS87 four-spindle automatic
parallel winder. Other models on display will include the CE1287 cone winder, CE1387 kingspool
winder and the CE1587 biconical tube winder.
Hall A4, Booth 300.
Cimi S.p.A., Italy, will present new developments in finishing machines such as
washers, desizers, dryers and vacuum steamers.
Hall C3, Booth 321.
Clariant International Ltd., Switzerland, will present textile chemicals and
dyestuffs.
Hall B1, Booth 165/268.
Comez S.p.A., Italy, will highlight new and updated machines in its line of needle
looms for narrow fabric production. Machinery will include: a new electronic double-needle-bed
warp-knitting machine available in 80-centimeter (cm) and 120-cm working widths and suitable for
technical articles, fabrics, ribbons and bands; new mechanical, jacquard and electronic weaving
needle looms; a range of crochet machines, with emphasis on a 20-weft-bar model offering increased
pattern possibilities; and software pattern programs for all Comez machinery. Comez reports that
all new machines come equipped with its latest-generation Data Control 4 Controller, which allows
for pattern repeats of up to a maximum 64,000 lines per pattern, driving newly engineered
actuators.
Hall A2, Booth 437.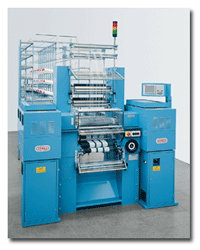 Comez's Comeztronic CT-20 electronic crochet machine
Cormatex S.r.l.
, Italy, will exhibit opening and cleaning lines, cards and web
laying machines, among other equipment.
Hall A3, Booth 500
.
Datacolor, Lawrenceville, N.J., will highlight the Ahiba IR™ dyeing unit, designed
to optimize recipes developed in the lab and bulk recipes used in production to reduce time to
market for finished goods. Ahiba IR features include: up to 20 dyeing positions operating at low
liquor ratios and suitable for all types of substrates; a multi-step controller featuring
icon-driven commands; easy-to-follow menus; infra-red heating and air-cooling technologies for
reduced energy consumption; a new see-through door for visual evaluations; a rugged mechanical and
electrical system; and easy service and maintenance.
Hall A4, Booth 259/360.
Decoup+, France, will present its expertise in the design and manufacture of
ultrasonic cutting/sealing/splicing solutions for textile and nonwoven fabrication and converting
processes. The company offers its solutions as modular units that can be mounted on existing lines,
as adapted benches or as handheld units.
Hall B3, Booth 165.
Dilo Maschinensystem GmbH, Germany, will exhibit nonwovens machinery and equipment
at the show.
Hall B3, Booth 214.
Dollfus et Muller, France, will introduce finishing technologies including a felt
with increased compacting rate for knitted fabric finishing, a reinforced conveyor belt for reduced
machine stops for printing dryers, a sanforizing palmer felt for improved hand for denim and
sportswear finishing, and a higher-pick satin to optimize results during decatizing in wool
finishing.
Hall C3, Booth 203.
Lindauer Dornier GmbH, Germany, will highlight innovations in rapier and air-jet
weaving technology, as well as various finishing machines.
Hall B4, Booth 249/352.
Dystar Textilfarben GmbH & Co. Deutschland KG, Germany, will show the latest
developments in dyes and chemicals.
Hall B1, Booth 267.
Ebelmann, France, will offer its high-performance solutions for textile machines
equipped with cutting tool systems, including scissors with carbide tungsten blades and
polycrystalline diamond inserts for use with technical fibers such as carbon, glass, Kevlar® and
others.
Hall B5, Booth 247.
Eksoy Textile Chemicals & Dyes, Turkey, will showcase its line of dyestuffs
and chemicals for the textile industry.
Hall B1, Booth 147.
Epic Enterprises Inc., Southern Pines, N.C., will present its replacement parts
and rebuilding services for yarn preparation machines, twisting machines, cabling machines, and
heat-setting equipment, in addition to EpiMark color markers.
Hall A5, Booth 122.
Erhardt + Leimer GmbH, Germany, will introduce the OTS30 edge-detection system for
laminate processes and carpet manufacturing. The company also will present the Smarter Vision
family of camera-based process control equipment, which includes ELstraight weft-straightening
systems, ELcount pick and course measurement and control devices, ELsis surface inspection systems
and ELsor width-measurement equipment; ELsmart SW95 spreading and guiding system; and ELfeed KRS56
tenter infeed guide.
Hall C3, Booth 309.
FA.NI S.a.s. di Faedo D. & C., Italy, will showcase the Sensorfil EXT-2 IWL
electromagnetic sensor, the LPS – Lighting Power Save module for Fani's yarn break monitoring
system, BP-07 and BP-08 roving stop motion devices, compacting turbines RPM monitoring system and
Eureka spinning software.
Hall A6, Booth 303.
Fil Control, France, will show its QC Device, based on patented CCD technology and
a 2-D reading, for monitoring quality in yarn doubling, texturing, covering, twisting and other
assembling processes; and will introduce the MDL-B, a new version of its length meter device (MDL)
for use with automatic winders that process wool, cotton and blends.
Hall A4, Booth 126.
Fleissner GmbH, Germany, will present a selection of nonwovens machinery and
equipment, including the latest innovations in its AquaJet-Spunlace System — such as the LeanJet
for reduced production capacities; Jumbo-AquaJet for lines more than 5 meters wide; and SteamJet,
developed in cooperation with Germany-based STFI; among other machinery and equipment. For man-made
fibers, Fleissner will show calenders, crimpers, spinning plants and fiber lines, and special
machinery. The company also will present a range of continuous processing lines and finishing
systems for loose-stock materials, finishing lines for woven and knit goods, continuous printing
and dyeing lines for tufted carpets, and impregnation lines for tufted and needle-felt carpets.
Hall A3, Booth 107/302.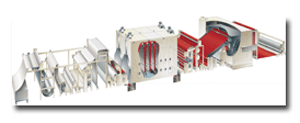 Fleissner offers continuous printing and

dyeing lines for tufted carpets.
Fong's Industries Co. Ltd.
, Hong Kong, will exhibit the following products at ITMA
2007: Jumboflow and Jumboflow-Super high-temperature dyeing machines; Eco-88D ropefast
high-temperature dyeing machine; Allwin high-temperature package-dyeing machine; Allfit medium
batch-dyeing machine; and MicroWin mini sample yarn-dyeing machine.
Hall C1, Booth 103/202
.
Fukahama Machinery Co. Ltd., Taiwan, will exhibit knitting machines including
Model SH-DSJ, a 37-step semi-jacquard double-knitting machine; Model SH-DEJ, a double electronic
jacquard circular-knitting machine; and Model SH-CRB1, an electronic body-size rib-knitting
machine.
Hall A1, Booth 324.
Galan Textile Machinery S.L., Spain, specializes in ring-twisting frames. At ITMA
2007, the company will introduce the Up-Twister 2X1 machine, which combines the two-for-one
twisting concept with ring doubling and twisting to produce three-ply cords in a one-step process.
The Up-Twister can process aramids; rayon; and staple fibers such as cotton, wool, acrylic and
polyester at speeds of up to 13,000 twists per minute.
Hall A5, Booth 313.
Galvanin S.r.l., Italy, will present a vertical dyeing machine for loose-fiber
yarns, packages, tops and tow. The machine features pressed and interchangeable baskets, a
high-speed rotation hydroextractor, low-energy-consumption hot-air dryers, laboratory-scale
machines and an automatic package-handling device.
Hall C1, Booth 446.
Genkinger-Hubtex GmbH, Germany, will highlight a new weaving mill product line
featuring manual and motorized transport trucks for fabric beams and batches; manual warp beam lift
trucks with capacities of 700 to 3,000 kg; and 2,000 kg, 3,000 kg and 5,000-kg series motorized
warp beam lift trucks. Innovations for knitting manufacturers include a warp beam high lift truck
with a capacity of up to 4,000 kg for loading sectional beams in knitting and raschel machines.
Hall B4, Booth 350.
Giorgio Giamminola & C. S.p.A., Italy, will showcase temples; rapiers and
rapier tapes; shuttles; and other accessories for weaving preparation, weaving and tufting
machines.
Hall B6, Booth 218.
Goller Textilmaschinen GmbH, Germany, a member of Fong's Industries Group, will
showcase the following products at ITMA: the Dip-Sat Vario Plus, a pretreatment technology used to
impregnate a fabric with desizing, scouring or bleaching chemicals; the Star Trans, which offers
underliquor treatment for post-dyeing or -printing soaping, for example; and Goller's Sintensa
washing compartment, which offers tensionless washing. All Goller machinery is operated by the
Multidata drive system, which uses PCs and PLCs to set all electronic elements and machine
parameters.
Hall C1, Booth 117.
Gnuess Kunstofftechnik GmbH, Germany, will display the RSFgenius gnuessconstant
filtration system. Gnuessconstant represents fully automatic, pressure- and process-constant
filitration, according to the company. Gneuss also will highlight an online, compact design
viscometer for monitoring and recording rheological parameters.
Hall A6, Booth 402.
Grob Horgen AG, Switzerland, a subsidiary of the Groz-Beckert Group, will present
its latest developments in weaving accessories including continuous movement dobby and cam shedding
motions from Groz-Beckert, high-performance aluminum heddle frames for high-speed weaving machines,
and leno heddles for riderless heddle frames used to manufacture leno binding fabrics for drapery.
Hall B3, Booth 202.
Groz-Beckert KG, Germany, will exhibit jointly at ITMA with Groz-Beckert Group
subsidiary Grob Horgen. The company will showcase new technologies in needles and precision
components, and also will present information on its Technology and Development Centre currently
under construction in Albstadt, Germany.
Hall B3, Booth 202.
GTP Accessories, Belgium, will demonstrate its newest developments in weaving
accessories including Steel Heddle® patented Jet-Eye heddles, Ultimate Polish heddles and harness
frames; Burcklé weaving reeds; and Te Strake D-type relay nozzles for air-jet insertion on any type
of weaving machine.
Hall B4, Booth 304.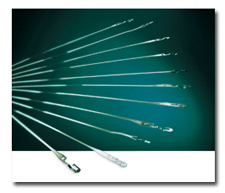 Steel Heddle® heddles from GTP Accessories
Hastem Transportbänder GmbH
, Germany, will demonstrate its modular AB-System and
C-System slat and needle slat transport aprons suitable for a variety of applications in fiber
processing and opening; production; and web packaging, strengthening and after-treatment.
Hall B3, Booth 20
1.
Heissschneide-Geräte und -Maschinen (HSGM) GmbH, Germany, will showcase its
heat-cutting machines and equipment, fixtures and machines for cross-directional and straight-line
cutting, automatic length-cutting machines for ropes and belts, form cutters and form-cutting
machines, and soldering and Styrofoam cutting equipment.
Hall B3, Booth 249.
Heusch GmbH & Co. KG, Germany, manufactures high-quality shearing blades and
cylinders for all types of shearing machines. The company offers concave or caulked-in all-steel or
compound-steel spiral shearing blades in thicknesses ranging from 1.5 to 4 mm. The blades can be
manufactured with a smooth front or with between 9 and 22 file cuts per cm, depending on the type
and density of the fibers to be sheared. Heusch also manufactures ledger blades from wear-resistant
alloyed knife steel. Shearing cylinders with hollow or solid bodies also are available.
Hall C4, Booth 215.
Hunter Associates Laboratory (HunterLab) Inc., Reston, Va., will showcase its line
of color-measuring instruments.
Hall A4, Booth 237.
Icomatex S.A., Spain, will present the IC10-IC8 series tenters featuring ICPROD
software control, as well as the Icorelax relax dryer, IC801AC coating unit and Icofix tubular
heat-setting machine.
Hall C4, Booth 420.
James H. Heal & Co. Ltd., England, will showcase the Truburst2 fully pneumatic
intelligent bursting strength tester, which complies with the ASTM D3786 test method and exceeds
the requirements of ISO 13938-2; the Accudry2 reverse-action standardized laboratory tumble dryer;
and the new-generation Apollo2 air-cooled, xenon arc light- and weatherfastness tester. In
addition, the company will demonstrate many of its other testing instruments including the
Flexiburn flammability tester, Titan2 universal strength tester, Snagpod snagging resistance
chamber, Nu-Martindale 864 abrasion tester, and Orbitor pilling and snagging tester, among other
testers.
Hall A4, Booths 140 & 145.
JOMAR Softcorp International Inc., Canada, will present its Enterprise Planning
and Scheduling Board designed for polymers, composites, performance fibers, yarns and fabrics, home
fashions, and sewn products. According to the company, the real-time job and machine scheduling
system improves capacity utilization, customer services and inventory turnover by linking
forward-back scheduling with individual machine or machine group and department calendars, supply
chain management, enterprise resource planning (ERP), customer and purchase orders, work orders,
inventory availability and assignments, work-in-process, multi-level bills of materials/processes,
printing documents and barcode labels, packing, shipping, invoicing and drill-downs.
Hall A2, Booth 503.
Kaeser Kompressoren GmbH, Germany, will present its line of fluid-cooled DSDX
rotary screw compressors at the show. The compressor is available in either a 132- or 160-kilowatt
(kW) version, and delivers air volumes of 24 to 30 cubic m/min at pressures up to 15 bar.
Hall B4, Booth 103.
Karl Mayer Textilmaschinenfabrik GmbH, Germany, will exhibit its warp preparation
equipment and warp-knitting machinery in separate booths at the show.
Hall B6, Booth 305/400; and Hall A2, Booth 315.
Kern-Liebers Knitting Parts GmbH, Germany, will present high-precision knitting
elements for knitting and warp knitting machinery, as well as pin plates for tenter frames. Brand
names offered by the company include Kern-Liebers, Saxonia, Leistner and Naplafa.
Hall A1, Booth 131.
Laroche S.A., France, will highlight the new Jumbo-Exel 4+2 textile waste
recycling line for respinning grade shoddy, Flexiloft airlay machine for nonwoven mats, and
Resinfelt compact airlay technology for semicured resinated felts, in addition to other recycling
and opening and blending technologies. Laroche also will display a variety of products made on
complete lines featuring machinery from its partner companies NSC nonwoven, France, and Strahm
Hi-Tex Systems AG, Switzerland.
Hall A3, Booth 119/320.
Lawer S.p.A., Italy, will demonstrate dispensing systems for powder and liquid
products, color kitchens and laboratory dispensing systems.
Hall B1, Booth 459.
Lemaire, France, will offer its expertise with transfer-printing calenders as it
applies to such processes as heat-setting and heat-bonding of materials including nonwovens and
technical textiles, and other applications.
Hall C2, Booth 401.
In the area of spinning solutions,
Loepfe Brothers Ltd., Switzerland, will highlight the Yarnmaster® Zenit quality
control solution and Millmaster® central quality management system. In weaving solutions, Loepfe
will demonstrate its Weftmaster® solution, which includes weft stop motions, short weft detector,
weft thread brakes, projectile brake, knot detector, weft feeler, fusible fabric cutters and yarn
stop motions.
Hall A4, Booth 167/274.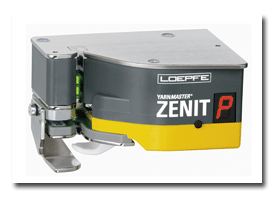 Loepfe's Yarnmaster® Zenit for spinning applications
Luwa Textile Air Engineering AG
, Switzerland, will highlight the latest TexFog
high-pressure humidification unit; latest-generation DigiControl 5 system for regulating,
controlling and monitoring all air-handling processes; Circulaire® ceiling cleaner; and
SpinTravClean® STC II traveling cleaner for spinning applications.
Hall A6, Booth 538
.
Macart Spinning Systems, England, will show the S300 self-twist spinning machine,
which combines spinning, twisting, yarn bulking and take-up winding operations into a single
process. The machine is capable of producing two-ply yarn ranging from Nm 2/16 to Nm 2/412. The
company will illustrate the machine's functions via a video featuring 45 machines processing
3-denier acrylic fiber into Nm 2/27 high-bulk yarn.
Hall A6, Booth 505.



Mallein, France, will present its range of warping and weaving beams, bobbins for
ribbon weaving, selvage bobbins, and cloth rollers for large and narrow weaving applications;
including specialized beams for specific applications.
Hall B4, Booth 404.
Marzoli S.p.A., Italy, will present its complete machinery line, from bale opening
to yarn spinning, for cotton staple spinning mills.
Hall A3, Booth 241/340.
Memminger-IRO GmbH, Germany, will introduce a number of new products in the areas
of yarn feeding, control systems and lubrication technology for the knitting sector, including the
recently introduced MRA 2 motor drive belt system and the MNC needle controller.
Hall A1, Booth 210.
Mesdan S.p.A., Italy, will showcase a variety of state-of-the-art yarn splicing
and lab testing equipment including the Mesdan-Lab line, Hot Jointair splicer, mini spinning lab,
splice scanner, modular automatic strength tester, and testing equipment for technical textiles and
protective clothing and for dyeing and finishing.
Hall A4, Booth 203/302.
A. Monforts Textilmaschinen GmbH & Co. KG, Germany, will introduce a Toptex
compressive shrinking unit, a "tumble" action DynAir relaxation dryer, an integrated coating device
for its multifunctional Montex tenters and an online service portal for new machines. According to
Monforts, the redesigned Toptex/Monfortex compressive shrinkage unit offers increased residual
shrinkage and production speeds, automatic grinding and reduced cooling water consumption.
Monforts' heat recovery system is now fitted on all DynAir units and offers up to 25-percent
savings in energy costs and payback. The integrated coating device is designed for foam and paste
application of acrylic and silicone products on woven and nonwoven fabrics. All Monforts machines
fitted with the Qualitex 540 and 750 PLC control system are connected to the new service portal.
Hall C3, Booth 331/534.
Morrison Textile Machinery Co., Fort Lawn, S.C., will highlight the following
products at ITMA: the S7 Rubber Belt Unit for compressive shrinkage ranges; YieldMAX™, designed to
calculate optimum fabric yield; SLE-HED washer; Spectrum™ Indigo Dye, featuring new updates; and
the interactive touch-screen FCS Control System designed to monitor recipe set-points to safeguard
the production process.
Hall C4, Booth 223/320.
Motocono S.A., Spain, will display a variety of yarn-winding and shrinkage
machines including the HBI shrinking machine for high-bulk acrylic yarns; LCF soft yarn dyeing
winder; LM hank-to-cone winding machine; LDA automatic doffing winder; and the G model
precision-thread-guide winder, which handles 25- to 3,000-decitex continuous filament yarns using a
yarn traverse of 5 to 11 inches.
Hall A5, Booth 100.
Jakob Müller AG Frick, Switzerland, will showcase a variety of machinery and
equipment for ribbon and narrow fabrics production including Mücard2 software for weft-patterned
warp and coarse knits; RibbonCAD software for needle looms; MDLM Tafeta harness-free loom for
jacquard-patterned labels with soft selvages; TVT knife system for cut labels; MDR42 with new picot
system and weft-thread transport; MDK80 electronically controlled raschel machine; Mücreel roll-off
creel for warping elastic and nonelastic yarns; NF…ED electronically controlled needle loom for
elastic and nonelastic tapes and medium-weight webbing; and the Spider K continuous-operation,
single-end dyeing and finishing machine for elastic and nonelastic tapes.
Hall B3, Booth 314.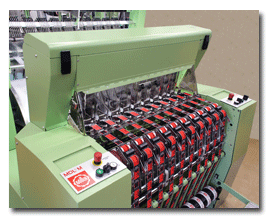 Müller's MDLM Tafeta harness-free loom
produces jacquard-patterned labels with soft edges.
Neuenhauser Maschinenbau GmbH
, Germany, will display its latest spinning and
weaving products in separate booths. In the spinning hall, the company, which will share a booth
with Sohler-Neuenhauser and Autefa Automation, will show factory automation products ranging from
can-transport systems to package-handling and palletizing, including a gantry palletizer. In the
weaving hall, Neuenhauser will co-exhibit with Sohler-Neuenhauser and Genkinger-Hubtex; and will
introduce its Opti Winder with servo drive and combined surface/center winding principle for
technical fabrics, and its Eco Winder for standard fabrics and any weaving machine.
Hall A5, Booth 351; and Hall B4, Booth 350
.
NSC fibre to yarn, France, will offer complete spinning lines — including combing,
Tow To Top, recombing, preparation/spinning, semiworsted unit, combing/spinning, and flax and flax
tow — based on cards, combing machines, converters, gills and finishers. Major innovations include
quick mechanical settings, touch-screen settings, memorized recipe recall, low operating and
maintenance costs, online machine control and remote diagnoses, and high quality and production
reliability. NSC's newest production range includes the Era 40 combing machine, featuring new
concepts and quality standards, significantly increased productivity, and reduced operating costs;
the GC 30 chain gill, which includes a new drafting head and offers delivery speeds of 600 m/min;
and the FMV 40 vertical rubbing frame.
Hall A3, Booth 119/320.
NSC nonwoven, France, will introduce the Batt Cruise drafter, which increases
drafting speed by more than 50 m/min; A.50 RS needleloom type SDV-2 HD for high-density velour
carpets; IsoProDyn® system for lower-weight, more even nonwovens; and the A.50 RL needleloom for
single-stroke, double-stroke and velour production. The company also will highlight the
VantageWinder as well as new features on its Excelle® card, including TSD® air flow, patented A
frame®, LDS® and WID® doffing and transfer systems, IPC rack, quick frame opening, and VarioWeb®.
NSC nonwoven will join with Rieter Perfojet and Laroche at ITMA to show their synergy and
capability to provide turnkey nonwovens lines to customers.
Hall A3, Booth 119/320.
Oerlikon Barmag, Germany, will showcase its complete product line for man-made
fiber production including polycondensation solutions, a new partially oriented yarn take-up
concept, a superstructure for the MPS-V flex for texturing and the FlexiDye® system for dye
packages. Oerlikon Barmag and Oerlikon Neumag also will present their plant design and engineering
services together for the first time at ITMA.
Hall A5, Booth 325.
Oerlikon Neumag, Germany, will unveil bulk continuous filament (BCF) carpet yarn
technology that builds on the S5 and S3 machine models, the latest spunbond developments, a new
concept for staple fiber production, Octir woolen and worsted technology and Autefa baling presses.
The company will exhibit nonwovens technology from its portfolio including Neumag spunbond
technology, J&M meltblown technology — formerly Nordson Fiber Systems — M&J airlaid
technology, FOR carding technology, Fehrer needlepunching and aerodynamic carding technology,
Autefa crosslapping technology, and Kortec festooning technology. During ITMA, Oerlikon Neumag will
operate a shuttle service between the show and the company's Carding Competence Center in Linz,
Austria, where visitors will have the opportunity to view carding processes on two production lines
featuring carding/needlepunching and airlay.
Hall A5, Booth 325.



Oerlikon Saurer, Switzerland, will present the latest-generation Volkmann
CarpetCabler 8.05 featuring a new monitoring unit with centralized electronic control, SmartCreel
ergonomic handling system, roller thread brake, central adjustment and cost-saving climate control
features; the WinPro long-staple machine comprising the high-speed WinSpin spinning machine and the
WinTwist twisting machine; and the Epoca 05 modular embroidery system that enables two-frame
embroidery while retaining the original Epoca's single-frame advantages.
Hall A5, Booth 325.
Oerlikon Schlafhorst, Germany, will present its Autoconer winding technology, a
new machine concept for open-end spinning that merges advantages of the high-end Autocoro mid-range
machines, and Zinser speed frame technology. Three different types of Modular Concept 351
short-staple spinning machines, five types of Modular Concept 451 worsted spinning machines and the
company's SUN – Service Unlimited customer support system also will be showcased.
Hall A5, Booth 325.
Oerlikon Textile Components, Switzerland, will feature the product lines of
Accotex, Daytex, Enka tecnica, Heberlein, Temco and Texparts. The booth will include a display of a
variety of new products from all product lines, including spinning rings from Texparts; an Accotex
J-460 60° Shore A soft spinning cot; a 7-meter-long spin pack from Enka tecnica; migration and air
interlacing jets, and the FrayCan broken filament detector from Heberlein; and a double-friction
unit, Prämitex migration/spin finish jet for BCF yarns, and separator roller for nonwovens from
Temco.
Hall A5, Booth 217/322 and 225.
Petit & Cie, France, will display its complete range of covering spindles as
well as its range of spare parts and accessories for covering, milling, texturing and two-for-one
machines. The company also will show for the first time new Rastech covering machines for single
and double covering of spandex and/or rubber core yarns using polyester, polypropylene or cotton
cover yarns for sock, stocking and circular hosiery applications.
Hall A4, Booth 122.
Picanol Group, Belgium, will have 15 weaving machines at ITMA demonstrating their
capabilities. OptiMax rapier machines will include an 8-R 190 weaving shirting, 6-R 220 weaving
worsted at the Stäubli booth, 8-R 340 weaving fancy voile, 8-P 250 with Optileno shedding system
weaving leno, 4-P 460 weaving coating, 12-J 190 weaving womenswear fabric, and a 4-R 360 weaving
denim. From the Omniplus 800 air-jet line, a 4-P 190 model will be shown weaving lining, 4-R 220
weaving automotive fabric, 2-P 340 weaving sheeting, 4-J 190 weaving lining at the Bonas booth, and
a 4-J 250 weaving mattress ticking at the Grosse booth. A Terryplus 800 8-J 260 air-jet machine
will be shown weaving terry fabric, and an Omnijet 4-P 190 machine will be shown weaving denim.
Hall B4, Booth 304.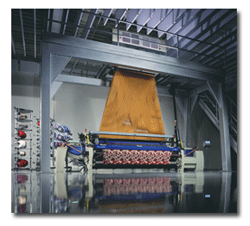 Picanol's new OptiMax rapier weaving machine
Promatech S.p.A.
, Italy, a member of the Itema Group, will display a Somet Alpha
PGA (Positive Gripper Approach) rapier weaving machine in its booth weaving a haute couture fabric.
Two jacquard versions of the same machine will also be on display — one at the Stäubli booth
weaving furnishing fabric at a speed of more than 1,400 m/min and equipped with a 9,600-hook
jacquard, and the other at the Startes booth with a never-before-seen construction. Promatech also
will show a Vamatex Silver HS 1,900-mm-wide rapier machine in its booth weaving high-quality
shirting at a speed of more than 750 picks per minute, a jacquard version in the Bonas booth, and a
FTS version without tape guide hooks in the LGL booth. A Vamatex Silver Dynaterry in the Promatech
booth will be shown weaving designer towels in a range of borders and textures, and a 3,400-mm-wide
Somet Mythos E-Tec air-jet machine will be weaving sheeting.
Hall B5, Booth 107/202
.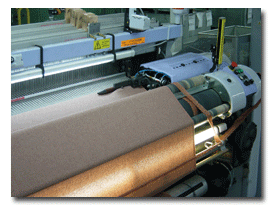 Itema Group company Promatech will
display the Vamatex Silver HS at ITMA 2007.
Protechna Herbst GmbH & Co. KG
, Germany, specializes in opto-electronic
thread-control systems. At ITMA, the company will exhibit Laserstop, Scanner 5390, PR 2000 and
Procam for warp knitting and raschel machines; Mono and Duo Warpstop, Camscan II and Tensoscan for
warping and sizing machines; Laserstop loom for weaving machines; NK 4021 for circular knitting
machines; and Tuftcam for tufting machines.
Hall A2, Booth 331
.
Research & Innovation Textile Machinery (RITM), France, will demonstrate its
machines for twisting and texturing fine-count apparel yarns; as well as machines for twisting,
assembling and cabling heavy-count industrial yarns. The company will introduce the UTC 60
universal yarn twister, which offers all of the features found on its predecessor UT 50, in
addition to direct cabling equipment for two-ply cord production, integrated full air circulation
for reduced heat dissipation and new yarn brakes. RITM also will highlight the Monitoring Unit
System for Textile Machinery (M.U.S.T.) production monitoring system.
Hall A3, Booth 149/250.
Retech AG, Switzerland — a manufacturer of thermal treatment and drawing equipment
for man-made yarns — will highlight the ESM (energy saving motor) godet, GITI godet with integrated
temperature control and inverter, and LCR (liquid cooled roll) godet.
Hall A5, Booth 241.
Richard Hough Ltd., England, will launch a brand-new line of polyamide calender
roll covers. Called Syncast™, the highly elastic polymer covers are centrifugally cast on
state-of-the-art equipment. Roll covers with a face length of up to 280 inches and a diameter of up
to 50 inches can be produced. According to the company, Syncast is highly damage-resistant and
provides excellent calendering performance on natural and man-made woven, knitted and nonwoven
fabrics.
Hall C4, Booth 138.
Rieter Machine Works Ltd., Switzerland, will show the latest-generation C 60 card
with new SB drafting module, a high-performance comber, SB 20 double-head draw frame, Omegalap
combing preparation, K 45 compact spinning machine with Variospin, Servotrail roving bobbin
transport system, enhanced R 40 rotor spinning machine with Aeropiecing®, BT 924 rotor spinning
machine and Spiderweb mill monitoring system. The company also will display yarns, fabrics and
end-products made with COM4® compact yarn, Comforo® rotor yarn and Rotona® Rotor core yarn.
Hall A6, Booth 417/514.
Rieter Perfojet, France, sharing a booth with NSC nonwoven, will feature the new
Jetlace® Essentiel spunlace system for lightweight products and the Spunjet® online
spunbond/spunlace technology combination; in addition to presenting established technologies
including the Perfobond™ 3000 spunbond system, Emblo® meltblown system and Jetlace™ spunlace
system.
Hall A3, Booth 119/320.
Roj – Nuova Roj Electrotex S.r.l., Italy, will highlight yarn-break detectors,
creels, weft accumulators and stop motions, among other products.
Hall B5, Booth 276.
Roll Concept, France, will offer its expertise with lightweight roller
applications using Alveotubes® as accumulator, calender, contact, dancer, guide, idler, lay-on,
nip, transducer, or reel spools or roll cores. The company offers custom-designed web-handling
solutions according to its customers' needs.
Hall B3, Booth 165.
Rosink GmbH + Co. Maschinenfabrik, Germany, will exhibit its line of spinning
preparation products including can coilers and can exchangers.
Hall A3, Booth 352.
Rousselet Robatel, France, will present its standard and custom-designed batch and
continuous centrifugal hydro-extractors, including individual-head centrifugal hydro-extractors for
dyeing and finishing, cotton bleaching, wool washing, carbonizing, stone washing and other
processes.
Hall C1, Booth 320.
S-Line AG, Switzerland, will showcase the modular HTM-W hot-melt coating and
laminating machine, designed for economical in-house production and commission coating; the
HTM-W(-S) version for sensitive materials, which are carried on a conveyor belt into the machine
and pass the web-centering and -guiding systems prior to coating; and the patented Flexo-Roll
System, which allows for quick add-on changes.
Hall B3, Booth 327/422.
Salvadé S.r.l., Italy, will highlight its latest developments in dyeing, printing
and finishing machinery.
Hall C3, Booth 210.
Santex Group International AG, Switzerland, will introduce the latest innovations
developed for three of its product lines. Santex will highlight the Santashrink Super Jumbo, which
now offers greater drying power, an enhanced energy-savings package and the SantAccess bar code
management system. Cavitec will showcase the Cavimelt Plus coating head, which features an add-on
device for full hotmelt covering on extremely fine-weight fabrics. Santex and Sperotto Rimar will
display a newly engineered version of the Santasoft open-width continuous tumble dryer, as well as
a new open-width compacting machine for knits and woven fabrics, nicknamed the "Cheetah" because of
its high-speed capability.
Hall C1, Booth 217/318.
SATE S.r.l., Italy, will exhibit industrial computers, ERP software, management
and supervision software, and high-precision dosing machines for chemical products.
Hall A2, Booth 112; and Hall C4, Booth 113.
Savio Macchine Tessili S.p.A., Italy, will show its latest-generation machines
including the Polar automatic winder and the FlexiRotorS 3000®/Duo Spinner open-end spinning frame.
Hall A4, Booth 121/222.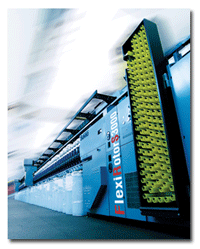 Savio's FlexiRotorS 3000/Duo Spinner
open-end spinning system
Sclavos S.A.
, Greece, will introduce the Athena H fabric-dyeing machine. Suitable
for processing knitted as well as a variety of woven fabrics, the machine features the Twin Soft
Flow dyeing system, Aquachron 2G continuous washing system, Automatic Adjustments software and
Variable Loading control.
Hall C1, Booth 203/304
.
SDL Atlas Ltd., England, will demonstrate more than 20 of its testing instruments
during the show. Two new products to be highlighted are the M290 MMT moisture-mangement tester,
which is a table-top unit designed to measure absorption rate of inner and outer surfaces, one-way
transportation from a fabric's inner to outer surface and moisture spreading rate; and the M259B3
Sweating Guarded Hotplate, which simulates the heat and vapor transfer processes that occur next to
human skin.
Hall A4, Booth 241/342.
Smit S.p.A., Italy, will present its JS900 air-jet weaving machine and the
latest-generation 920 series rapier weaving machines. The 920 series machines feature new main
motor drives, new mechatronic controls, a new expandable electronic platform, full touch-screen
control monitors, ergonomic design and sturdy structure for reduced dynamic loads on the base. The
company also will highlight the Smart — Smit Mechatronic Architecture Reference Technology —
platform modularity concept, which involves the whole machine — mechanical, electronic HW & SW
and communication systems.
Hall B6, Booth 105/202.
SML Maschinengesellschaft mbH, Austria, will inform customers about improvements
to its product lines including the SML BCF mono- and tricolor spinning lines. At the show, SML will
demonstrate the HT 2 x 2 C/60 line running 200- to 3,000-denier fully drawn yarns.
Hall A6, Booth 415.
Spindelfabrik Suessen GmbH, Germany, will demonstrate the new EliTwist®CompactSet
V5 spindle on a ring-spinning machine spinning a Ne 100/2 100-percent cotton EliTwist yarn at
22,000 revolutions per minute (rpm). The company also will highlight its other compact spinning
technologies such as the EliTe® spindle and open-end SpinBoxes.
Hall A6, Booth 315/414.
SSM Schärer Schweiter Mettler AG, Switzerland, will display the latest in winding
and sewing thread machinery, as well as air-jet and false-twist texturing machinery.
Hall A4, Booths 401 and 311/400.
Stäubli International AG, Switzerland, will display its full product range at ITMA
2007. New developments include the Unival 200, a complete jacquard weaving machine featuring Unival
technology — using servo motors instead of mechanical drives — for narrow fabrics and ribbons up to
47 mm wide. The company also will demonstrate the Unival 500, which features individual single
drives for each harness frame; the new Alpha 400, manufactured by Stäubli Group member company
Schönherr, for flexible carpet production; and a new warp-tying machine for coarse- and
medium-count yarns. In addition, Stäubli's Weaving Preparation Systems Division will introduce a
new automatic drawing-in machine.
Hall B5, Booth 230.
Stalam S.p.A., Italy, will introduce two radio frequency (RF) dryers: the RF 150
kW and RFA/HP. The RF 150 kW, suitable for medium- and large-capacity yarn-package dyehouses,
offers 150 kW of output power and is operated by Stalam's Twin04+ dedicated microcontroller. The
RFA/HP yarn-package dryer combines RF technology with other top-secret features to be revealed at
the show. Stalam also will present the latest-generation models of its other RF dryers.
Hall B1, Booth 551/554.
Stemmann Equipamentos Ltda., Brazil, will showcase its automatic transport and
handling systems for the textile industry.
Hall A6, Booth 209/308.
H. Stoll GmbH & Co. KG, Germany, will highlight the Compact, Multi Gauge and
Knit&Wear flat-knitting machines; machines in the Stoll-multi gauges® line; and a range of CMS
machines suitable for intarsia knitting and garment knitting, including the CMS 730 S knit&wear
machine. The company also will present developments in Stoll Software Solutions and a new pattern
collection developed especially for ITMA.
Hall A2, Booth 117/316.
Streat Instruments Ltd., New Zealand, will showcase the latest developments in its
line of precision moisture-measurement and -control systems. New-generation online and offline
systems featuring advanced functionality and ease of use will be on display. Streat reports the
online system's modular construction makes the technology suitable for turnkey systems or
compatible with original equipment manufacturers' (OEM) control systems.
Hall A3, Booth 523.
Sultex Ltd., Switzerland, a member of the Itema Group, will demonstrate new
products and modified machinery for projectile, rapier and air-jet weaving. During ITMA, the Sulzer
Textil G6500 RSP rapier weaving machine will be shown producing a densely woven 260-cm-wide
technical fabric. The P7300HP projectile weaving machine, which offers working widths of up to 6.5
meters, will be weaving a denim fabric at a weft insertion rate of more than 1,570 m/min. The
Sulzer Textil L5500 air-jet weaving machine — weaving a filament fabric at a speed of 950 rpm at
the show — features a new, self-teaching air-nozzle control system, which the company reports
reduces air consumption by up to 15 percent.
Hall B5, Booth 121/220.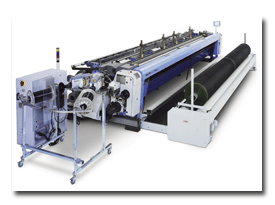 Sultex's P7300HP projectile weaving machine will
be demonstrated producing a denim fabric at the show.
Superba S.a.s.
, France, will highlight the TVP3 heat-setting line for carpet
yarns, new MAT3 yarn accumulator, ASD automatic splicing device and the new DUOVAP compact steaming
and shrinking line for machine-knitting yarns.
Hall A3, Booth 367/466
.
Tandematic Inc., Spartanburg, will exhibit fabric and web-handling equipment for
tenters, washing and dyeing ranges, and rotary screen-printing and laminating machines.
Hall C3, Booth 524.
Tecnorama S.r.l., Italy, will launch the Spectrorama® online matching and control
system for dyeing cycles. The system uses a spectrophotometer with combined absorbance and
reflectance technology to test fabric and dye-bath samples to provide information on the progress
of the dye cycle.
Hall B1, Booths 413/508 and 509.
The

Textile Industries Media Group
will have copies of the latest issues of

Textile World
,
Textiles Panamericanos and

Textile World Asia
available.
Hall A4, Booth 207.
THEN Maschinen GmbH, Germany, a member of Fong's Industries Group, will present
the SRH-1 latest-generation Airflow® machine; TDS dyehouse system, which integrates Then machines,
equipment from other manufacturers and PC-control systems in one common dyehouse system; CHD
automatic chemical dispensing system; Then Automatic Dissolving Station (ADS); and the Then HST
top-class beam-dyeing machine.
Hall C1, Booth 216.
Thies GmbH & Co. KG, Germany, will exhibit its yarn- and fabric-dyeing
machinery alongside the motto, "Water is for living, not for dyeing." Machinery to be highlighted
in the fabric-dyeing category includes the Luft-roto plus SII short-liquor-ratio rapid-dyeing
machine; HT/AT-Jigger, suitable for dye lots of up to 1,000 meters; and the mini-soft E
small-capacity jet-dyeing machine. Other equipment on display will include the Eco-bloc quattro
yarn-dyeing machine and the MPS Colourmatic dyestuff dissolving system.
Hall C1, Booth 157/256.
Toyota Industries Corp., Japan, will exhibit ring-spinning machines for cotton
spinning systems, as well as air-jet weaving machines.
Hall B6, Booth 327.
Trützschler GmbH & Co. KG, Germany, will exhibit a new nonregulated,
space-saving draw frame, as well as a new machine for detecting and extracting foreign parts from
cotton fiber. The company also will highlight its TC 03 card for two main uses — in combing mills
and for high-production applications — and will demonstrate a new easy-to-use data management
system for cards and draw frames. Innovations from Trützschler Card Clothing, a Trützschler Group
company, also will be presented at the booth.
Hall A4, Booth 321/412.
Twistechnology S.L., Spain, will showcase its new developments in twisters
including Twistar for producing artificial grass yarns and Twistglass designed for twisting glass
and basalt fiber yarns.
Hall A6, Booth 331/430.
Uster Technologies AG, Switzerland, will showcase the new Uster® Fancy Yarn
Profile for the Uster Tester 5. The Fancy Yarn Profile utilizes an innovative, easy-to-use
measuring method to collect information related to slub yarn quality. The company also will show
the new Uster Tester 5-S800, a high-precision instrument that measures quality parameters such as
evenness and yarn imperfections at a speed of 800 m/min; and the FM sensor, used with the 5-S800 to
detect and classify foreign fibers in the same testing operation.
Hall A4, Booth 343/442.
U.T.I.T. Wagner Automazioni S.p.A., Italy, will exhibit automatic transport
solutions for staple fiber spinning mills.
Hall A6, Booth 428.
Michel Van de Wiele NV, Belgium, will unveil the Carpet & Rug Pioneer CRP92,
which is designed for productivity and flexibility in face-to-face weaving. Other machinery and
carpet and velvet samples on display at the booth will showcase Van de Wiele's latest-generation
carpet and velvet weaving machines including the Hand Look HLX83, Shaggy Rug SRX82, Shaggy Loop
USX83, Universal Cut Loop UCL83, Sisal Look SLX83, and Axminster machine MAX63. Van de Wiele also
will demonstrate its We@velink network for planning, monitoring and intranet interfacing. At the
same booth, Van de Wiele group company Titan-Deconinck will present carpet edging and fringing
machines, as well as the DK4600 automatic rug overedging robot.
Hall B5, Booth 276.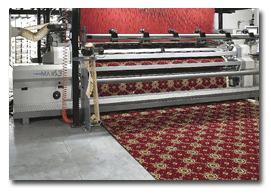 Van de Wiele's Axminster MAX63 machine weaves
wall-to-wall rugs and area rugs in up to 16 colors.
Welker Spintech GmbH
, Germany, will showcase the Condibox conditioner, Rovemaster
roving bobbin cleaner and the Sortimat contamination sorting machine. Partner companies Sieger
Spintech and AKE Systemtechnik will exhibit a roving bobbin transportation system linking the
roving frame and spinning frame.
Hall A6, Booth 203/302
.
WESTechnologies Inc., Hampton, Ga., will exhibit the YieldMAX instrument designed
to measure fabric shrinkage on compressive shrinkage ranges using invisible marking technology. The
instrument then transmits data to the YieldWARE central monitoring system, which stores data by
batch, operator, article or shift. The technology is available in an OEM version compatible with
Morrison Textile Machinery compressive shrinkage ranges, or as a retrofit for any compressive
shrinkage range. At ITMA, an OEM version of YieldMAX will be demonstrated on a Morrison machine.
Hall C4, Booth 223/320.
Xorella AG, Switzerland, a member of Fong's Industries Group, specializes in
vacuum steaming systems for textiles. At the show, Xorella will highlight an all-new,
lower-energy-consumption conditioning system for yarn and other textiles.
Hall A5, Booth 105.
Yxendis, France, will showcase its entire range of textile CAD/CAM software and
business tools. New products include dobby and jacquard simulation software, 3-D knitting
simulation software, product data management software, CAD-Server software and Sales Software for
Mobile. Yxendis also recently partnered with ERP software company Schaeffer Productique S.A. to
launch a fully integrated textile solution from conception to logistical chain. In addition,
Yxendis and Steiger have partnered to launch an integrated solution from design to flat-knitting
production.
Hall A2, Booth 103.
---

July/August 2007