O
rganizers of Techtextil hope to top visitor and exhibitor records set at the 2005
edition, held at the Messe Frankfurt Congress Center – once again the site of Techtextil
2007.
For many, Techtextil, the International Trade Fair for Technical Textiles and Nonwovens,
conjures up anticipatory thoughts of seeing the latest in technical textiles and nonwovens, hearing
about cutting-edge research and testing, feeling out the state of the current market, and getting a
taste of what the future holds for the industry during the events accompanying symposium.
Many now also equate Techtextil's Frankfurt edition with Avantex the International Forum for
Innovative Apparel Textiles, held for the first time alongside Techtextil at its last edition in
2005.
"The idea of holding the two events in parallel originated primarily from the industry," said
Michael Jcke, brand manager, Techtextil + Avantex, Messe Frankfurt Exhibition GmbH. "The benefits
lie in the synergistic effects between the two events, which mean that exhibitors generate
additional visitors and can restrict their expenditures in terms of time and money to taking part
in a single event [for example,] if a yarn manufacturer [that is] a classic Techtextil exhibitor
develops products for making garment textiles, the company not only has no need to exhibit at a
second fair but also profits from the presence of Avantex exhibitors."
"Avantex focuses on high-tech apparel textiles and presents developments ranging from the
concept to the prototype stages. With a range of products and services from the fields of technical
textiles and nonwovens, Techtextil covers a broader spectrum," Jänecke added.
Both shows will once again be held this year at the Messe Frankfurt Congress Center in Frankfurt
from 9:00 a.m. until 6:00 p.m., Tuesday, June 12, and Wednesday, June 13; and from 9:00 a.m. until
5:00 p.m., Thursday, June 14. One-day tickets for Techtextil are 19 euros (US$25) in advance, and
will be 26 euros (US$35) at the box office. Students may pay a reduced rate of 15 euros (US$20) at
the box office. Three-day tickets are 34 euros (US$46) in advance, and will be 46 euros (US$62) at
the box office. Tickets cover admission to both events. The Techtextil 2007 catalog will be on sale
at the fair for 17 euros ($23). Separate fees apply for the accompanying symposium programs.
Organizer Messe Frankfurt GmbH hopes to top visitor and exhibitor records set in
2005, making Techtextil the fastest-growing fair held at the center, and the largest trade fair for
technical textiles and nonwovens. More than 1,000 companies from 38 countries are scheduled to
exhibit at the combined events as of Textile Worlds press time. Messe Frankfurt hopes these
exhibitors will attract more than the 21,700 visitors that attended Techtextil and Avantex in
2005.
Techtextil exhibitors will occupy halls 3.0, 3.1 and 4.1, while Avantex
exhibitors will be integrated into hall 3.1.
Messe Frankfurt organizes Techtextil by product group and application area,
enabling exhibitors to target potential customers, and visitors to easily find areas of interest to
them.
The 2007 edition of Techtextil features the following product groups: research, development,
planning, development and consultation; technology, machinery and accessories; fibers and yarns;
wovens, scrims, braids and knitted fabrics; nonwovens; composites; coated textiles; bondtec, which
covers finishing processes, application processing, material pretreatment and surface treatment
technologies, among others; associations; and publishers.
Application areas include: Agrotech: horticulture, landscape gardening, agriculture, forestry
and livestock farming; Buildtech: membrane construction, lightweight and solid structures, civil
engineering, industrial building, temporary construction, interior design, earthworks, waterway and
road construction and agricultural construction; Clothtech: clothing and shoes; Geotech: civil and
road engineering, road- and dam-building and waste-site construction; Hometech: furniture,
upholstered furniture, interior furnishings, carpets and floor covering; Indutech: cleaning,
mechanical engineering, chemical/electrical industry; Medtech: hygiene and medicine; Mobiltech:
cars, ships, planes, railways and space travel; Oekotech: environmental protection, recycling and
waste disposal; Packtech: packaging, protective packaging systems, bags and storage systems;
Protech: personal and property protection; and Sporttech: sport and leisure, activewear, outdoor,
sporting goods and equipment, and athletic shoes.
National pavilions will offer visitors another way to view exhibitors and their products.
Fourteen countries will participate, including the United States, Belgium, Canada, China, Croatia,
the Czech Republic, France, Italy, Portugal, Sweden, Spain, South Africa, Taiwan and Great
Britain.
During the fair, the Techtextil Innovation Prize will be awarded for exemplary
achievements in research; new products, means of production, applications, manufacturing and
finishing techniques; and new Buildtech, Medtech and Mobiltech applications.
The Avantex Innovation Prize will be awarded for achievements in workwear; sports; medical
applications through apparel; fashion; and material, technology, processing and handling
developments.
Brussels-based TensiNet the European communication network for tensile structures – has joined
with Techtextil in organizing the ninth student competition focused on textile structures for new
building. Prize money worth 8,000 euros (nearly US$11,000) will be awarded to winners in the
categories of macro-architecture, micro-architecture, environment and ecology, and composites and
hybrid structures.
Awards will be presented the evening of Monday, June 11. Award-winning work from all
competitions will be displayed at a special show held during the trade fairs.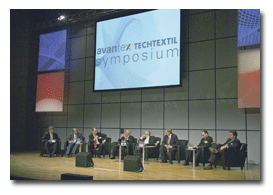 The Techtextil and Avantex symposia will commence with a joint lecture entitled "Future
Perspectives of the European Textile Industry."
The 14th International Techtextil Symposium and the 4th International Avantex
Symposium will kick off Monday afternoon with a joint lecture sponsored by the Brussels-based
European Apparel and Textile Organization (EURATEX) and the EURATEX Working Group Technical
Textiles. Entitled Future Perspectives of the European Textile Industry, the lecture will cover
industry trends, strategies and visions for the future.
Ensuing Techtextil-Symposium lecture blocks, which will take place during the next three
mornings, will cover such topics as Medtech; Mobiltech; composites; Buildtech, including building
with membranes and textile reinforcement; and materials and technology.
Companies and institutions worldwide will be represented at the lectures. For example,
representatives from the Netherlands-based Technical University Delft architectural faculty will
discuss deflated textile constructions. Lecturers from the Institute of Security Technology
(Moratex), Poland, will cover energy-absorbing materials for anti-impact products and applications.
A representative from VDI/VDE Innovation + Technik GmbH, Germany, will discuss intelligent textiles
in concrete structures; while representatives from Karl Mayer Malimo Textilmaschinenfabrik GmbH,
Germany, will cover markets and trends for multiaxially reinforced glass and carbon composites.
High-performance polyphenylene sulfides for innovative developments in technical textiles will
be the subject of Germany-based Ticona GmbHs lecture. Coatema Coating Machinery GmbH, Germany, will
present a lecture on nano-coating for medical and hygienic applications.
Lectures will be interpreted into German and English. Attendees may make appointments with
lecturers at the end of each presentation.
Admission tickets to the Techtextil symposium will also include admission to the concurrent
Avantex symposium.
Techtextil has developed a strong brand recognition blossoming into a global
source for nonwovens and technical textiles. Techtextil shows are now held in North America,
Russia, India and China. Messe Frankfurt keeps the show fresh and exciting by keeping the lines of
communication open with exhibitors.
"Thus, we can take up currents and developments in the market directly and at an early stage,
which means the fair remains attractive for exhibitors and visitors," Jänecke said. "Additionally,
we profit from the general market trend: The demand for technical textiles has been growing
continuously for years, making technical textiles the fastest-growing part of the textile industry.
And this growing interest increases our exhibitor potential, too."
---

For more information about Techtextil and Avantex, contact Messe Frankfurt Exhibition GmbH 49
69 75 75-0; fax 49 69 75 75-64 33; www.techtextil.com;
www.avantex.messefrankfurt.com.
---
Held under the banner of "Face Your Visions Discover The Future Of Clothing,"
Avantex 2007, the International Forum for Innovative Apparel Textiles, will showcase the latest
developments in smart textiles those that make use of applied or integrated electronics and
intelligent textiles those that produce predicted effects through interaction with the wearer and
the environment.
"Its the only exhibition globally showcasing commercial offerings in smart textiles and wearable
electronics from a material and component perspective," said Steve Leftly, CEO, Fibretronic Ltd.,
England an Avantex exhibitor that develops and manufactures soft electronic component solutions.
"This is the most relevant exhibition for showcasing our technologies," he said.
Leftly added that Fibretronic hopes to introduce technical managers and buyers to the companys
products and technologies, as well as to network with similar companies, colleagues and the
press.
Exhibitors at Avantex numbering 29 from eight countries as of

TW'
s press time will be divided into the following product groups:
research/development/consulting; textile technology; fibers and yarns; textile surfaces and
membranes; textile finishing; high technology in clothing; innovative clothing; textile care; trade
associations; and publishers.
The shows application areas fashion, sports, healthcare and workwear will aid visitors in more
easily targeting those products and companies that are of the greatest interest.
"At our booth, we shall present not only our current research projects but also our wide range
of services for the entire textile process," explained Rose-Marie Riedl, head of corporate
communication and research marketing at the Hohenstein Institutes, Germany.
"We cover classic areas such as clothing physiology and clothing technology as well as new
topics. We offer unique services, some of which are available worldwide, in the area of textile
odor analysis, nanotechnology assessment, as well as potency and safety tests conducted on medical
textiles," Riedl added.
"However, these services do require a great deal of explanation. A trade fair such as the
Avantex/Techtextil is the ideal platform for us to communicate our services . "
Both Avantex and Techtextil will be held at the Messe Frankfurt Congress Center. Avantex
exhibitors will be incorporated into hall 3.1.
"The Avantex/Techtextil is also of great interest to those outside the textile industry. The
trade fair organizers do very important work, especially in the areas of press communications, and
they offer tremendous support to manufacturers and the trade in the marketing of intelligent
textiles [to] the end consumer, and they prepare the ground for innovative developments," she
continued.
The fourth edition of the forums accompanying symposium, sponsored by the Technical Textiles
Working group of the European Apparel and Textile Organization (EURATEX), Brussels, will be held at
the congress center concurrently with the Techtextil-Symposium beginning the afternoon of Monday,
June 11, and continuing each morning of the event.
Entitled "Discover the Future of Clothing," symposium topics will include healthcare,
electronics and textiles, fashion, sports and workwear, materials and technology.
In addition to the symposiums opening lecture, held jointly with the Techtextil-Symposium, the
Avantex-Symposium will feature speakers from a number of companies worldwide including EMS-Chemie
AG, Switzerland; DSM Engineering Plastics, the Netherlands; Schoeller Textil AG, Switzerland; Karl
Menzel Maschinenfabrik, Germany; Outlast Technologies Inc., Boulder, Colo.; Interactive Wear AG,
Germany; and Textronics Inc., Wilmington, Del.; among others; as well as from numerous
international academic institutions including the Hohenstein Institutes, which has regularly
participated in past Avantex symposiums.
"It gives us a good opportunity to present our research results to a broad public, Riedl
said."
---

May/June 2007