I

t's the same song, 92nd verse, it seems. A small US apparel maker is being pummeled by
imports. Major customer sales that once yielded a margin of $12 to $15 per unit now have shrunk to
$2 to $3 per unit.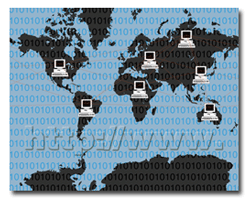 While many domestic textiles, apparel and machinery makers conceded and closed up shop, Rice Mills
Inc. was not willing to throw in the towel. A Belton, S.C., family-owned business with $5 million
to $10 million in annual sales, Rice was doing 85 percent of its business with major retailers that
continually put the squeeze on earnings.


On a referral, company owners hired a marketing and website development company to design and
launch a new online business unit to give the apparel maker the ability to sell its high-quality
fleece jackets, pajamas and bathrobes directly to the consumer. The company spent $70,000 on a
custom-designed site, photography, and the HTML code to make it run, and another $50,000 on print,
broadcast and Internet advertising to drive traffic to the site. The Internet advertising effort
included search engine marketing (SEM). SEM is online advertising whereby a search engine is paid
an agreed-upon amount for each click delivered to a website from a listing keyed to a specific
search term.
"We were paying 50 cents per click to the search engines and it was taking about 100
visitors to get an order," said Jim Billig, a longtime business consultant for Rice Mills. "It was
costing us $50 in advertising per order. With an average order totaling $52, search engine
marketing simply wasn't sustainable, so we discontinued it and re-evaluated the feasibility and
options of an e-commerce business unit."
It was about that time that Billig made contact with Jose Ferrer, owner and president of
Greenville-based Practical Business Systems (PBS). Ferrer's successful transformation of
Williamston, S.C.-based Allstates Textile Machinery's website into a viable marketing tool that
doubled Allstates' sales in the first year was local business lore.
A worldwide supplier of all types of pre-owned textile machinery and equipment, Allstates
had a presence on the World Wide Web that was averaging 400 unique visitors per month in August
2002. After a PBS revamp of the site that optimized its ability to talk to search engines,
Allstates' site now is averaging 27,000 unique visitors each month. Product views went from around
1,100 per month to 71,000, and purchase inquiries went from zero to about 45 per day.
Doing business via the Internet has generated many claims about how a website can
revolutionize a business, but it takes more than a flashy website to make money online, Ferrer
said. "A lot of money and a lot of hype have been thrown at e-commerce, but like any other
marketing technique or business venture, you need to make sure you can balance the risks against
the benefits before you jump in. If you've built a great website but you're not getting any hits,
it's likely because your site is not optimized and is not being indexed by the search engines."
According to Allstates Owner Jeff Willis, search engine optimization (SEO) transformed his
small business into one that competes effectively with larger companies on both a domestic and an
international scale. "We've become more productive in an increasingly competitive market, and we've
tripled our sales and added only one salesperson," he said.


Making It Work: SEO Versus SEM


A true e-commerce site allows any
size business to expand its market size, selling to a larger geographical area 24 hours a day,
seven days a week, 365 days a year.
The most successful e-commerce sites are those that are fully integrated with a back-end
database that allows for automatic uploads and updates, tracking of inventory, and the ability to
immediately access data on website traffic, according to Ferrer.
A quick Google search using the generic phrases "used textile machinery" and "used textile
equipment" shows Allstates in the first spot — a coveted position that was achieved without having
to invest in banner ads or SEM.
The benefits of SEO, according to Ferrer, are long-lasting when done correctly and allow
even the smallest companies the same functionality as large corporations and mass merchandisers.
With SEO, online advertising is free and far more keywords and phrases can be targeted, which leads
to more visitors and increasing sales as natural byproducts.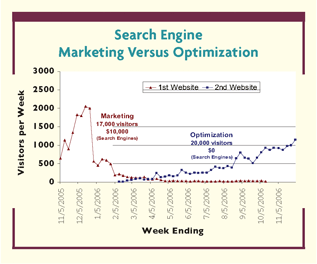 A big SEO advantage is immediate
access to reports that show who is visiting your site, how they got there and how long they stayed.
"The important part is to track results, particularly if you are paying for visitors," Ferrer said.
"At PBS, we include architecture so that we can more effectively determine what's working. This is
valuable marketing data that traditional advertising methods like broadcast and print don't offer."
Billig agreed, saying that a huge downside to Rice Mills' initial e-commerce site was the
time and money it took to access data and run reports on website traffic patterns. And it cost an
additional $1,000 each time Rice wanted to add a new product online because the website structure
did not allow them to update the site themselves.
To prove the benefits of SEO versus SEM, PBS built a second Rice Mills website — Apparel By
Rice Mills — to run concurrently with the existing one — Fleece By Rice. As the sites were running
simultaneously, Rice Mills continued to pay $10,000 to search engines in pay-per-clicks and banner
ads for the Fleece By Rice site. The result was 17,000 visitors. By comparison, no money was spent
to advertise the optimized Apparel By Rice Mills site, which reported 20,000 unique visitors in the
same amount of time. Within three months, the integrated website designed by PBS was reporting 17
times more visitors than Fleece By Rice and within six months had achieved 16 times more in sales.
The optimized site also allows Rice Mills to experiment with new products and to immediately
measure results. And with the ability to add new features without having to hire a web developer,
Rice experimented with loyalty programs such as an online newsletter with special promotions and
discounts. About 200 consumers are opting in every month to receive the newsletter via e-mail,
Billig said.
"Search engine optimization gives you the opportunity for new product development at very
low risk," Ferrer said. "You can update your site yourself with a photo and description of a new
product, then wait for sales. If it sells, you make more of them, if it doesn't, try something
else."
---

March/April 2007