T

he Material World brand has evolved in the seven years it has been on the apparel scene,
which itself has experienced evolution by way of free trade agreements, World Trade Organization
accessions, and increasing globalization in a quicker-than-ever turnaround timeframe.
"Sourcing operations and production systems continue to evolve as a result of quota removal,
and the implementation of free trade agreements such as CAFTA [Central America Free Trade
Agreement]," said Kevin M. Burke, president and CEO of the Arlington, Va.-based American Apparel
& Footwear Association (AAFA), official sponsor of Material World. "Apparel companies are
constantly evaluating new strategies and new technologies to better serve their customers around
the world. Material World, Technology Solutions and SPESA [Sewn Products Equipment and Suppliers of
the Americas] Expo are positioned to help the industry maximize its business opportunities by
featuring the full complement of supply chain services under one roof."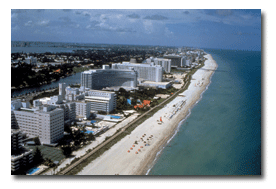 Material World, SPESA Expo and Technology Solutions will be held in Miami Beach,
Fla.

Photograph courtesy of the Greater Miami Convention & Visitors Bureau

"Material World Miami Beach is a direct channel to the market," said Mike Todaro, managing
director at Atlanta-based American Apparel Producers Network (AAPN), a supporter of the show. "We
were the first apparel industry organization to endorse Material World back in 2001. It clearly
filled a vacuum with the cessation of the Bobbin Show. So much has changed since 2001, but still
the show offers the entire supply chain yarn/textiles, trim, transportation, technology and
especially cut/sew producers one place to see and be seen. None can make money without the other."
Billed by the show's owner and
producer, Atlanta-based Urban Expositions LLC, and Material World's international marketing arm,
Arcadia, Calif.-based Global Nexus Inc., as the "premier global sourcing, fabric, trim, technology
and trend trade event for the sewn products and home industries," the next edition – to be held May
8-10 at the Miami Beach Convention Center in Miami Beach, Fla. — represents the brand's incarnation
this year as part of a triennial trifecta of shows branded "Three Great Events" and targeting all
aspects of the apparel industry.
Partnered since 2004 with SPESA Expo — focusing on apparel equipment and machinery — and
Technology Solutions — focusing on information technology for the apparel sector — Material World
will include a presentation of home furnishings fabric providers, trend pavilions, product
packaging, networking events and educational programs.
"In previous editions of Material World, we have put a larger spotlight on the home
furnishings resources in order to increase crossover buying and selling opportunities for
exhibitors and attendees," said Amy Dufour, account executive at Marsh Meadows Marketing, the
Kennesaw, Ga.-based marketing agency that represents Material World. "The May 8-10, 2007, edition
of Three Great Events will focus primarily on fabric/findings, sourcing, machinery and technology.
There is a limited number of international companies who will showcase a variety of fabric,
leather, trim and service resources for home furnishings industry members."
Along with home furnishing fabric providers, Material World will showcase
contractors/manufacturers; apparel fabric; trim; yarn; components; publications such as

Textile World
; associations such as AAFA and SPESA; educational institutions; full-package providers;
technology; and services such as forecasting, financial, freight forwarding, and color and trend.




Greater Traffic, Greater Exposure


Organizers of Three Great Events hope
to attract more than the 10,600 visitors — which included presidents, CEOs, managers, designers,
marketing executives and purchasing agents, among others — and 600 exhibitors that participated in
the last Miami Beach edition held in 2004.
Global Nexus is working to bring visitors and exhibitors from Western Europe, Africa and
Asia to the show. "We partner with the government export promotion entities and country industry
associations whose goals are to create export opportunities for their constituents," said Maureen
Storch, CEO, Global Nexus.
Additional, domestic support and endorsement from AAFA, AAPN, the Boston-based National
Textile Association, New York City-based Textile Distributors Association, and Washington-based
National Council of Textile Organizations (NCTO) suggests organizers will meet these goals. More
than 25 nations will be represented at the event.
"The world has shrunk … today's customers can be anywhere in the world … yet are as close as
an e-mail," said Benton Gardner, executive vice president, SPESA, Raleigh, N.C. "SPESA Expo,
Material World and Technology Solutions provide a unique opportunity for visitors to see leading
companies that supply machinery, equipment, technology, fabric, sourcing and information
technology. One airline ticket, one hotel room and one registration give the visitor entrance to '
Three Great Events' at 'One Great Location'."
AAPN spokesman Todaro also feels Material World fills a much-needed niche in the apparel and
textile industry. "What [Material World] Miami Beach does is specialize in the DR [Dominican
Republic]-CAFTA and Western Hemisphere connection to the US market. With the concentration of
high-volume sourcing offices in Miami, the show has become a place to meet, perhaps for this
hemisphere, the place to meet.
"This is especially true as the producers in DR-CAFTA become more full-package producers and
for the first time are getting into demand-chain, quick-response, short-run, fast-turn, high-margin
replenishment production," Todaro added.
"Material World is a very important event for the US textile industry because it allows our
companies to meet with customers and strengthen the networks within the supply chain," said Mike
Hubbard, vice president, NCTO. "For US textile exporters, this is most important with partner
companies in Mexico, Central America, the Caribbean Basin and the Andean regions. Given the rapid
pace of globalization and trade patterns, new business opportunities are more important than ever."&
amp; amp; lt; /font>







See, Touch, Feel





The Spring/Summer 2008 season will be
conceptually represented under the theme "Sustainability" at four trend pavilions located
throughout the event, as well as in exhibitors' booths. The Trend pavilion will feature
touch-and-feel exhibitor fabrics grouped in areas throughout the show to portray seasonal themes
and trend directions.
The Color pavilion will feature colorways chosen by the official Material World color source
for the Spring/Summer 2008 season. These include 30 colors arranged in five groups — Retreat, which
includes grays, cream and blue; Exhilaration, which includes a variety of pastels; Re-charge, which
includes deeper shades of browns, greens and blue; Integration, which includes shades of khaki,
green and gray; and Reflective, which includes strong shades of purple, magenta, brown, green and
gray.
The Trimming pavilion will feature exhibitors' buttons, buckles, snaps, rivets, leather,
fur, and metal and plastic trims, among other trims, in a visually stimulating setup. The Video
pavilion will offer video presentations of developing trends associated with the season.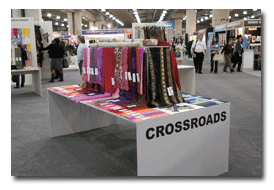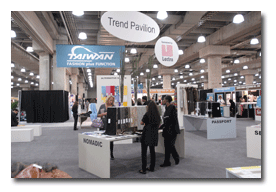 Four trend pavilions – Color, Video,
Trimmings and Trend – will conceptually represent "Sustainability," the theme of the show.






"We will see natural fabrics with a growing interest in eco-friendly," said Kevin Knaus,
creative director, Material World. He added that visitors also can expect Spring/Summer 2008 to
have "a strong interest in retro direction with prints and graphic designs, fabrics that show a
feeling of lightness and fullness, jacquards, and printed wraps with geometrics.
"You will see pigmented overdyeing and washouts; a strong interest in cotton/linen,
silk/bamboo, hemp/wool-irregular yarns, embroidery on tulle, chiffon ruffling … fabric with
fluidity," Knaus said.


Educational Events



Three Great Events will offer a
comprehensive selection of educational seminars and lectures related to the apparel industry
beginning Monday, May 7, and continuing through Wednesday, May 9.
SPESA will offer a pre-show conference Monday focusing on lean manufacturing, while AAFA and
SPESA will host a headliner breakfast program Tuesday titled "The Executive Sourcing Summit." AAFA's
Burke will moderate a panel that will include executives from Li & Fung USA; the GAP; VF
Corp.; the Timberland Co.; and Sandler, Travis & Rosenberg P.A. Program highlights will include
such topics as CAFTA-DR/free trade agreements, port diversification, sourcing shifts, speed to
market, social compliance, the environment and counterfeiting.
AAFA and SPESA will host Wednesday's headlining event, The Leadership Forum: Benchmarking
Effective Brand Managers. The forum will feature moderator Mike Fralix, Ph.D., president and COO,
[TC]2; and executive panel members from Chico's FAS Inc., Jockey International Inc. and Haggar
Clothing Co. Panel members will discuss issues that brand managers encounter such as design, fit,
inventory, sourcing, fast fashion, speed to market and customer retention, among many others.
Other seminars will be held by: Pantone Inc., PTC, Promostyl Americas, TradeCard, Computer
Generated Solutions Inc., Cotton Incorporated, New Generation Computing, Textiles Intelligence
Ltd., Enovia MatrixOne and Printex Technology.
The next edition of Material World, Material World New York, will be held Sept. 25-27, 2007,
at the Jacob K. Javits Convention Center in New York City.







Trade Associations Expect Strong Turnout





"We do expect a large number of our
members to attend [Material World]," said Mike Todaro, managing director, AAPN. "Our members, like
Alfonso Hernandez of Argus Group, tell us that Material World is a viable show, 'if they produce
the desired results — sales.'
"The big question about trade shows is always the ROI [return on investment] of exhibiting.
We've seen deals made with our own eyes where producers of different components put production
contracts together, sometimes on the spot. We've mostly seen incremental business between our
members and their existing customers where the show allowed more face-to-face communication than
business-as-usual," Todaro added.
NCTO also expects a strong turnout from its members. "NCTO supports Material World because
of the opportunities it provides our member companies to meet with their customers and to develop
new business opportunities," said Mike Hubbard, vice president of NCTO. "We will have a large
portion of our membership at the show, either in booths or walking the floor.



SPESA Expo and Technology Solutions






SPESA Expo's theme, "Delivering the
Full Spectrum of Sewn Products Technology," reflects the wide range of exhibitors show organizers
expect to attend. These will include manufacturers of machinery and technology for all sectors of
the sewn products industries.
Attendees will include manufacturers of apparel, leather, footwear, upholstered furniture,
technical textiles, home furnishings and transportation interiors that engage in such processes as
cutting, sewing, ironing, finishing, software, retail, sewing thread, needles, pre-production and
shipping, among others; in addition to design directors, engineering managers and purchasing
decision-makers, among others.
Technology Solutions, billed by organizers as the "premier conference and exposition for
information technology that enables today's sewn products industries," will attract information
technology leaders in the apparel sector seeking solutions for sourcing, product development,
design/merchandising, vendor-managed inventory, logistics/distribution and retail solutions
exhibitors, among others.




For more information about Material World, contact Urban Expositions (678) 285-3976; fax (678)
285-7469; mwinquiry@urbanexpositions.com; www.material-world.com. For more information about SPESA
Expo, contact (919) 872-8909; fax (919) 872-1915; info@spesaexpo.com; www.spesaexpo.com. For more
information about Technology Solutions, contact (800) 318-2238; tsinfo@urbanexpositions.com;
www.techsolutionsexpo.com.



March/April 2007