A

s a signal to customers that it does more than move goods from point A to point B in a
timely manner, Glen Raven Transportation Inc. — a subsidiary of Glen Raven, N.C.-based performance
fabric manufacturer Glen Raven Inc. — has changed its name to Glen Raven Logistics. The company's
services will include shipment consolidation, staging, warehousing and supply chain management in
addition to its less-than-truckload carrier offerings.
A recently refurbished facility in Altamahaw, N.C., which includes a 150,000-square-foot
warehouse adjacent to its parent company's birthplace, has become the launching pad for Glen Raven
Logistics' expanded focus. According to Charlie Edgerton, president, Glen Raven Logistics, the
company has renovated the former manufacturing plant, adding loading docks and converting
manufacturing areas into warehouse space, after outgrowing a nearby transportation terminal.

"We needed additional warehouse space and additional office space and yard space to park
equipment, and we wanted to complement our existing transportation/trucking operation to become
more of a full-service provider that would include warehouse distribution, order fulfillment –
things of that nature," he noted.
Edgerton said the name change – which he hopes will communicate the company's dynamic nature
– was the result of recognizing trends such as to and from where businesses ship goods, as well as
increases in imports and just-in-time inventory. "As imports continue to increase in the States,
theres going to be a bigger demand for doing warehouse distribution and order fulfillment – and
then theres the pure trucking side of it – of getting it from point A to point B," he said.
""It takes six weeks to get product across the water, Edgerton added. "Maybe [customers]
need to create a buffer inventory in our warehouse, so that when the plant is ready for it, they
can call us and we can have it there the next day instead of having to start from, say, South
Carolina, bringing something from China and [risking] delays that can possibly cause interruption."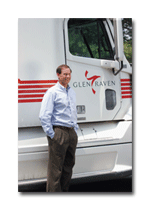 Charlie Edgerton, president Glen Raven Logistics



Glen Raven Transportation began as a
raw material and finished goods transportation provider for Glen Raven Inc. manufacturing plants,
and in 1995 expanded its services to other companies. Taking advantage of opportunities resulting
from the North America Free Trade Agreement, the company soon offered carrier services into Mexico,
opening a shipping terminal in Laredo, Texas, and a sales office in Mexico City. Through assisting
customers with meeting governmental regulations regarding trade with Mexico, the company gained a
greater understanding of the need for logistics support, Edgerton explained.
In addition to transporting textiles, apparel, electronics and other goods in and out of
Mexico, the company operates Northeast, Midwest and West Coast shipping routes; and has a growing
subspecialty in automotive component shipping from the South to Detroit. Glen Raven Logistics has
25 tractors and 160 trailers, and contracts with 25 contracted owner-operators who primarily serve
the company's West Coast customers.



The company expects to maximize its niche position in the transportation and logistics market
– which is experiencing growing demand resulting from declining supply – and a strong economy and
its strategic location in North Carolina's Triad region.
"Our customers select us for their less-than-truckload needs because they know we are very
nimble and service-oriented. We can fulfill needs at competitive rates that larger truckers
cannot," Edgerton said. "Now, as a logistics company, our customers can also rely on us for
numerous other value-added services."



November/December 2006