R

ubelli S.p.A., a family-owned company established in Venice, Italy, in 1858, manufactures
high-end furnishing fabrics including brocades, damasks, velvets, silks and lampases. Lisio, Bises,
Dominique Kieffer and Donghia are just some of the brands that Rubelli supplies. Rubelli fabrics
can be found in internationally known theatres, castles and museums throughout Europe and abroad.
Recent projects include the reproduction of all the original fabrics decorating the Albertina
Museum in Vienna, Austria, and fabrics used in the Apollinee rehearsal room in Venice's La Fenice
Theatre and the La Scala Theatre and Museum, Milan.
In order to create fabrics for its customers, Rubelli takes the time to accurately reproduce
styles during the design phase. The company's historical archive is a priceless resource containing
ancient fabrics from all over the world. The archive plays a key role in the creative process as a
useful source of ideas, styles and decorations. Each new fabric created by Rubelli is a blend of
past and present, and of craft and industry.
Rubelli invests money in research and resources, and uses only fine natural fibers silk,
linen, cotton, wool and viscose to guarantee the high aesthetic value and quality of its products.
Fire-retardant fabrics, featuring Trevira CS, also are available.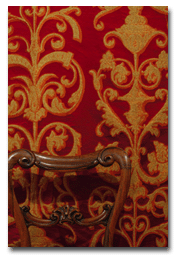 Rubelli S.p.A. created fabrics for Lisio's 2006 collection.


Using Modern

Machinery To Make Historic Fabrics

According to Luciano Corain, president, Smit S.p.A., Italy, fabrics such as those
manufactured by Rubelli often are associated with ancient weaving techniques and skilled craftsmen
with nimble hands. But today's latest-generation weaving machines are suitable for reproducing
artistic, complicated old-style weaves. Multiple functions and loom controls offer the weaver
versatility. In particular, Corain noted, the Smit Textile GS900 rapier machine offers low tension
and minimum warp-thread friction, making it suitable for high-end fabric production. The company's
weaving machines can reproduce elaborate fabrics including brocades, damasks, Venetian lampas,
taffeta and liseratins using a wide variety of yarn types.
Rubelli operates 28 latest-generation electronic jacquard weaving machines at its production
facility. The company produces approximately 500,000 meters of fabric per year and employs 64
people working in three shifts. Advances in weaving technology including the development of
shuttleless looms, and the introduction of Smit's rapier machines in 1958, help companies like
Rubelli stay true to ancient fabric styles, while using the latest, most efficient modern weaving
machinery.

September/October 2006