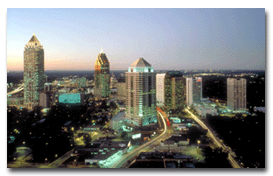 Atlanta, home of the Georgia World Congress Center, will host Megatex's collocated shows.



F
or
the first time ever, the Industrial
Fabrics Association International (IFAI) Expo 2006 and the American Textile Machinery
Exhibition-International® (ATME-I®) 2006 — along with the collocated 2006 International Conference
& Exhibition (IC&E) of the American Association of Textile Chemists and Colorists, Research
Triangle Park, N.C. — will come together under the Megatex umbrella this fall in Atlanta. The
gathering is expected to draw up to 1,000 exhibitors and an estimated 15,000 visitors. As part of
the Megatex concept, each show will remain independent, taking place in separate exhibit halls in
the Georgia World Congress Center, and offering in a single venue a multitude of machinery,
equipment, and other products and services for the textile industry's diverse needs and interests.
IFAI Expo 2006 — Roseville, Minn.-based IFAI's event, occurring October 31-November 2 — and
ATME-I 2006 — the October 31-November 3 show produced by ATME-I Inc., a joint venture between
England-based show organizer Mack Brooks Exhibitions Ltd. and Falls Church, Va.-based show sponsor
American Textile Machinery Association (ATMA®) — will serve as event co-anchors in Halls A and B,
respectively. IC&E, taking place October 31-November 2, will feature exhibits and educational
tracks in Hall B. Registered visitors will be able to move among all three shows.
"Megatex will be a huge international event joining three key textile-related trade shows
under one roof at the same time," said Dave Tellett, exhibition director, ATME-I/Megatex. "This
will be a tremendous networking and buying opportunity for the textile industry as a whole. The
range of exhibits and the spectrum of visitors will be unique [for] textile shows worldwide."
Among Megatex's many industry supporters is US Secretary of Commerce Carlos M. Guiterrez,
whose department selected the event as part of the International Buyer Program — a promotional
program involving the 85 worldwide US Commercial Services offices. "If you are a US supplier and
you want to export your products, you need to be in Atlanta … ," Tellett explained.
As part of the Distinguished Speakers Luncheon series, occurring Tuesday through Thursday,
October 31-November 2, three textile experts will discuss aspects of the US and global textile
industry. On Tuesday, Herwig M. Strolz, director general, International Textile Manufacturers
Federation (ITMF), will trace ITMF's 30-year history of monitoring textile investments. The
following day, Frank J. Horn, president, Fiber Economics Bureau, American Fiber Manufacturers
Association, will examine the state of the manufactured fiber industry; and Peter Kilduff, Ph.D.,
chair, Apparel Merchandising and Management Department, California State Polytechnic University,
Pomona, will end the series on Thursday with a look at the US textile industry's business
performance and supply-chain structure.
Other special events occurring during Megatex include IFAI Expo and ATME-I 2006's
Halloween-themed networking reception Tuesday evening. The Turkish Machinery Association will offer
an overview of the Turkish economy and textile machinery sector on Wednesday, November 1, from 2 to
4 p.m. Also on that day, the National Textile Association will host a seminar that will be open to
all from 3:30 to 5 p.m. to discuss opportunities for US textile manufacturers in the Western
Hemisphere. ATMA will present Central America-Dominican Republic Free Trade Agreement (CAFTA-DR)
seminars — including an overview of CAFTA-DR; spotlights on the textile industries of Guatemala,
Honduras, and El Salvador; and a Central American Networking meeting — all occurring Thursday; and "
Shifting Markets for Textile Machinery" on Friday morning, November 3.

September/October 2006