A

lpharetta, Ga.-based Datatex TIS Inc., an enterprise resource planning (ERP) solution
provider specializing in textile and apparel applications, recently held its 2006 Users' Meeting in
Lake Lanier Islands, Ga. The meeting, while aimed at the US user community, attracted companies
from all over the globe. The event provided attendees with information related to Datatex's ERP
solution as well as recommendations from industry experts on enhancing global competitiveness.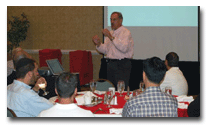 Bob Beecy, US director of marketing, Datatex, detailed the benefits of the company's ERP
solution.

The meeting attracted 45 participants
from domestic firms and five international firms; as well as representatives from Datatex, IBM
Corp. and Board MIT. US-based attendees included employees from Belton Industries, Dorsett
Industries, Dixie Group, Swift/Galey, Milliken & Company, Parkdale Mills, Syntec Industries,
Kenyon Industries and Brookwood Laminating. Foreign participants traveled from Hong Kong, Turkey,
India, Bolivia and Italy from companies that included Pacific Textiles, Ametex, Vardhman/Mahavir
Spinning, Kota and Orta Anadolu. The mix of individuals and cultures made for lively discussions
and extensive learning.
George L. Hodge, Ph.D., associate department head and director of graduate programs,
Raleigh, N.C.-based North Carolina State University, College of Textiles, Department of Textiles
& Apparel Technology & Management, spoke about burgeoning textile technologies that provide
unique opportunities for textile marketing firms. Markets include sports garments with specialized
attributes; protective garments for security workers; antimicrobial garments for healthcare;
transportation and geo-textiles; and smart fabrics that can store and transmit data. He also
provided statistical data demonstrating that firms with niche markets are far more profitable and
enduring than those supplying non-differentiated products.
Olin Thompson, head of Providence, R.I.-based Process ERP Partners LLC, spoke to the group
about supply chain issues that both confront and challenge firms in new global markets. One of the
more interesting points made by Thompson — a widely known author and lecturer — is that no matter
how far a firm is removed from the consumer, the overall efficiency of its supply chain is
critical, as is the firm's role in improving that efficiency. He also stated that in order to
obtain competitive advantage, every firm should focus on service around the sale as a key issue and
be proactive in adopting new techniques and technologies. A panel discussion followed in which each
attending firm was asked to review its current status in the marketplace and envision new methods
and practices to assure long-term advantage.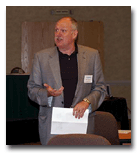 Olin Thompson spoke to meeting attendees about supply chain issues.


The balance of the meeting was used
to explore software issues, as requested by the users, and to review new products being offered by
Datatex. The most anticipated session was the demonstration of the latest release of the network
oriented world (NOW) product, the new J2EE version of the package that offers both platform and
database independence. Machine queue management (MQM), a new scheduling tool that graphically and
economically schedules manufacturing equipment, was demonstrated to attendees. The remaining
sessions were rounded out with discussions of planning, implementation, costing, shop floor
tracking, management decision systems and the future of textile integrated manufacturing (TIM), the
current iSeries version of the package. Time also was set aside for participants to network.
Feedback from the users indicated that this was one of the most valuable segments of the meeting.
To finish the meeting, Ronnie Hagin, CEO, Datatex TIS, addressed attendees. Hagin revealed
that 2005 was the best year yet for Datatex's US operations. Worldwide, Datatex spent in excess of
15 percent of 2005 revenues for research and development, and it was the third straight year the
company had spent such a significant portion of its income in this manner.

September/October 2006